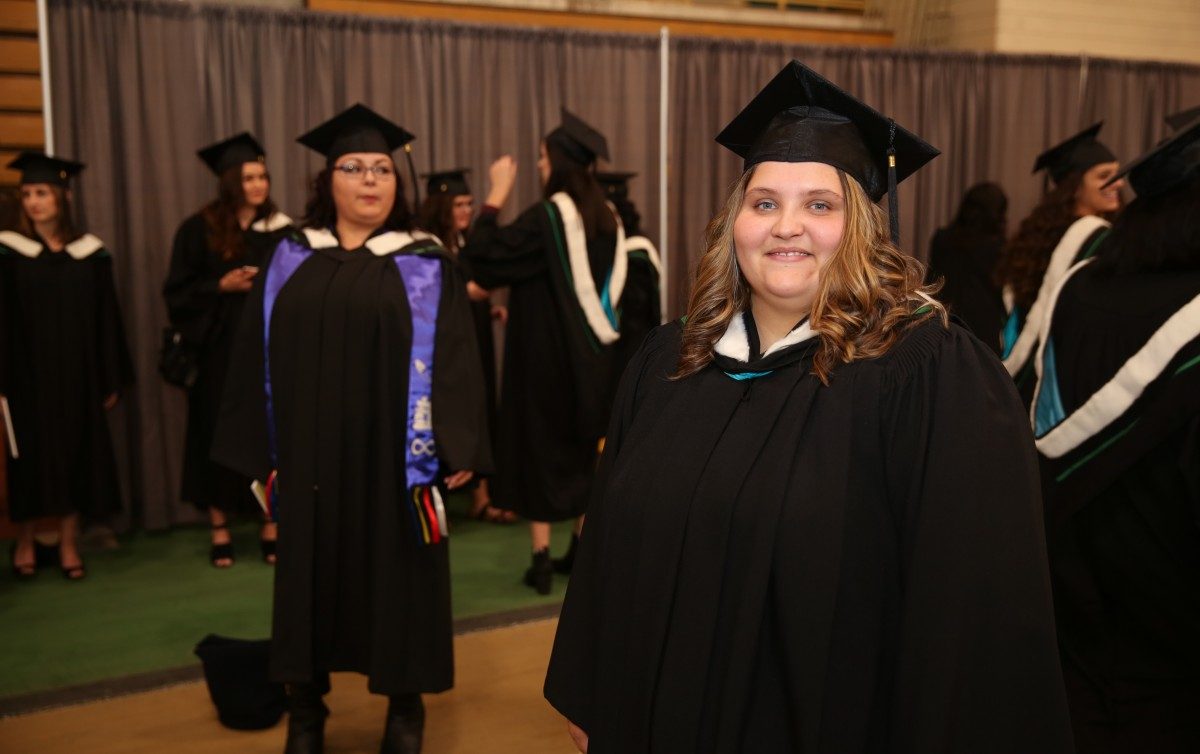 Nurse, mom of six wants others to know achievement is possible
November 1, 2016 —
When Chrissey Schuler set her sights on a nursing degree, some people said she was aiming for the impossible.
Schuler, a member of Peguis First Nation, was raising three young sons alone. She had no family members in Winnipeg to help her.
That was back in 2010. At the University of Manitoba's recent fall convocation, a jubilant Schuler, 32, graduated from the College of Nursing, Rady Faculty of Health Sciences with her bachelor of nursing degree. She has also passed the exam to qualify as a registered nurse.
"I persevered through all of it," she says.
Schuler not only accomplished her goal, but in the course of earning her degree, met and married a supportive man and gave birth to three more babies. Her husband and all six children – ages 12, nine, seven, five, two, and eight months – were at convocation to cheer for her.
"I want people who have kids to know that they can do it – in any program, not just nursing," she says. "A lot of moms with lots of children feel stuck. Set that goal and just keep going."
Her degree represents six hectic years of juggling assignments, exams, practicums, three pregnancies and motherhood, often on little sleep, says the new nurse. Having her hair styled for convocation was a special thrill, she says, because there were times when she went for days without brushing it.
Schuler's husband, a carpenter and painter, has been a stay-at-home dad to enable her to graduate. "In some ways, he earned the degree," she says.
Schuler was raised by her grandmother, a loving Cree woman who suffered from chronic kidney failure and required dialysis. When Schuler was about 10, she accompanied her grandmother on a medical trip from Norway House Cree Nation to Winnipeg.
The young Schuler was deeply struck by the nurses' kindness. Her grandmother suggested she become a nurse, but to her "it seemed too hard."
By age 17, Schuler was living on her own in Winnipeg. At 19, she gave birth to her first son. The way the maternity-ward nurses treated her marked a turning point.
"I was alone," she remembers. "They didn't judge me. They treated me like I was their family."
Schuler knew then that nursing was her calling, but she doubted her ability to succeed in university.
Finally, "I knew I was ready," she says. In 2010, she entered the College of Nursing as part of the Aboriginal Nursing Cohort. She is grateful for the cohort program, which provides tutoring, counselling, financial guidance and other academic and personal support to help Aboriginal students succeed.
Maya Simpson, coordinator of the program, describes Schuler as "generous, kind-hearted, hardworking and tenacious."
Schuler's professors also supported her. When caring for a newborn, she either nursed the baby during class, or had her husband bring the infant to campus so she could breastfeed during breaks. She would also slip out of class to use a breast pump. The College of Nursing has recently made it easier to do so, with a new room in the college "just for moms."
Schuler lost her beloved grandmother in 2009. Though she originally intended to focus her nursing career on babies, she has become increasingly passionate about serving Indigenous communities.
"In honour of my grandma, I'd love to go to the reserves and work and take care of people. I need to be here first, get all the experience I can and let my kids grow up, and then I can try to do that.
"In Aboriginal culture, we're all the same. We take care of everyone like ourselves, with love and respect. For me, that's where my roots are."