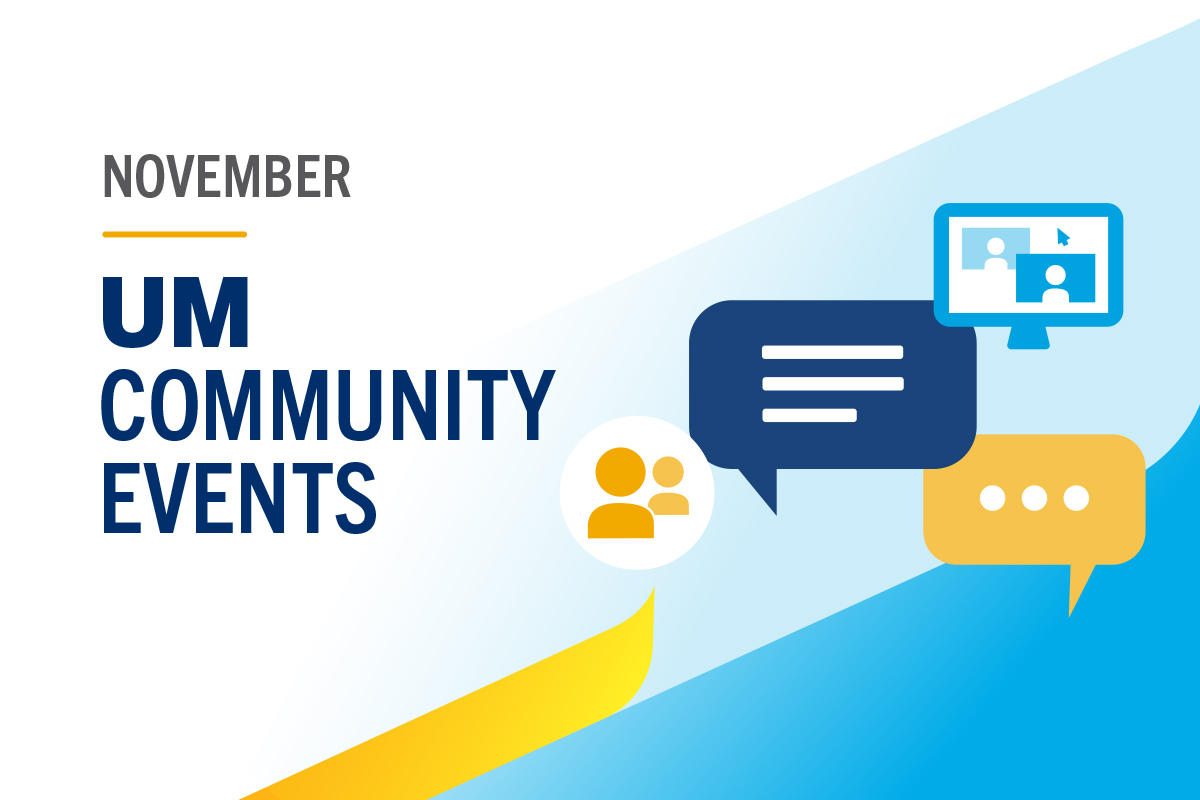 November 2021 UM Community Events
October 29, 2021 —
Mark your calendar for UM's community events this November. In addition to the Indigenous Scholars Speaker Series, Bisons home openers, and UM information sessions, you can also join us for these intriguing and interactive events: including the School of Art Gallery exhibitions, Virtual Fireside Chats, the Canadian Labour International Film Festival, and more. We look forward to seeing you there!
UM information sessions for prospective students
Discover UM's diverse campus community, opportunities outside of the classroom, undergraduate admission requirements, and so much more through our focus and feature webinar series.
November 1 – 27 | Free
Register
School of Art Gallery
Take part in presentations, workshops, and exhibitions that explore contemporary and historical arts practices and perspectives featuring Anna Binta Diallo: Wanderings, Robert Houle: The Sandy Bay Residential School Series, Thirza Cuthand: Medicine Bundle, Kaffeeklatsch: Elvira Finnigan and Jennifer Still in conversation, and Workshop: Salt Stories.
The School of Art Gallery exhibits and collects contemporary and historical art addressing a range of practices and perspectives. Exhibitions and collections are complemented by engaging outreach programs and publications.
November 1 and onward | Free
Learn More
Virtual Fireside Chats
Learn from Elders and community members every second Tuesday as they come together to share Indigenous knowledges in this long-running series.
November 2, 16 and 30, 11:30 a.m.-12:30 p.m. | Free
Learn more
The Rod Senft Lecture in Family Business Law
Successful family businesses build strong economies and healthy communities: The advisor's role in perpetuating the virtuous circle
Join Harvey Secter, O.M. for the Rod Senft Lecture in Family Business Law presented by the Faculty of Law's Distinguished Visitors Lecture Series and the Marcel A. Desautels Centre for Private Enterprise and the Law. Mr. Secter [BComm/67, LLB/92] will explore how lawyers, as principal advisors to private family businesses can enhance the prospects for successfully transitioning a family business to the third generation.
November 2, 12 – 1 p.m. | Free
Register
Bisons Home Openers
Be a part of the excitement when the Bisons basketball and volleyball teams return to the hard court for their season home openers against their crosstown rivals, Winnipeg Wesmen. Bring the whole family, meet Billy the Bison and cheer on the herd at Investors Group Athletic Centre. Game day COVID-19 protocols in effect.
November 5 and 6 | Free for fans 12 and under
Tickets start at $5
UM Alumni Book Club
Join host Chancellor Anne Mahon and a network of over 800 UM alumni, friends and fellow book lovers online to connect and discuss books on ideas, literature, lifelong learning, leadership and more. Everyone is welcome to join at any time. Our current reading period runs Oct 15 to Dec 17 and features From the Ashes: My Story of Being Métis, Homeless, and Finding My Way by Jesse Thistle a remarkable memoir about hope and resilience, and a revelatory look into the life of a Métis-Cree man who refused to give up. This program is generously sponsored by the UM Alumni Association.
November 5 and onward | Free
Join today 
Fall Convocation 2021- Bannatyne Ceremony
Join us as we live steam a virtual convocation celebration and honour the achievements of Bannatyne campus's fall 2021 graduates. During the ceremony, we will also be conferring an honorary degree on Ms. Diana DeLaronde-Colombe, a dedicated community leader who is being recognized for her commitment to Manitoba's northern communities and addressing issues such as food security.
November 10, 2 – 4 p.m. | Free
Learn more
Distinguished Visitors Lecture Series presents Dr. Nayha Acharya
Adjudication and Mediation are Cousins Playing in the Same Sandbox: Reflections on Mandatory Mediation
Be our guest online as Dr. Nayha Acharya, Schulich School of Law, Dalhousie University, explores mandatory mediation as part of the Faculty of Law's Distinguished Visitors Lecture Series. Dr. Nayha Acharya's research interests include alternative dispute resolution, civil procedure and procedural justice, legal theory, dispute resolution and medical negligence.
November 18, 12 – 2 p.m. | Free
Register
Stu Clark Webinar series
Ideas Into Action: Defeat Procrastination & Unlock Breakthrough Productivity. With Guest, Hamza Khan
Ideas themselves aren't worth much—it's the ability to execute that matters. In this dynamic webinar, presented by the Stu Clark Centre for Entrepreneurship at the Asper School of Business, you will receive the action-oriented insights that you didn't get in school, highlighting real-world best practices for making ideas happen. You will be exposed to proven productivity hacks and best practices from some of the most successful and productive people on the planet. Ideas are easy, but doing stuff is hard. With the right tools and practices, you'll be able to consistently turn your ideas into reality. Event sponsored by the Associates & Young Associates.
November 24, 11:30 a.m. | Free
RSVP
Canadian Labour International Film Festival
Join UM's labour studies program for a free online screening of the 13th annual Canadian Labour International Film Festival. After the screening, letting us know which film you liked best and why to enter a draw to win a book by a labour studies faculty member.
November 30, 7 – 10 p.m. | Free
Register
For more events: University of Manitoba events calendar