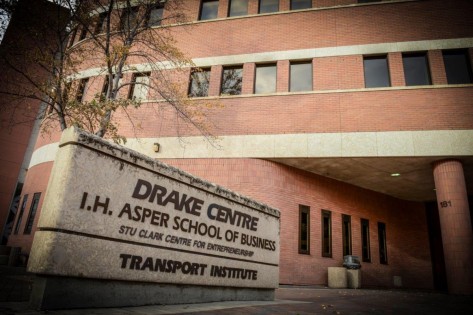 New Year, New Faces
September 22, 2015 —
The Asper School of Business is pleased to announce five new faculty members who joined our community this summer. We wish them all a warm welcome.
SEAN BUCHANAN
Assistant Professor, Business Administration
Sean earned his PhD from the Schulich School of Business at York University. Sean's research broadly focuses on the relationships among actors, institutions, and society, and seeks to understand how the interactions between actors and institutions shape social and environmental outcomes. His current research includes a study of the evolution of social and environmental sustainability in the Canadian mining industry and a study of consumer debt practices in the aftermath of the Global Financial Crisis.
ARRAN CAZA
Associate Professor, Business Administration 
Arran's research focuses on autonomy and discretion in organizations, especially among leaders and managers. He earned his PhD in management and psychology from the University of Michigan, his MA in psychology from the University of Michigan, and his BSSc in economics from the University of Ottawa. Before becoming an academic, he spent time working in management consulting, program evaluation, health promotion, and law enforcement.
BRIANNA CAZA
Associate Professor, Business Administration
Brianna received her PhD in Organizational Psychology from the University of Michigan and has previously held a faculty positions at the University of Illinois, Wake Forest University and the Center for Creative Leadership. Her research aims to understand the resources and processes that produce resilience at work.
RUODAN SHAO
Associate Professor, Business Administration
Ruodan's research explores corporate social responsibility, cross-cultural management, business ethics/ethical decision-making, organizational justice, and strategic human resources management. She earned a PhD in Organizational Behaviour and Human Resources at the University of British Columbia's Sauder School of Business.
WENLONG YUAN
Associate Professor, Business Administration
Stu Clark Chair in Entrepreneurship and Innovation 
Before his current position, Wenlong was Associate Professor of Strategy and International Business in the Faculty of Management at the University of Lethbridge, Canada. His main research interests cross entrepreneurship, strategy, and international business. His work currently focuses on entrepreneurship in large firms, the impact of top management teams' characteristics on middle-level entrepreneurial activities, entrepreneurial learning from failure, and behaviours of academic entrepreneurs.