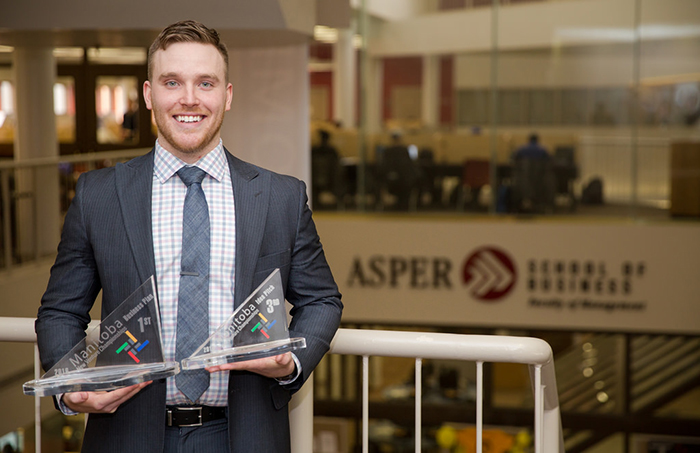 New Venture Competition revs up young entrepreneurs
April 22, 2016 —
It's a dream shared by many: Turn that cool idea you've been mulling in the back of your mind into a successful business venture worth millions.
In reality, the road to entrepreneurial success is often a constant uphill battle with no guarantee of success, even for good ideas — which is why the Stu Clark Centre for Entrepreneurship at the University of Manitoba's Asper School of Business is working hard to give undergrad students a leg up in turning their startup dreams into viable business realities.
In April, the Centre hosted the 2016 Manitoba New Venture Championships. Twenty-two student teams from post-secondary institutions across the province, including the U of M, Assiniboine Community College, Brandon University and Red River College, vied for over $10,000 in prizes.
Winners had to convince expert judges (local business professionals from a broad range of public- and private-sector organizations) that their business plans, idea pitches and logos were worthy investments.
"Our whole purpose is to give young entrepreneurs an immersion in the realities they'll face and prepare them to overcome challenges each step of the way," says Stuart Henrickson, I.H. Asper Executive Director of the Stu Clark Centre for Entrepreneurship. "This competition brings together students from across the province and from all kinds of backgrounds — business, science, engineering, agriculture. It's like a particle collider — we're always excited to see what kinds of ideas result from the collisions that take place here."
On hand at the event was Liam MacCormack, president of the CEO (Collegiate Entrepreneur's Organization) Manitoba, a student group based out of the Stu Clark Centre. MacCormack says he was struck by the inventiveness and creativity of this year's competitors. "They're all seizing an opportunity to solve a real problem or fill a real need they've identified from their own experience."
For instance Bizpkr ('Biz-picker'), the U of M team that won first prize for best business plan, third prize for best idea pitch, and the people's choice award, is an online directory that uses algorithmic calculations to help users find the services they want — and not the ones paid search engine advertising tells them they want.
Precision Vehicle Transport Ltd., a team from Brandon University that won for best business plan, is a service that offers to deliver and retrieve customers' vehicles to and from service centres for service appointments.
Book-E, which won for best idea pitch, is a multi-platform application that helps lower education costs by providing textbooks to students for a low monthly fee. And Comute, which won for best logo, is a mobile app that connects people who want a long-term carpool relationship, helping them save time and money. (Book-E and Comute were both U of M teams.)
"Everyone who competes takes away something valuable," says Henrickson. "The judges give all participants thoughtful, detailed, helpful feedback on how to make the idea better. Not every idea that leaves here goes on to become a huge business success. But many of them evolve into something better. Everyone who participates is someone to watch out for."
For the full list of 2016 Manitoba New Venture Championship winners, click here >
Photos from the competition: