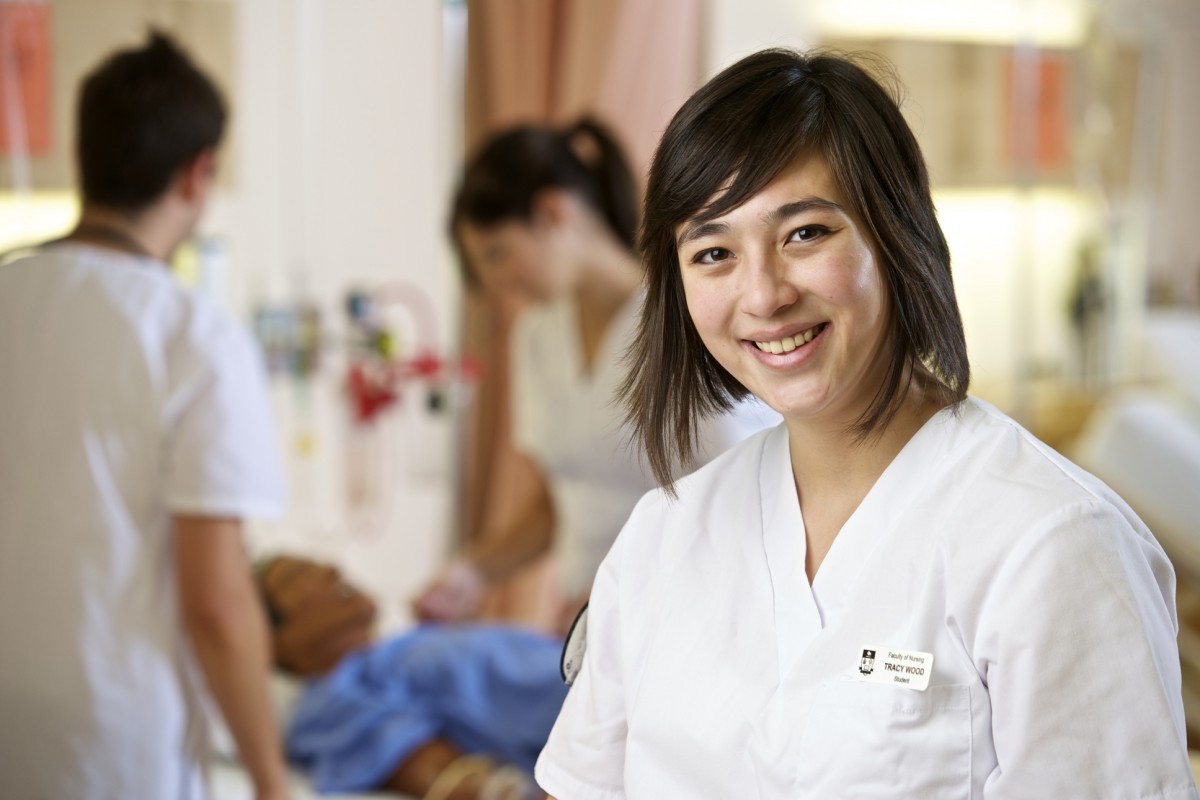 New research lab focuses on health care interaction
Better communication, better care
May 8, 2016 —
On May 4, the University of Manitoba and its partners officially opened a new interactive lab at the Grace General Hospital focused on enhancing students' and clinicians' empathic communication skills with patients, families and caregivers.
The $500,000 College of Nursing and College of Medicine CAregiver Communication Research Environment (CAre) Lab was established thanks to $200,000 in funding each from the Canada Foundation for Innovation (CFI) and Research Manitoba. Other supporters include the Grace Foundation, Winnipeg Foundation, Thomas Sill Foundation, College of Nursing and Rh Institute Foundation.
"When you ask what they remember most about the care they receive, patients and families don't talk about a clinician's technique or what type of medication they were given," says College of Nursing researcher and associate professor Michelle Lobchuk. "What actually stays with them the most is how they were treated."
Lobchuk is co-principal of the CAre Lab with Alan Katz, director of the Manitoba Centre for Health Policy at U of M and a family physician and health services researcher.
Through innovative technology, the CAre Lab will allow clinicians, residents, undergraduate and graduate students, to review footage of themselves interacting with patients and their families. This outside perspective will allow them to hone their interpersonal abilities and to pick up on subtle cues they might not have noticed during the conversation itself.
"This innovative approach to improving communications between health-care practitioners and families using new technologies is a valuable tool in the knowledge mobilization of research," said Digvir Jayas, vice-president (research and international) at the University of Manitoba.
Health-care professionals are typically taught how to give a needle and many other physical procedures. "But when in your training do you learn about how to interact with other people?" said Lobchuk, who holds the Research Manitoba Chair in Caregiver Communication. "It's just as important."
The CAre Lab is a unique home-like environment in a renovated 943 square foot space that features a simulated kitchen and living room. Equipped with one-way mirrors, video-cameras and editing software, the facility offers the unique opportunity to practice vital communication skills, to gauge the response of the participants and to provide empathy coaching.
Through this lab, tools and resources will be developed that will ultimately become part of clinical practice. Dedicated live interactive video-conferencing technology is also available, providing access to those in remote or northern communities and extending the reach of this innovative research facility.
"The CAre Lab has the potential to impact health care practices for all Manitobans," noted Dr. Beverly O'Connell, dean of the College of Nursing. "The more effectively health care providers communicate with patients and their families, the better equipped they will be to not only deliver services, but to coach patients and families to take control of their own health."
Currently, pilot studies involve patients and their caregivers; however, future work may include inter-professional training for students from colleges across the Faculty of Health Sciences. "I foresee future studies in CAre between students from different disciplines around negotiation and decision-making for their clients," said Lobchuk.
In cases where more than one type of health-care provider is working with a patient at the same time—such as a physician, occupational therapist and nurse—greater collaboration has the potential to provide better outcomes and improved service.
Research at the University of Manitoba is partially supported by funding from the Government of Canada Research Support Fund.