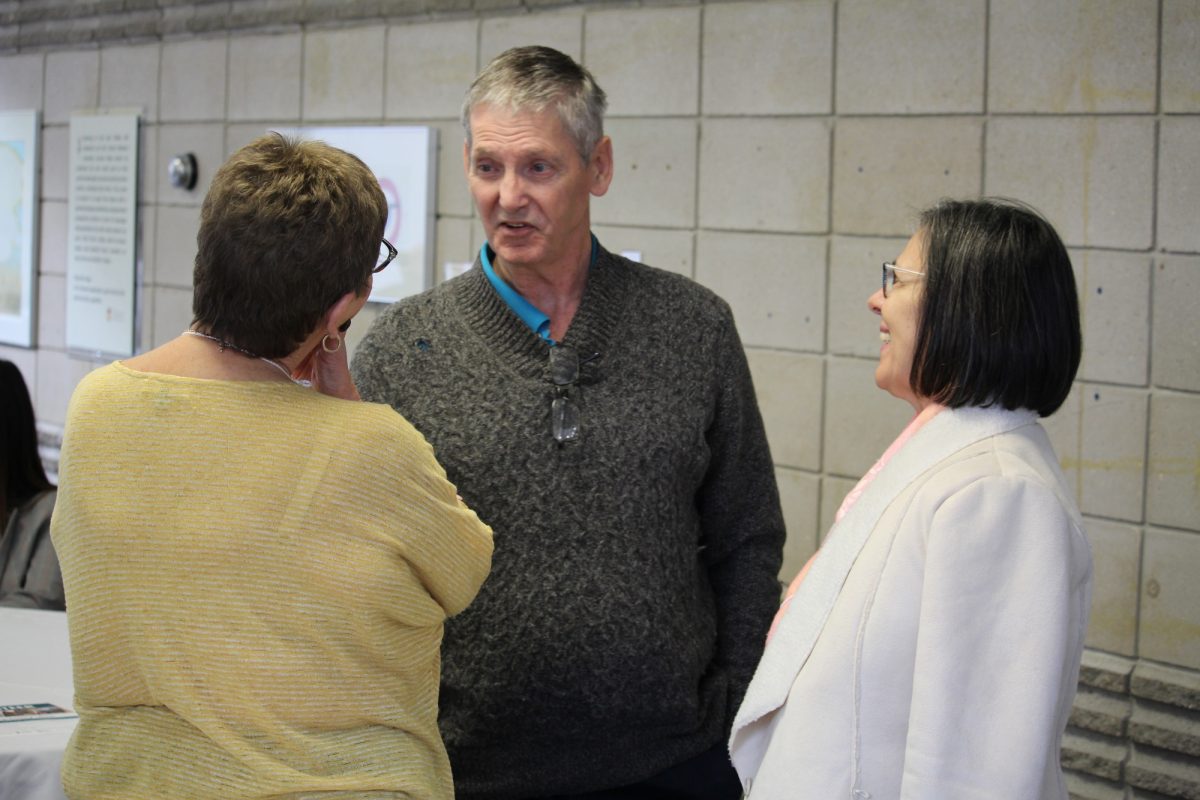 New U of M partnership explores innovative solutions for people with disabilities
October 30, 2019 —
"Did you know you have the inability to dream when you're busy surviving?"
This question was posed by stroke survivor Dave Dowd as he spoke to faculty of the College of Rehabilitation Sciences, Rady Faculty of Health Sciences and community members at the launch of DesignAbility West, a new program from the college and March of Dimes Canada (MODC).
Dowd suffered a stroke 12 years ago at age 51, as he neared his retirement from the Canadian military. He felt helpless and was told he may never walk or talk again. Through determination, it took him 14 months to relearn how to walk, one muscle at a time. But the ability to speak took even longer, and he still has memory issues to this day.
"It was a big mountain to climb, and I wasn't sure I wanted to climb it," Dowd said, noting he'd lost his wife a few years prior to the stroke. "My kids gave me the courage I needed to continue on."
Dowd was one of several speakers applauding the work of MODC, an organization that has worked to address the needs of people with physical disabilities for over 65 years, at the Oct. 29 launch, held at the Basic Medical Sciences Building, Bannatyne campus.
DesignAbility West is an expansion of a volunteer-driven program that has delivered custom-built solutions to the everyday challenges of people in Ontario living with mobility issues for over 20 years. Through this new partnership, the College of Rehabilitation Sciences and MODC will bring the program west of Ontario for the first time, serving communities throughout Manitoba, including First Nations and remote locations.
The program calls on volunteers with skills in engineering, design and fabrication to collaborate with health-care professionals, people with disabilities and their caregivers to create solutions such as hair-washing tools, utensil holders and customized beds.
The partnership will also allow the program to utilize some of the creative research at the college, including its Ambient Assisted Living program, which includes innovative tele-presence, tele-monitoring and assistive technologies.
"We have to embrace technology as a way of getting people the help they need, whether that is high-tech or simple everyday solutions," said Leonard Baker, president and CEO of MODC.
Darlene Odcorn, a member of the Manitoba Camp Aphasia committee along with Dowd, spoke about taking care of her husband, Claude, who suffered a stroke 13 years ago and now cannot speak and only has the use of one hand. She also shared ideas of solutions she thinks could work for him, such as a device with preprogrammed photos or symbols that could help him with everyday tasks like getting a haircut or ordering at a restaurant, or specialized glasses that could block flashing lights.
"Claude can't attend any movie or concert or event with flashing lights, as this could trigger a seizure. If there were glasses or another way to block the flashing and allow a person to clearly observe the performance, that would be wonderful," she said.
Dr. Reg Urbanowski, dean, College of Rehabilitation Sciences, said there are numerous possibilities that could come out of this partnership, as he's seen interest from faculty and students from the college and other programs, including engineering and computer science.
"This is a great opportunity to sit down with Darlene and scientists and students from the college and computer science to develop something that is tailored to meet her husband's needs," Urbanowski said. "When I think about the creativity that I've seen in our faculty, and the students that we have, and people across the campus that want to be a part of this, there's all this new technology coming out, so how can we harness that?"
Once fully implemented in Manitoba, DesignAbility West will be expanded to Saskatchewan, Alberta and British Columbia over the next three years.