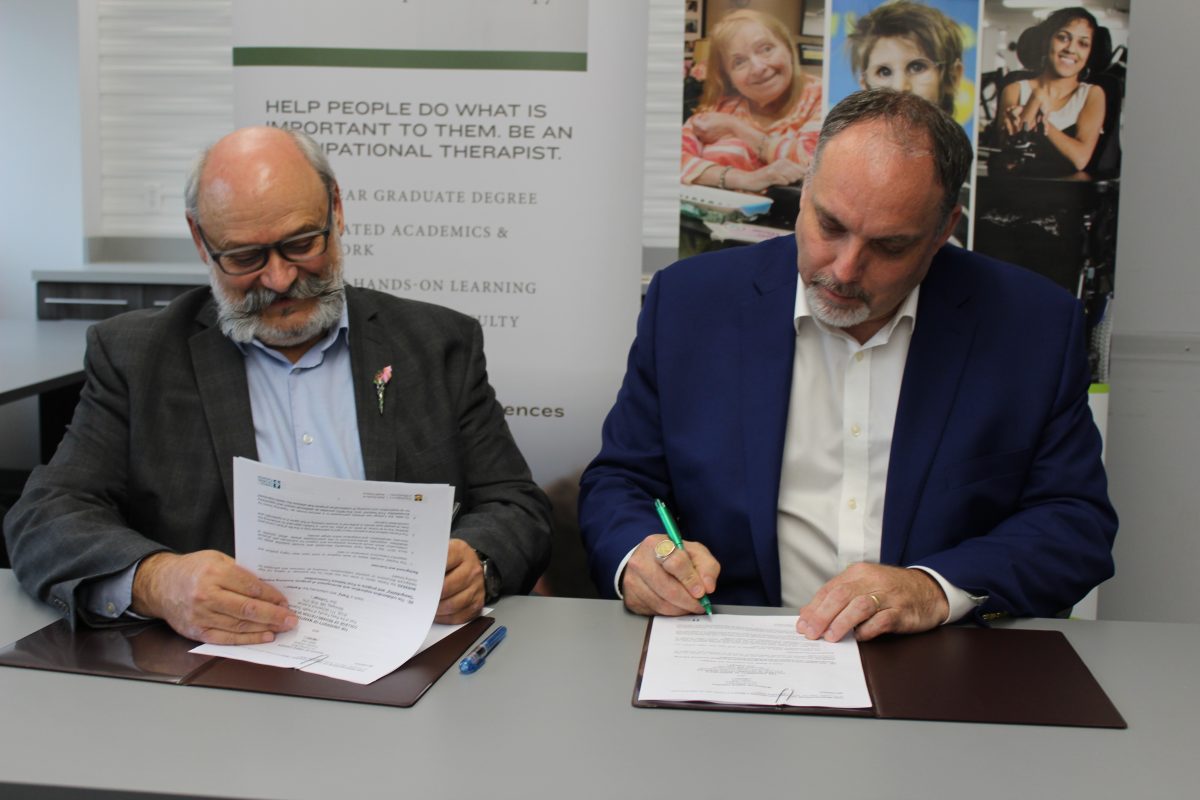 College of Rehabilitation Sciences partners with March of Dimes Canada to focus on stroke survivors
May 22, 2019 —
The College of Rehabilitation Sciences, Rady Faculty of Health Sciences and March of Dimes Canada (MODC) today announced a partnership through which they will serve and meet the needs of people with disabilities across the country, with a specific focus on stroke survivors and caregivers.
The partnership currently involves two major projects.
The first is a national training and support program, called "Stroke Survivors in Society: Accessibility and Inclusiveness", that will ensure delivery and access to a holistic suite of programs and services for stroke survivors and caregivers at local and community levels. The program will be developed and delivered to ensure that rural communities, including First Nations, are part of the focus.
The second project is the expansion of the MODC's DesignAbility program, a volunteer-driven initiative that offers custom-built solutions and modifications to everyday challenges faced by individuals living with mobility issues, including barriers to work, play, self-care and other daily activities.
Through the partnership, the college will host a "western hub" for DesignAbility that will serve Manitoba, Saskatchewan, Alberta and British Columbia.
"We believe innovation supported by technology can assist in meeting the needs of a survivor that addresses and realizes recovery and rehabilitation, as well as participation and integration in the larger society," said Reg Urbanowski, dean, College of Rehabilitation Sciences, Rady Faculty of Health Sciences.
Urbanowski and Leonard Baker, president and CEO of MODC said they believe that every person has a right to participate fully in the life of their community whether this is at home, work or play.
"This partnership will develop and deliver programs and services in a holistic manner to survivors and caregivers across the country," said Baker. "Our goal is to address the needs of those based in the rural and remote areas of the country."
The organizations will look at other projects going forward, including those that address the needs and requirements expressed by First Nations people. The college currently works with a network of eight First Nation communities in Manitoba together with the support of the Rady Faculty's Indigenous Institute of Health and Healing – Ongomiizwin.
MODC is a leading organization which for over 65 years has worked to address the needs of people with physical disabilities – especially in post-hospital discharge, focusing on rehabilitation and recovery and eventual re-integration as contributing citizens in the larger Canadian society. To date, it has served over 75,000 consumers.