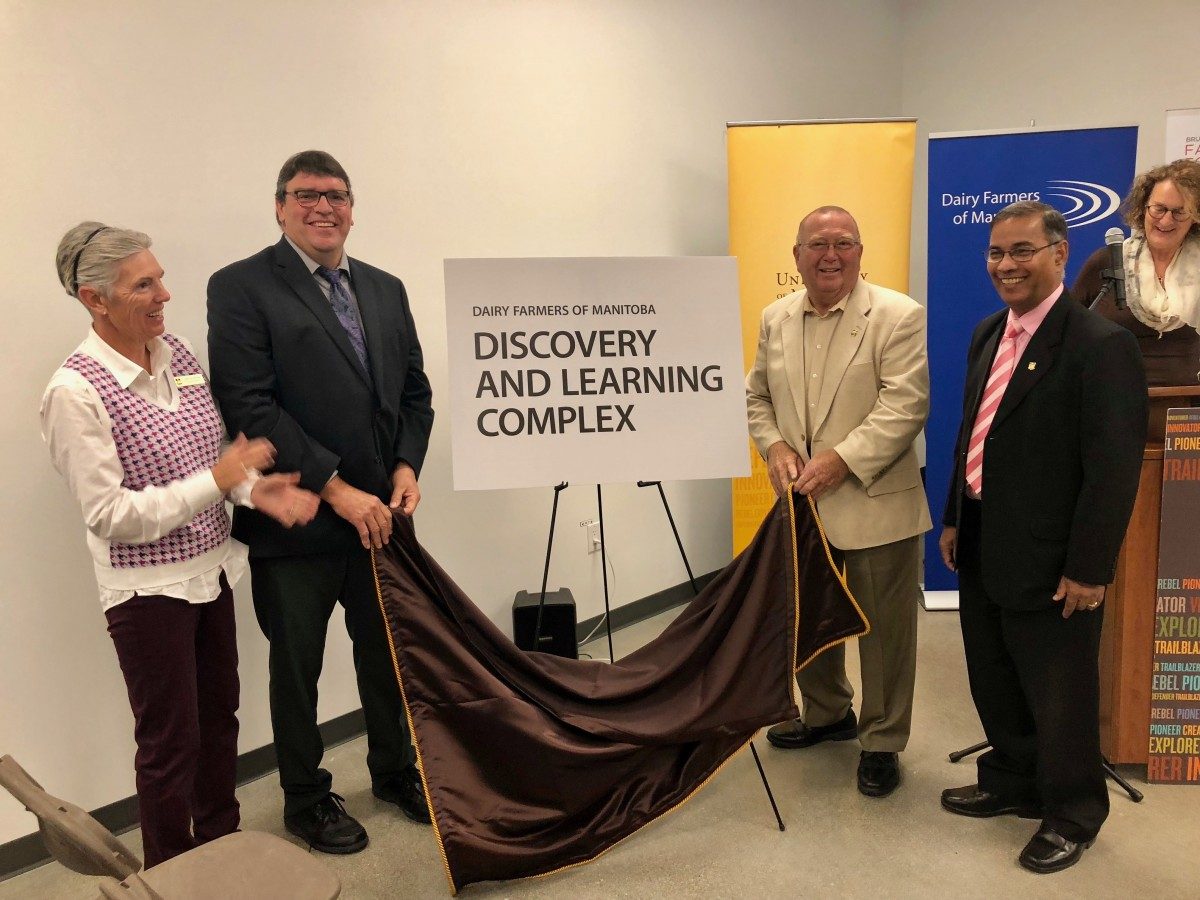 New U of M facility enriches dairy research and education
September 13, 2018 —
The University of Manitoba opened the doors on the Dairy Farmers of Manitoba Discovery and Learning Complex at the Glenlea Research Station on Sept. 13.
The Hon. Ralph Eichler, Minister of Agriculture, and Scott Gilson from the Dairy Farmers of Manitoba (DFM), joined Dr. Digvir Jayas from the University of Manitoba at a special event to introduce guests to the new facility.
The 60-cow facility, which features modern dairy production infrastructure, was made possible by Dairy Farmers of Manitoba's key contribution, totalling nearly $2.2 million. The support allows the University to continue its important research in dairy production management to ensure economic and environmental sustainability, as well as healthy food options for consumers. Of equal importance, the Dairy Complex will provide students with hands-on learning in state-of-the-art facilities.
The project was also supported by the governments of Canada and Manitoba, who partnered to invest more than $1.4 million via the Growing Forward 2 (GF2) Growing Innovation – Capacity and Knowledge Development Initiative to expand scientific research capacity at the dairy complex.
"Manitoba's dairy industry plays an important economic role in our province," said Eichler. "This investment ensures that dairy research conducted at the University of Manitoba remains on the cutting edge, attracting research investment to the province and promoting the development of young scientists and industry professionals."
"Dairy Farmers of Manitoba is proud to support scientific dairy research in the province," said Henry Holtmann, vice-chair, Dairy Farmers of Manitoba. "Dairy farmers share the same values as consumers – and the research conducted at the University of Manitoba will help advance our industry by continually producing milk of the highest quality, providing excellence in animal care, and looking after the environment today and for future generations."
The Dairy Complex includes new robotic milking and feeding systems, free stalls for dairy cattle, dedicated spaces for calves, milk collection tanks, above-ground manure storage, new flooring and related laboratory equipment. Researchers will be able to individually manage multiple groups of animals in a free-stall setting. A dedicated Level 2 metabolism unit will enable intensive studies of nutrient intake, microbial diversity and infectious diseases, such as mastitis, without needing to move the animals off-site.
Two research projects already planned for the new facility will focus on identifying best management practices for high quality Canadian silage production, and exploring the efficacy and safety of hemp products. The Dairy Complex also includes equipment for precision dairy farming, allowing the development of strategies to better match the demands and supplies of nutrients for dairy cows in modern group-housed and automated barns. In addition to its key support of the Dairy Complex's construction, DFM has committed to ongoing annual support of U of M dairy research programs
"Thanks to the leadership of Dairy Famers of Manitoba on this project, these state-of-the-art facilities will allow our faculty and students to undertake research that is up to industry standards, thus enabling the results to be readily translated into practice and be of significant value to producers in Manitoba and beyond," said Jayas, Vice-President (Research and International) and Distinguished Professor at the U of M.
The Dairy Farmers of Manitoba Discovery and Learning Complex will be an essential venue for students interested in acquiring hands-on experience with large animals and Canadian dairy production. The Faculty of Agricultural and Food Sciences recently developed an expanded experiential learning component centred on the Glenlea Research Station's animal production systems.
In addition, the Glenlea dairy barn has been a popular public education component for visitors to the Bruce D. Campbell Farm and Food Discovery Centre. The new Dairy Complex will enhance teaching and outreach through a viewing gallery and public exhibit space, and provide visitors with a rare opportunity to engage with modern dairy production.