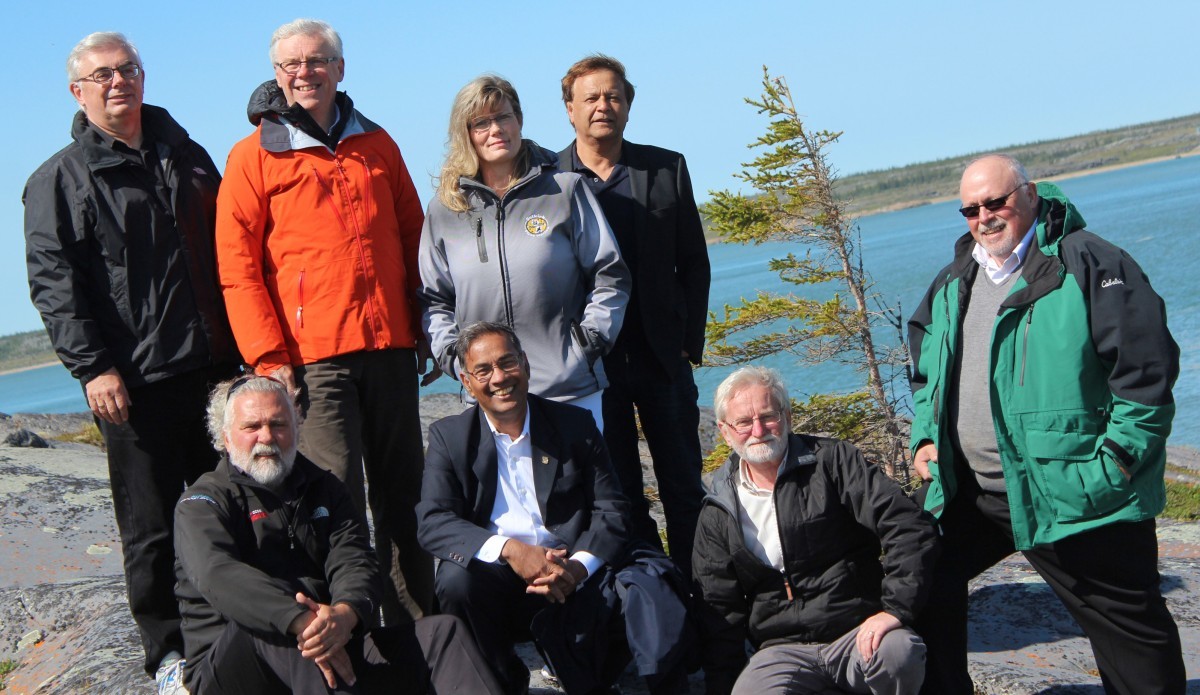 New research facility to open in Churchill
The Churchill Marine Observatory positions Canada as a global leader of research into the detection, impact and mitigation of oil spills in sea ice
July 6, 2015 —
On Monday, July 6, 2015, Shelly Glover, Minister of Canadian Heritage and Official Languages, and Manitoba Premier Greg Selinger, visited Churchill to announce an investment of $22.1 million to build the Churchill Marine Observatory (CMO), a multi-disciplinary research facility where researchers will study the impact of oil spills in sea ice as well as investigate issues facing arctic marine transportation.
The research infrastructure funding is provided through the Canada Foundation for Innovation's (CFI's) Innovation Fund and Aboriginal Affairs and Northern Development which will invest $12.4 million, and the Province of Manitoba, which has committed almost $9.7 million over four years. The Universities of Calgary and Victoria are also collaborators on the CMO.
The Churchill Marine Observatory will be a unique, highly innovative research facility located in Churchill, Canada's only Arctic deep-water port. The observatory will position Canada as a global leader of research into the detection, impact and mitigation of oil spills in sea ice. The research will help address technological, scientific and economic issues pertaining to Arctic marine transportation, oil and gas exploration, and development throughout the Arctic. The project leader is David Barber, associate dean of research in the Clayton H. Riddell Faculty of Environment Earth and Resources at the University of Manitoba and Canada Research Chair in Arctic System Science.
David Barnard, President and Vice-Chancellor, University of Manitoba, notes: "Arctic system science and climate change is one of the University of Manitoba's Signature Areas of research excellence, and the Churchill Marine Observatory will enable our scientists, working in collaboration with partners around the world, to push forward knowledge and understanding in this important field. Their research will be crucial to mitigating and adapting to the effects of a changing climate on Canada's Arctic and the world."
This unique facility will bring together researchers from the universities of Manitoba, Calgary, Victoria, Laval, Dalhousie and Washington, as well as federal governmental departments. One of its key features will be two saltwater sub-pools designed to simultaneously accommodate various scenarios of oil spills in sea ice. Scientists will be able to study oil in actual Arctic seawater and sea ice. An environmental observing system will also be built on the Churchill estuary, along the main shipping channel across Hudson Bay and Strait, providing a state-of-the-art monitoring system that will strengthen Canada's technological capacity to protect the Arctic environment.
On September 14, 2007, the European Space Agency stated that ice loss that year had opened up the historically impassable route, setting a new low of ice cover as seen in satellite measurements which go back to 1978. The Northwest Passage became navigable in 2008, and in September 2013, the first large sea freighter MS Nordic Orion was able to use the passage.
The Canadian government considers the Northwest Passage part of Canadian Internal Waters. On July 9, 2007, Prime Minister Harper stated: "Canada's Arctic is central to our national identity as a northern nation. It is part of our history. And it represents the tremendous potential of our future." With increasing marine traffic, it is essential that Canada be prepared for the consequences of increased marine shipping traffic.
Barber explains: "The Churchill Marine Observatory will be a globally unique facility designed to support detailed investigations of oil, and other transportation related contaminants, in Arctic sea ice using a purpose built Oil in Sea Ice Mesocosm (OSIM).These small scale OSIM studies will then be upscaled to the entire Arctic using a highly coupled Environmental Observing (EO) system. Taken as an amalgam the CMO will provide new knowledge and environmental technologies required for the detection, impacts, and mitigation of oil/contaminant spills in sea ice; directly benefitting policy development and technological innovation in Manitoba, Nunavut, Canada and indeed the circumpolar world."
Arctic System Science and Climate Change is one of the U of M's Signature Areas that are Established Areas of Excellence, and the CMO is a shining example of this Signature Area. The U of M is already home to internationally renowned programs of research in Arctic science, climate change and its effects on Arctic sea ice. During the past 20 years, the University of Manitoba has emerged as one of the leading research institutions in the world in the field of Arctic System Science and Technology. At the core of this development is the Centre for Earth Observation Science (CEOS). Through CEOS, the U of M is part of the Arctic Science Partnership (ASP) working together to plan and execute cutting edge research in Arctic science along with the Greenland Climate Research Centre, Greenland Institute of Natural Resources and the Arctic Research Centre, Aarhus University, Denmark.
The ASP was made possible in part by $10 million in funding for the Canada Excellence Research Chair (CERC) in Arctic Geomicrobiology and Climate Change, Søren Rysgaard, who is leading a U of M research team at the very forefront of knowledge about the causes and consequences of global warming. Research in this area is crucial to understanding, mitigating and adapting to the effects of a changing climate on Canada's Arctic and the world.
"With such intense interest in Arctic exploration our CMO researchers will be at the global forefront of predicting the impact of, and response to, oil spills in the Arctic. Their research will inform what needs to be done not if, but when, this happens," says Norm Halden, dean, Clayton H. Riddell Faculty of Environment, Earth, and Resources, University of Manitoba.
Research at the University of Manitoba is partially supported by funding from the Government of Canada Research Support Fund.