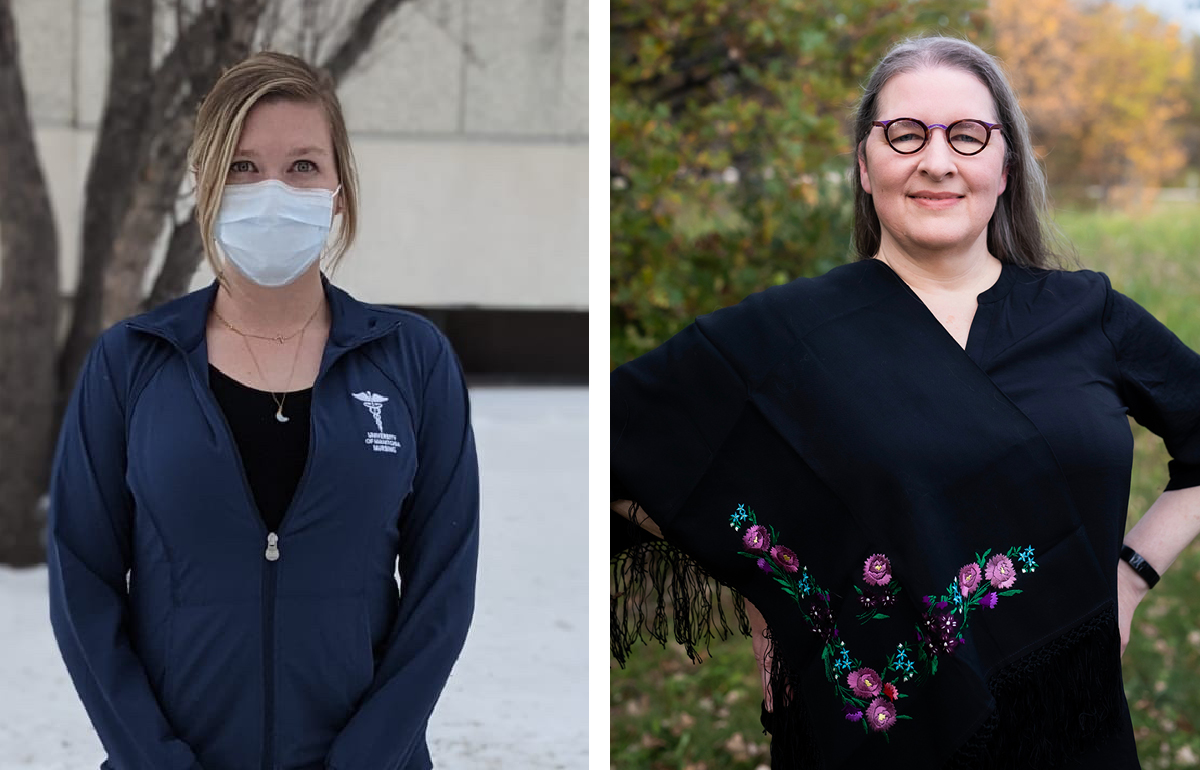 New nurses graduate in virtual ceremony
Convocation also sees graduates in the college's master's and PhD programs
October 21, 2021 —
The College of Nursing, Rady Faculty of Health Sciences welcomes 110 new graduates to the nursing profession on Oct. 21 in a virtual pinning ceremony ahead of an afternoon UM virtual Fall Convocation ceremony.
The pinning ceremony is organized by the UM Nursing Students' Association (NSA) and the College of Nursing. The new graduates received their nursing pins prior to the ceremony and together recite the UM Bachelor of Nursing Pledge, which was inspired by the 1893 Florence Nightingale Pledge and has been adapted by the university.
Class of 2021 co-valedictorian Miranda Stead has already started working in the burns and plastic surgery ward at Health Sciences Centre and is excited to see where her nursing career takes her.
"I'm loving every minute of this, and the possibilities in nursing are absolutely endless," she said, noting she may return to UM to pursue a master's degree.
"I definitely had a good experience doing some summer work at the Manitoba Centre for Nursing and Health Research (MCNHR). There are so many interesting things that the nursing profession is researching and I would love to contribute to that one day," she said.
Stead said that joining the profession during the COVID-19 pandemic may add some stress for new nurses, but that she's glad she has her fellow graduates to turn to for support.
"Nurses don't do anything alone," she said. "We're always taking care of each other, and that's one of the biggest things I learned in the program – in order to take care of other people, you need to take care of yourself first."
The convocation also sees 16 graduates in the college's master's program and two from its PhD program.
Brenda Peters-Watral began her journey to her PhD in 2013. She initially planned to graduate in 2017, but two health scares got in the way of that.
"In 2016 I had thyroid cancer and needed to be treated for that, and then in 2017 I was diagnosed with a rare myeloproliferative disorder," she said. "There were a few points where we weren't even sure if I was going to survive, never mind finish my degree."
Peters-Watral has been a nurse since 1990. She has specialized mostly in oncology and palliative care for 20 years before moving into the emergency department in 2009.
Her PhD research was on moral distress in oncology nursing. She received a total of $83,250 in competitive funding in support of her research and education, including from the UM's Murphy Scholarship in Graduate Research in Oncology Nursing and a doctoral studentship from Research Manitoba.
In April she began a half-time research assistant position with Dr. Diana McMillan, a College of Nursing associate professor who became the inaugural Health Sciences Centre Clinical Chair last year.
"I really wanted to combine research and practice and this allows me to keep my half-time nurse practitioner position (at HSC)," Peters-Watral said. "The two roles are synergistic. It's exactly what I hoped for and a great combination."
Abeer Alraja also receives a PhD in nursing. She first came to UM from Jordan in 2008 and earned a master's degree in 2011. See below for her reflections of her time at the College of Nursing.
Click to view the convocation.