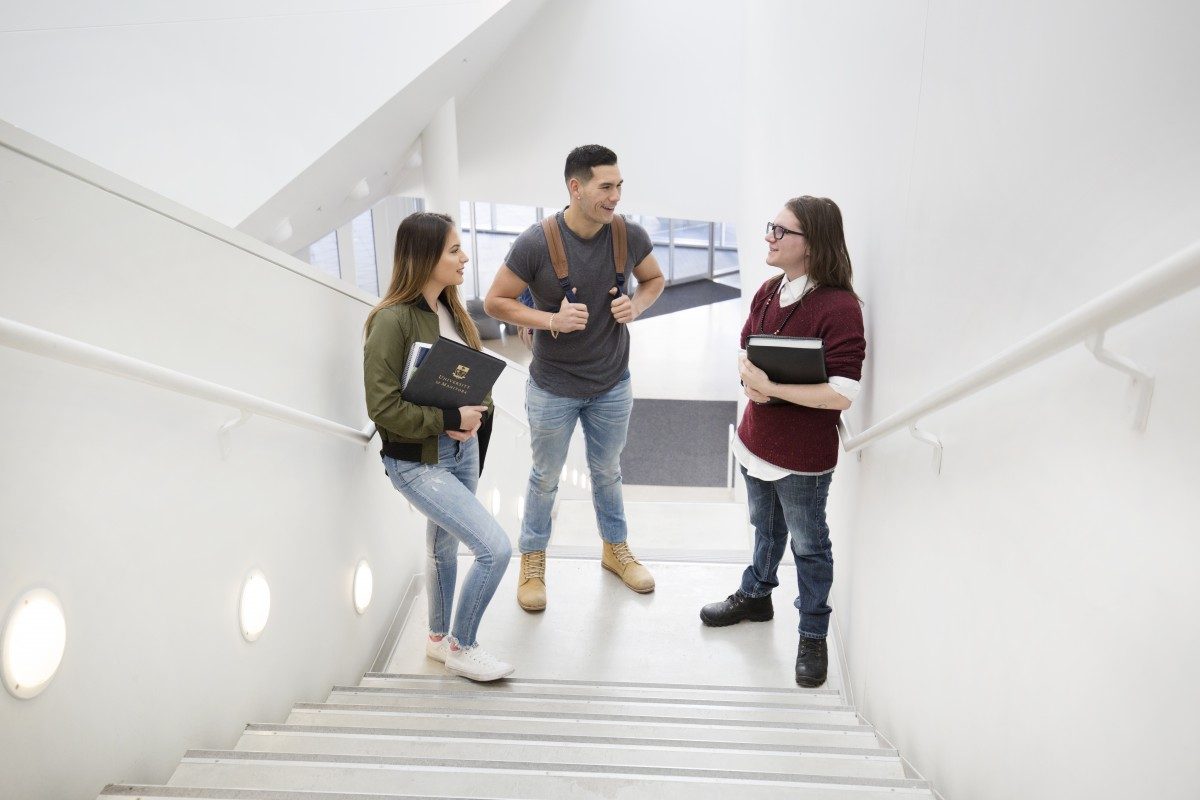 New Indigenous scholarship helps reduce barriers to post-secondary success
Nominations for the UMSU Award for Indigenous Community Leaders are due Feb. 16
January 31, 2018 —
The University of Manitoba Students' Union (UMSU) is funding a brand-new scholarship for Indigenous students. Beginning this academic year up to 25 awards will be offered to undergraduate students who meet the requirements, with each award valued at a minimum of $1,000. To fund these awards, UMSU has committed to contribute $25,000 for 12 years.
The UMSU Award for Indigenous Community Leaders is funded through the union's $16.2 million commitment to support student success at the U of M through the Front and Centre campaign.
"Recognizing the [Truth and Reconciliation Commission of Canada] Calls to Action and providing monetary rewards to our hard-working, deserving students will benefit them by more than just taking care of their basic necessities," says Kristin Flattery, who helped develop the terms of reference for these awards during her term as female co-president of the University of Manitoba Aboriginal Students' Association (UMASA). "It will help with mental, spiritual and emotional aspects of their lives as well. Having extra financial support allows students to focus on classes rather than worry about funding their next meal or daycare."
Flattery [BFA(Hons)/17], who graduated in 2017, points out that many Indigenous students are often isolated after leaving their home communities for post-secondary education. This gives Indigenous students considerable disadvantage, leaving them in a state of culture shock when they first arrive for their studies.
"Due to the overt systems of colonization and loss of language our people require equitable treatment and support to be successful within our Western academic institutions. Statistically, Indigenous peoples suffer tremendously due to major funding gaps which translates to lack of educational supports."
"After spending so much time in the development stage, it's really exciting to finally see these awards come to fruition," says Tanjit Nagra, president of UMSU.
Highlighting the University of Manitoba's commitment to Indigenous achievement, these awards recognize Canadian Indigenous students who are leaders in their communities and participate in community service activities and leadership initiatives.
"Scholarships such as the UMSU Award for Indigenous Community Leaders, help to reduce possible barriers to post-secondary success," says Jane Lastra, the U of M's director of financial aid and awards.
"The awards exemplify our faith and support in our students to carry on traditions such as leadership, research, service and innovation. The scholarships not only provide students with financial support, but also the opportunity to personally grow as young leaders."
The awards are open to all Canadian First Nations, Métis or Inuit undergraduate students enrolled either full or part-time in any year of study at the University of Manitoba. Current U of M students must have a minimum 2.0 degree grade point average. Incoming students who are nominated must meet the minimum admission requirements for University 1 or any faculty, college or school at the U of M with a direct-entry option.
"It's important for our entire community to play an active role in reconciliation with Indigenous peoples," says Nagra. "We hope that this new scholarship is a step in the right direction for the U of M in that process."
Students, faculty and staff at the U of M, as well as members of the extended U of M community are encouraged to submit nominations, which must be accompanied by a description and explanation of the candidate's community service activities and demonstrated leadership qualities.
Nomination letters for the UMSU Award for Indigenous Community Leaders are to be submitted in hard copy to Financial Aid and Awards, Room 422 University Centre, attention: Pamela Gareau by 4:30 p.m. on Feb. 16, 2018.
"We have already heard back from many recipients of the Indigenous Student Bursary, and the stories we have heard have been so inspiring. It's amazing to hear and see the feedback. I think this award will go a long way in relieving students of a lot of stress. It's a great way to recognize their leadership in the community, and award them for giving back," says Nagra.
Creating Pathways to Indigenous Achievement is an institutional priority for the University of Manitoba, with a goal to celebrate achievements by Indigenous faculty, staff, students, alumni and community partners.
Indigenous Achievement is a pillar of Front and Centre — the campaign for the University of Manitoba, with $65 million directed toward this priority. By collaborating with Indigenous communities and stakeholders, the University of Manitoba is striving to be a welcoming place that translates into success for Indigenous students and their families.