New anti-racism practice lead appointed
October 22, 2019 —
Dr. Brian Postl, dean, Rady Faculty of Health Sciences, and Dr. Marcia Anderson, executive director, Indigenous Academic Affairs, Ongomiizwin – Indigenous Institute of Health and Healing, Rady Faculty of Health Sciences, are pleased to announce the appointment of Dr. Delia Douglas as anti-racism practice lead in the Office of Equity, Diversity and Inclusion at the Rady Faculty of Health Sciences and Ongomiizwin Indigenous Institute of Health and Healing, effective September 16, 2019.
The University of Manitoba is committed to addressing racism, and specifically anti-Indigenous racism, in the work and learning environments of the Rady Faculty of Health Sciences.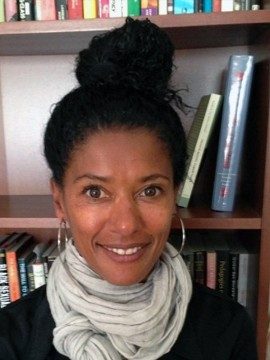 Dr. Douglas will lead, develop and implement an anti-racism strategy inclusive of the development of an anti-racism policy and associated processes, as well as relevant faculty development within the Faculty. She will also act as a subject matter expert in critical race theory, pedagogical approaches to teaching about race and racism, and the impacts of racism within the work and learning environments.
Dr. Douglas received her PhD in sociology from the University of California, Santa Cruz, and a master of science in sport studies from Miami University (OH).
She has taught at the Institute for Gender, Race, Sexuality and Social Justice at the University of British Columbia, Simon Fraser University and at selected US universities. She has developed courses for Athabasca University, Thorneloe University, the Inner City Social Work Program at the William Norrie Centre, and has previously worked as a research associate in the Faculty of Kinesiology and Recreation Management at the University of Manitoba. She was a long-term volunteer with the fetal maternal newborn and family health project at BC Women's Hospital.
Dr. Douglas' expertise in race, gender, and sport is recognized internationally, and she has been an invited speaker at the United Nations at Geneva, and was asked by the Department of Canadian Heritage and the Public Health Agency of Canada to participate in an expert discussion on the identification and development of research on factors that affect the full participation of Black Canadian youth in society.
She has been referenced in popular media such as the New York Times, Flare, Vox, and the Bleacher Report.
Her research and teaching interests have explored inequality, systemic racism, and struggles for social justice with a focus on critical race and gender studies, settler colonialism, Black studies, equity and higher education, and sport studies.
Please join us in welcoming Dr. Douglas to the Rady Faculty of Health Sciences.