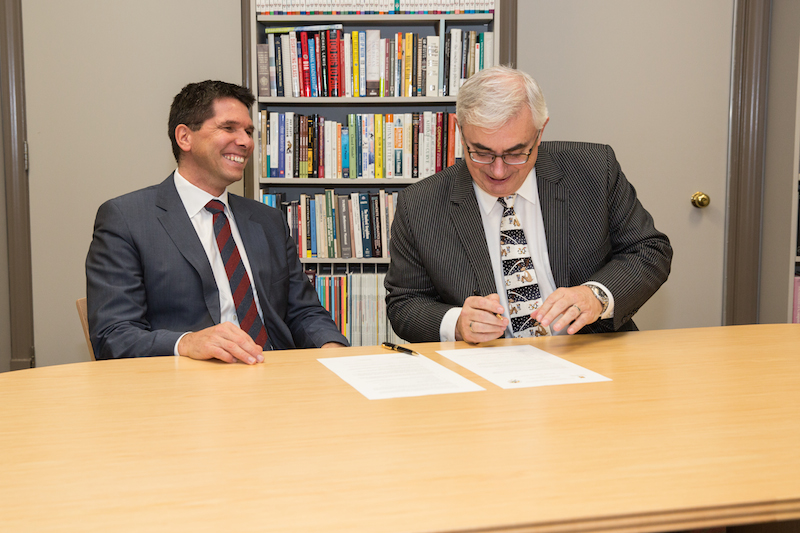 New agreement lays roadmap for Treaty education
U of M signs MOU with Treaty Relations Commission of Manitoba
December 10, 2015 —
Students, faculty and staff at the University of Manitoba will now learn more about Treaties and their relevance and issues thanks to a new partnership.
On Dec. 10 the U of M and the Treaty Relations Commission of Manitoba (TRCM) signed a Memorandum of Understanding focused on Treaty education. This MOU will enhance the learning experience for students, staff, and faculty relative to Treaty and Treaty related matters.
Through the MOU, the U of M and TRCM will collaborate on a number of initiatives, including:
Seminars on Treaty issues for new and existing students and faculty/staff;
Workshops for faculty on how to integrate Treaty awareness and research into curriculum; and
A Treaty Ambassador program for students.
"I am thrilled that the U of M and the Treaty Relations Commission of Manitoba have come together as partners in advancing Indigenous education, research, and Treaty awareness," says Deborah Young, executive lead for Indigenous Achievement at the U of M. "The learning experiences that will result from this partnership will guide our university community as we work towards reconciliation and fulfill our commitment to implementing the TRC's calls to action."
Ashley Richard, a fourth-year Asper student who works at TRCM, is excited by this new partnership because initiatives like the Treaty Ambassador program will help students discover new ways to enhance their learning experience.
"This program is essential for the enhancement of Indigenous culture at the U of M. As students, we have a responsibility to learn as much as we can about our histories and traditions. Learning does not end within the four walls of classrooms; Treaty education comes from traditional knowledge from Elders, community members, peers, and family. Your university education should be used in tandem with all of these other sources as a way to enhance your understanding of Treaties," she says.
"I hope this program empowers Indigenous youth to believe that their voice matters and to enable youth to understand the responsibility we have to ensure we gain as much knowledge from our Elders while we can."
The TRCM and the University of Manitoba have partnered in the past, most recently in March 2015 when the two parties collaborated during Indigenous Awareness Week, which brought together Elders, Knowledge Keepers, academics and community members to bring awareness to Treaties and their relevance. This innovative MOU builds upon past successes such as this.
"Formalizing this partnership will allow us to continue to build on the impactful work that is already underway," says James Wilson, Treaty Relations Commissioner and member of the President's Advisory Council at the U of M. "By ensuring Indigenous Achievement is part of the strategic plan for every faculty and department at the University of Manitoba, we feel confident that this MOU will inspire individuals and empower the kind of change that will help us build healthier relationships and stronger communities."
Indigenous Achievement is an institutional priority of the University of Manitoba. One of the five pillars of the University of Manitoba's $500-million Front and Centre comprehensive fundraising campaign is to ensure Manitoba becomes a center of excellence for Indigenous achievement.
This recent MOU builds upon the University of Manitoba efforts to incorporate Indigenous ways of knowing into it curricula and learning spaces. The U of M strives to be a welcoming place, which begins by collaborating with Indigenous communities and parties to put Indigenous achievement front and centre.
"The University of Manitoba is honoured to collaborate with the Treaty Relations Commission of Manitoba. We have a shared mandate of using education to transform communities and to strengthen and build relationships so that all peoples have better futures," says David Barnard, President and Vice-Chancellor at the University of Manitoba. "The University appreciates the opportunity to work closely with the TRCM as we further enrich our community with Indigenous perspectives."
At major events, the U of M acknowledges the traditional territories on which it sits, including a commitment to respect the Treaties that were made on these lands. This statement now forms part of the foundational statements that define the University of Manitoba.
About TRCM
The Treaty Relations Commission of Manitoba is a neutral body, created through a partnership between the Assembly of Manitoba Chiefs (AMC) and Canada, with a mandate to strengthen, rebuild and enhance the Treaty relationship and mutual respect between First Nations in the province of Manitoba and other Canadians.