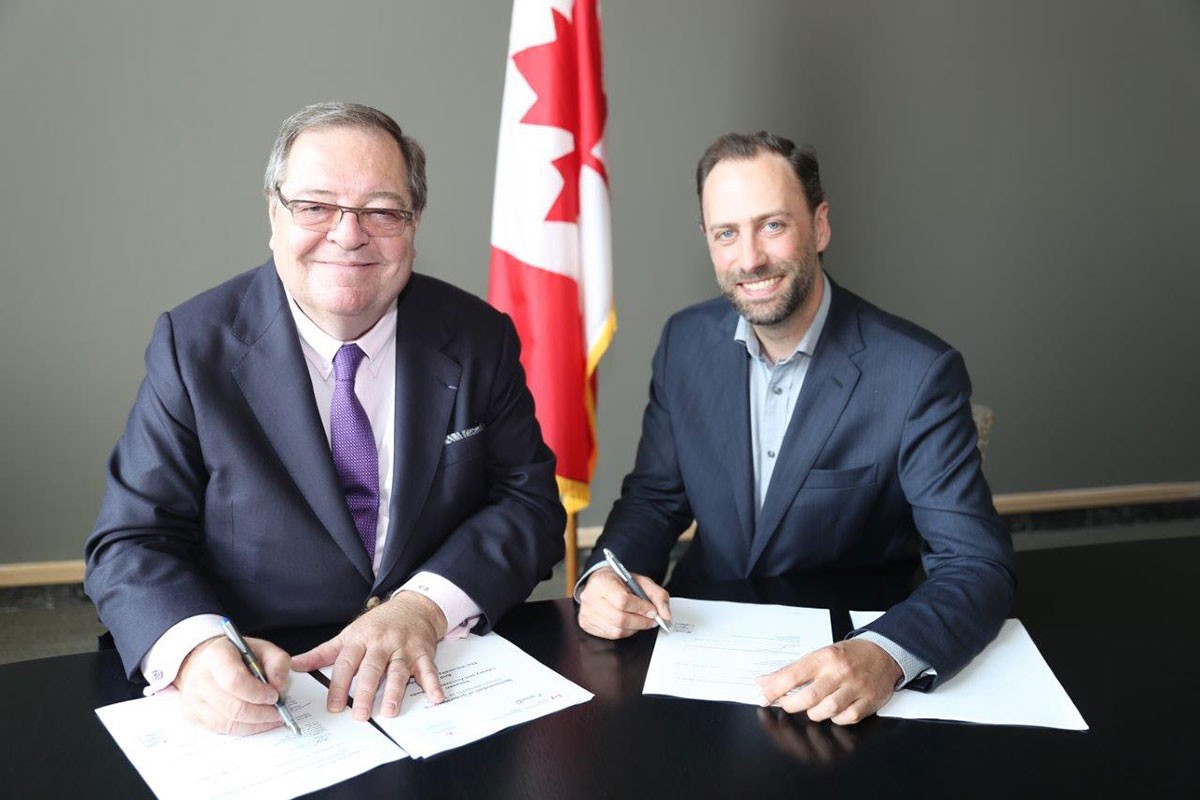 NCTR and Library and Archives Canada sign agreement to safeguard Residential School records
June 3, 2016 —
Ry Moran, director of the National Centre for Truth and Reconciliation (NCTR) at U of M, and Dr. Guy Berthiaume, librarian and Archivist of Canada, have announced an agreement between the NCTR and Library and Archives Canada (LAC).
The memorandum of understanding signed June 2 will ensure the preservation of, and public access to, the records of the Truth and Reconciliation Commission (TRC) on Residential Schools.
"By virtue of the work conducted for the Truth and Reconciliation Commission, the NCTR holds vast numbers of government of Canada records. This MOU is an important step in ensuring these records are made available to Survivors in a manner consistent with the spirit and intent of both the TRC Calls to Action and the work of the TRC. It is also an important step forward in further examining Canada's vast archival holdings on Indigenous peoples," said Ry Moran, director of the NCTR.
The agreement outlines areas of collaboration between the two organizations. LAC will provide the NCTR with digital copies of the TRC's records, on-site archival advice and technical expertise. NCTR will provide LAC with access to documents from the TRC that have not yet been transferred to LAC. The agreement also establishes areas of collaboration related to special initiatives including public engagement, exhibitions, events, and the ongoing sharing of records that are relevant to the issues of Indigenous peoples.
Both the NCTR and LAC are committed to preserving documents of national importance that bear witness to the Canadian experience. Making the records accessible to Residential School Survivors, their families, and the public is a key outcome of the agreement.
LAC is in the process of creating some 300,000 digital images of TRC records to be transferred to the NCTR.
LAC and the NCTR will make TRC records available to the public, subject to access to information and privacy legislation.
The National Centre for Truth and Reconciliation is the permanent home for all statements, documents, and other materials gathered by the Truth and Reconciliation Commission. The NCTR is housed at the University of Manitoba and works in partnership with a wide variety of agencies and organizations to advance Truth and Reconciliation in Canada.
The NCTR is a cornerstone of the U of M's $500-million Front and Centre comprehensive fundraising campaign: the university is committed to ensuring that Manitoba becomes a centre of excellence for Indigenous achievement – leading to increased social, economic, and health outcomes for individuals, communities and all Canadians.