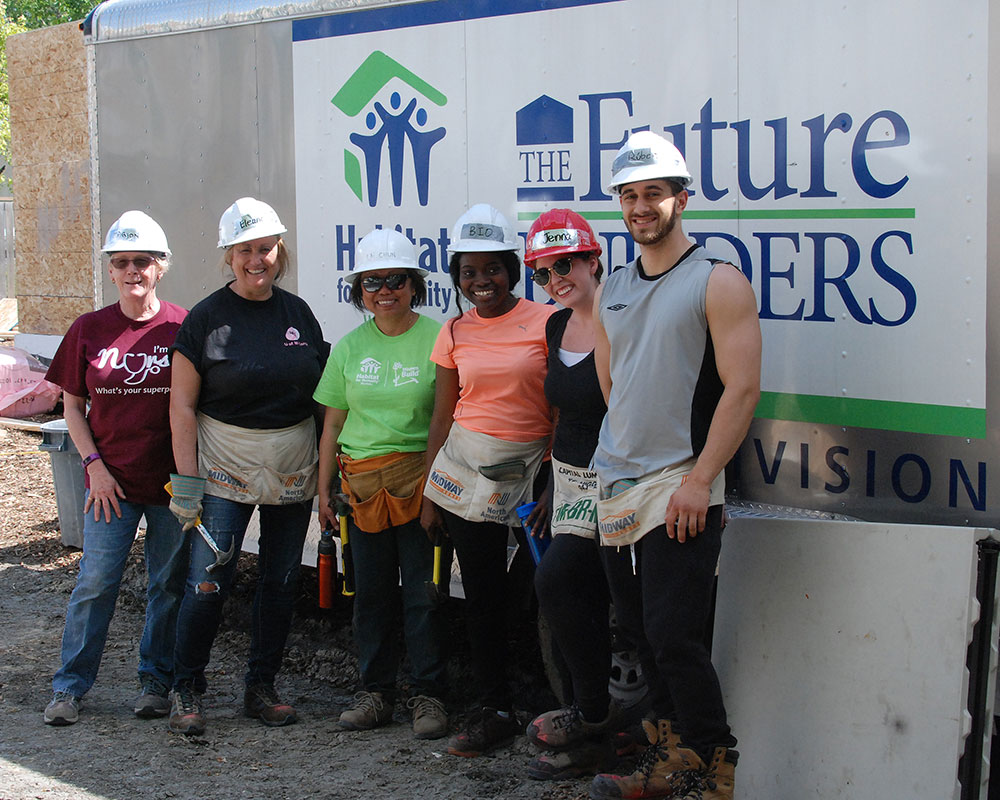 Recognizing those who go above and beyond to help others
April 24, 2017 —
National Volunteer Week in Canada runs from April 23 to 29, 2017 and the University of Manitoba is proud to recognize those who go above and beyond to help others in need.
Each year, hundreds of students, staff, faculty and alumni from the university collectively spend thousands of hours donating their time and talents in a variety of ways. Volunteer efforts at the U of M help support service learning opportunities, educational support programs and community projects. From hammering nails while building a Habitat for Humanity home – to one-on-one EAL training with international students, members of the U of M community give generously. At the same time, their commitments strengthen relationships and create a better world for all.
Through volunteering, students can develop transferable skills such as teamwork, problem solving, creativity, leadership and the ability to handle responsibility. Volunteer projects can be learning opportunities and an excellent time to network and make some contacts. Volunteering allows students to gain practical experience in their field of study, invaluable cross-cultural experience, language training, travel opportunities, increased personal marketability, self-esteem and exposure to international development issues.
Here are just three of the hundreds of volunteers within the U of M community.
Lai Chun Yee: College of Nursing Staff Member
As an immigrant Lai Chun Yee was looking for ways to give back to the place she now calls home. She has a long history of volunteering, first with the Cycle of Hope and now she's heavily involved with Habitat for Humanity and has been part of the Rady Faculty of Health Sciences Habitat for Humanity build for the last three years.
"I volunteer with Habitat for Humanity because I believe in what they are trying to do and with their mission and vision. I also see immediately how the time that I give is of benefit to someone else," says Yee. "It is a very humbling experience and I learn so much from the people I meet and their life experiences. Also, what I do in the volunteer work is so different from my day job."
Isabella Wiebe: Occupational Therapist
Isabella Wiebe is this year's Distinguished Alumni Award Recipient for Service to the University of Manitoba. She volunteered with the university's Career Mentor Program for 20 years, meeting with more students than any other of its 700 mentors. She says she learned a lot from many people who were kind enough to give her their time and now she's giving back. One of the main reasons she continues to volunteer is simply to help others.
"I grew up with the value and desire to help people whenever I can," says Wiebe. "Helping others is a win-win situation because you help people to get their needs met and in the process of doing so you get to feel better about yourself in return."
Shayne Reitmeier and Tharuna Abbu: College of Medicine Students
As founders of the LGBTTQI* Interest Group Shayne Reitmeier and Tharuna Abbu are dedicated to raising awareness about the unique healthcare needs of LGBTTQI* populations. They are members of UMQueer and are helping to plan the U of M's pride week. Both are active in volunteering because they find giving back is incredibly rewarding.
"My work with the LGBTTQI* Interest Group in the Max Rady College of Medicine, with UMQueer, and with similar groups is informed by the struggles of my friends and chosen family," says Abbu. "I'm inspired to volunteer because I recognize the inequities that many communities are burdened by. Volunteering is a chance for me to give back in a meaningful way and to learn from those around me."
"Since beginning medical school, I have truly found my volunteering 'niche.' I collaborate with colleagues on initiatives that focus on promoting social justice for underrepresented communities, and facilitating support networks for student and staff well-being," says Reitmeier. "It is very rewarding to see volunteer initiatives make an impact on community, and it is the feedback that fuels my motivation."
Volunteer opportunities
Below is a selection of some student, staff and faculty volunteer programs. UM Today has published many more stories of inspiring volunteers from the University community.
The University of Manitoba Student Volunteer Program (UMVP) allows students to apply the skills developed through their volunteerism, training, and professional development workshops to other academic and non-academic aspects of their University of Manitoba student experience and beyond.
CanU is an after-school program that inspires hope and confidence in under-resourced youth
WISE Kid-Netic Energy program is sparking a love of science and engineering
Students build on creativity, passion and leadership through Let's Talk Science program
Smiles for Miles program provides dental hygiene care to new Canadians
The Biomedical Youth Program (BYP) connects with Manitoba's inner-city and disadvantaged youth to instill a love of science
SWISH program connects with young people while offering a safe and fun place to participate in recreational activities
Alternative Reading Week sees students help in local and international communities
Student-athletes are providing positive role models with Bisons Against Bullying
The Career Mentor Program connects alumni volunteers with students to help explore occupational options
The Alumni Association board of directors is made up of volunteers that work to build a dynamic community of engaged alumni
The Faculty of Architecture Student Ambassador Program gives students an opportunity to play an integral role by volunteering their time to promote the Faculty of Architecture at the University of Manitoba
The Student Peer Mentorship Program offers new U of M students the opportunity to make immediate connections with upper years students, explore co-curricular opportunities available on campus, and provides the framework to construct their own learning.