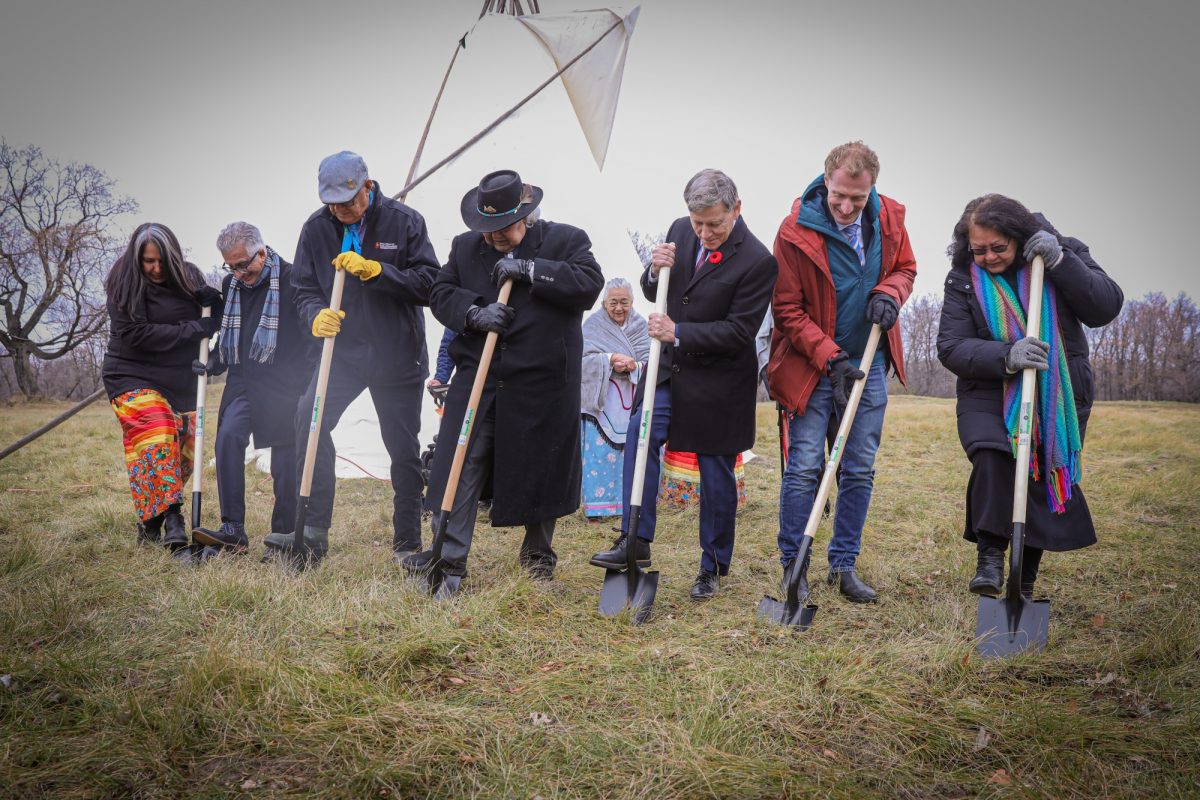 National Centre for Truth and Reconciliation welcomes funding for Centre's new permanent home and long term work
November 9, 2022 —
Residential school Survivors and the National Centre for Truth and Reconciliation are welcoming $60 million in funding to help build a new, permanent home for the Centre at the University of Manitoba.
The Honourable Marc Miller, Minister of Crown-Indigenous Relations, made the announcement on Nov. 9, 2022, in the Southwood lands on the Fort Garry campus where the new home of NCTR will be erected. The new building will provide NCTR with the space it needs to fulfill its mandate which was born from he Truth and Reconciliation Commission and Survivors, and meet growing community demands to continue the work of Truth and Reconciliation.
"In the future, there will be fewer Survivors. That is why it is important to have a home where we can preserve our truths for future generations," says Survivor Eugene Arcand.
With this funding, NCTR will build an international learning centre where Survivors, their families and people from across Canada and around the world can come to hear the truth about residential schools. This support will help fulfill a vision of a home for sacred items, thousands of oral histories and Survivor statements gathered during the Truth and Reconciliation Commission (TRC) — along with many other sacred items and millions of records that will be gathered in the years to come.
"As more residential school records are turned over from the Federal Government and Churches and as we continue the research to bring the missing children home, this funding will help fulfill our vision of a new home to serve Survivors and their families, and work with the many nations that need their records in their hands," says Stephanie Scott, Executive Director of NCTR.
To aid this work, the Government of Canada also announced funding of $28.5 million over five years for NCTR to continue its vital work, including collecting, reviewing, and making accessible residential school records, and supporting community-led efforts to locate and identify unmarked burials. The funding will support numerous initiatives including the National Residential School Student Death Register, the online National Cemetery Register and the National Advisory Committee on Missing Children and Unmarked Burials.
"We welcome and are thankful for this commitment to build a new home for NCTR and to support communities in finding and memorializing missing children," says Catherine Cook, UM Vice-President (Indigenous) and member of the NCTR's Governing Circle. "We are excited for the opportunities this funding brings to support Indigenous communities and research on this important work."
The NCTR provides a place of learning and dialogue for ongoing conversations about the implementation of the Truth and Reconciliation Commission's 94 Calls to Action. This work includes educational programming and activities, research into millions of records to find the children who did not return from residential schools, collaboration on the establishment of national monuments to memorialize residential schools, and community work, such as the Na-mi-quai-ni-mak (I remember them) Community Support Fund.
"On behalf of the UM community, I express our gratitude for the significant investment made in bolstering the work, capabilities and impact of NCTR. It is a great privilege for UM to host such an important body, and we are deeply honoured to be its partner. UM recognizes Reconciliation is a shared responsibility and, in addition to the Government of Canada, I thank all donors who have been supporting the work of NCTR," says Michael Benarroch, President and Vice-Chancellor at UM.