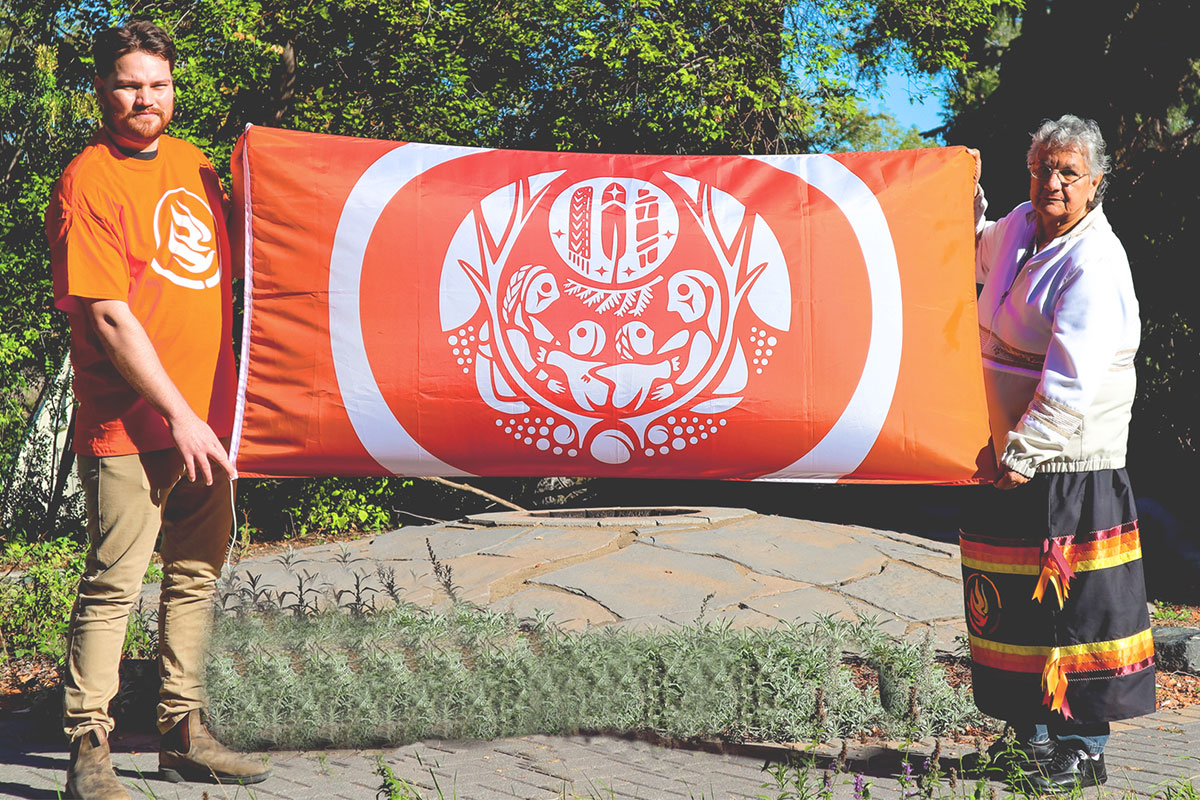 National Centre for Truth and Reconciliation unveils Survivors' Flag for Sept. 30
September 28, 2021 —
The National Centre for Truth and Reconciliation (NCTR) has unveiled a new Survivors' Flag to mark the first official National Day of Truth and Reconciliation.
This commemorative flag was created by Survivors to share their expression of remembrance with the broader public and to honour all residential school Survivors, families, and communities impacted by the residential school system in Canada. The flag was developed through six weeks of consultation, discussion and collaboration with Inuit, Mi'kmaq, Atikamekw, Cree, Ojibway, Dakota, Mohawk, Dene, Nuu-chah-nulth, Secwepemc, and Métis Survivors.
"Earlier this year, the discoveries of unmarked burials at former residential schools compelled many Survivors to reflect on remembrance — of the experiences they survived and of their fellow students who did not return home," said Stephanie Scott, Executive Director of the NCTR. "The Survivor's flag represents the thoughts, emotions, experiences and hopes expressed by Survivors who have shared their truths about residential schools. The flag affirms commitment to the remembrance of the lives lost through, and the lives impacted by the residential school system."
With support from the Government of Canada, the NCTR will distribute official flags to Survivors who contributed to its design and to a number of Indigenous organizations to incorporate into the National Day for Truth and Reconciliation events.
"As children, Survivors were told they couldn't be who they were because they were Indigenous. We were made to believe we were not good enough," said Wanbdi Wakita, Dakota Survivor and contributor to the Survivors' Flag, "As a veteran, to be honoured with a flag has special significance. I will bring this flag with me to gatherings and ceremonies. I hope Canadians will also incorporate the flag into their own gatherings in the future to mark remembrance."
The NCTR also encourages everyone to find a way to participate by wearing orange, watching national events, or promoting learning at their school or place of work if they are not marking the statutory holiday.
The Survivors flag will also soon be available for purchase to the general public, including in additional formats, such as car flags, window decals, and lawn signs.
To learn more about the Survivor's Flag and the design visit the Survivor's Flag Exhibit.