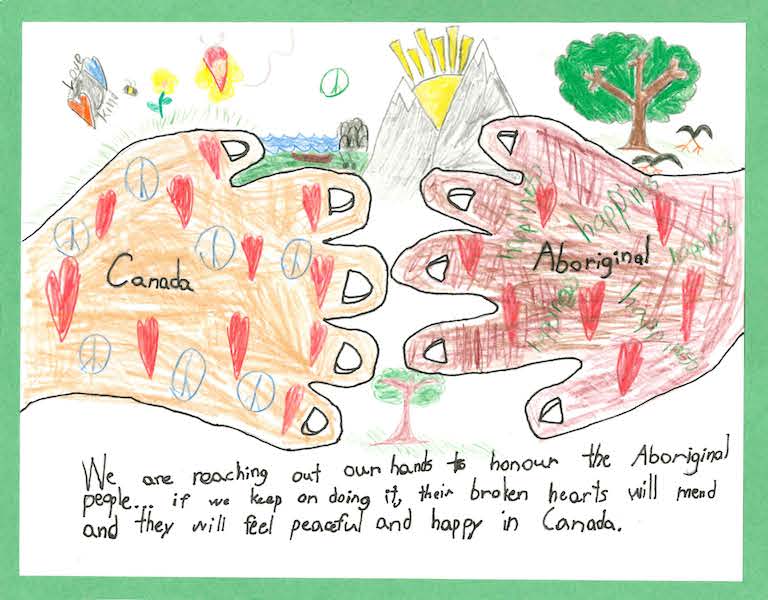 National Centre for Truth and Reconciliation announces recipients of Imagine a Canada
March 4, 2016 —
The National Centre for Truth and Reconciliation (NCTR) announced at the start of March the recipients of Imagine a Canada, a national art and writing initiative that encouraged youth across the country to share their vision of Canada through the lens of reconciliation.
The 10 selected recipients will be honoured at a ceremony at Rideau Hall, where their submissions have been transformed into a multipage booklet featuring their art, essays and poetry.
"It is deeply inspiring to see the vision, insight and power of these young peoples words and art," says Ry Moran, Director of the NCTR. "It is with great pleasure that we honour these young people and their visions for reconciliation. Their compassion and empathy should give us all hope for a much brighter tomorrow."
The recipients, by designated grade levels
Laurick Corriveau, Grade 2
Aurora Virtual School Carcross, YT
Josiah Ferguson, Grade 3
Langley Meadows Community School Langley, BC
Drake Trudeau, Grade 6
Assiginack Public School Wikwemikong, ON
Nevaeh Murray
West Kent Elementary Charlottetown, PEI
Madeleine Morrison, Grade 9
Royal Bay Secondary School Victoria, BC
Azumi Konaka, Grade 9
Kitsilano Secondary School Vancouver, BC
Christopher Sanford Beck, Grade 10
Cochin, SK
Megan Benoit, Grade 10
Lord Tweedsmuir Secondary Surrey, BC
Angeline Guiterrez-Rain, Grade 12
Queen Elizabeth High School
Post-secondary:
Robin Chokomolin
Canadore College North Bay, ON
The National Centre for Truth and Reconciliation is the permanent home for all statements, documents, and other materials gathered by the Truth and Reconciliation Commission. The NCTR is housed at the University of Manitoba and works in partnership with a wide variety of agencies and organizations to advance Truth and Reconciliation in Canada.
The NCTR is a cornerstone of the U of M's $500-million Front and Centre comprehensive fundraising campaign: the university is committed to ensuring that Manitoba becomes a centre of excellence for Indigenous achievement – leading to increased social, economic, and health outcomes for individuals, communities and all Canadians.
Research at the University of Manitoba is partially supported by funding from the Government of Canada Research Support Fund.