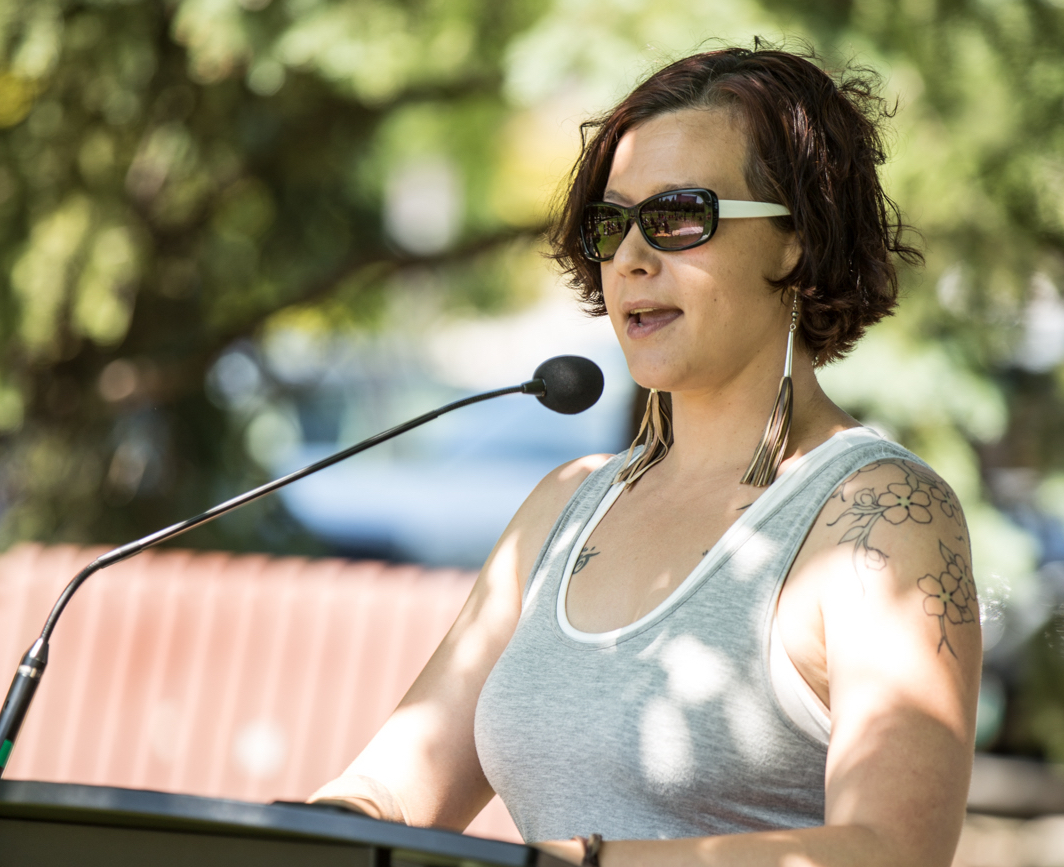 National Aboriginal Day reading list
June 15, 2017 —
For National Aboriginal Day, we asked 10 Indigenous students, faculty and staff to share their favourite books by Indigenous authors. Here is what they're recommending:
The Break by Katherena Vermette (Métis)
The debut novel from an incredibly gifted North End Métis writer can be truly difficult to read at times, if only because of the skill with which the author captures the pain and, most importantly, the love within our community. With haunting poignancy, Vermette shares stories of Métis women that are both familiar and illuminating. She really is an exceptional Winnipeg talent.
Recommended by: Lucy Fowler, academic advisor/program assistant – MSW-IK program, Faculty of Social Work
Medicine Walk by Richard Wagamese (Anishinaabe)
It's a story of a 16-year-old boy who's asked by his dying, estranged father to take him into the woods for a traditional burial. Despite hardly knowing his father, the boy assents and comes to know his father through his reminiscences as they journey through the woods together. It's a beautiful story of reconciliation and redemption written by one of Canada's best storytellers.
Recommended by: Lyle Ford, liaison librarian for film studies, theatre and drama
Son of a Trickster by Eden Robinson (Haisla)
Eden's wonderful most recent novel portrays a young man that exemplifies many in our communities today and intertwines Indigenous beliefs, dysfunctional family dynamics, a raven and a strange river otter in a truly imaginative and Indigenous fashion. I love everything written by Eden Robinson but if I had to choose my personal favourite then it would have to be Monkey Beach because she was writing that when we were both attending UBC and she blessed us all with her contagious laughter and beautiful spirit.
Recommended by: Camille L. Callison, Indigenous services librarian and liaison librarian for anthropology, Native studies and social work
The Right To Be Cold by Sheila Watt-Cloutier (Inuit)
Sheila Watt-Cloutier's vivid descriptions of the Arctic will leave you wanting to walk the vast tundra looking for berries, dance beneath the Northern Lights, or celebrate the return of the summer sun after a winter of darkness. Watt-Cloutier, an Inuk who grew up in the Arctic, writes about her work being an advocate for the Inuit and why she became a part of a group of environmental lawyers, Inuit Elders, and hunters who petitioned the Inter-American Commission on Human Rights to acknowledge that protection from climate change be a fundamental human right. Definitely a must read!
Recommended by: Amanda Fredlund, undergraduate student, department of Native studies, Faculty of Arts and female co-president, U of M Aboriginal Students' Association
Women of the Metis Nation by Ed. Lawrence Barkwell (Metis)
As a Métis woman, I am inspired by the lived experiences of the strong, empowered women featured in Women of the Metis Nation (2nd Ed.). This edition highlights Métis women such as Jean Teillet, Janice Acoose, Lee Maracle and Christie Belcourt who strive today for inclusion and a voice in society. Features include the lives of women who were integral to the creation of the Metis Nation and those who worked towards shaping Metis identity. This collection of biographies fills my heart with pride of all of the Métis women before me and hope for those to come.
Recommended by: Laura Forsythe, masters student, department of Native studies, Faculty of Graduate Studies and Métis inclusion project coordinator, Indigenous Student Centre
Surviving Canada by Kiera Ladner (Cree) and Myra Tait (Anishinaabe)
Surviving Canada is a new edition to my collection of books that speaks to the resistance Indigenous peoples in Canada continue to endure. The resistance is not new. The many contributors are comrades in the grassroots struggle to remind the reader that Canada's 150th birthday is not something to celebrate, but rather to think about the lands they occupy, and (re)learn settler history. It's 2017 and it is unfortunate that we still have to have these discussions at every Canadian milestone, yet a blessing that we have leaders, scholars and artists who can articulate the fight in a way that is meaningful to a new audience, myself as an Inninew iskwêw and a lifelong learner within academia.
Recommended by: Wendy Ross, Create H20 program coordinator, Centre for Human Rights Research
The Inconvenient Indian: A Curious Account of Native People in North America by Thomas King (Cherokee)
Thomas King presents Indigenous North American history with no-holds-barred; weaving history and storytelling into one humorous, biting narrative, King delightfully sees through the accepted "truths" on Indian-White relations in a well-researched yet accessible story. In light of the ongoing celebrations that exalt Canada's past, this book is a timely must-read that presents an unsettling alternative to a history we think we knew.
Recommended by: Taylor Morriseau, masters student, department of pharmacology and therapeutics, Faculty of Graduate Studies
The Knowledge Seeker by Blair Stonechild (Cree-Saulteaux)
In his book, Blair Stonechild notes that including content on spirituality contributes to more holistic learning. I found this book helpful to my research and quoted Stonechild in my thesis when explaining that Baagak teachings are part of a better way to understand natural law and rebuild community. There is a spirit that is alive in the language of Anishinaabe that can communicate to us today if we listen. The Truth and Reconciliation Commission urgently calls for programs to revitalize Indigenous heritage, including the creation of a new education system. I urge others to pick up this book and privilege "spirit" in the same sense that "science" is to their academic studies.
Recommended by: Jason Bone, PhD student, department of Native studies, Faculty of Graduate Studies
Unsettling Canada by Arthur Manuel (Shuswap)
This is an amazing book that thoughtfully explores the struggles and triumphs of Indigenous peoples in Canada during crucial moments in history. One of the most notable chapters in the novel is called "The Constitutional Express." It is an inspiring retelling of how George Manuel and other Indigenous leaders mobilized a grassroots movement, demanding that the inherent rights of Canada's Indigenous peoples be included in the Constitution in 1982. For any aspiring Indigenous leaders, this is a book you want to get your hands on.
Recommended by: Noah Wilson, undergraduate student, Faculty of Arts, male co-president U of M Aboriginal Students' Association, and UMSU Aboriginal students' representative
Honour The Sun by Ruby Slipperjack (Anishinaabe)
This is one of those books that swallows you up and leaves you feeling like you want to be closer to home. One of my all-time favourites.
Recommended by: Desiree Morrisseau, lead Indigenous student recruitment officer
The Fort Garry Bookstore will have a display set up in honour of National Aboriginal Day featuring these titles. Stop by the week of June 19-23 to pick up your copies. You can also visit the Fort Garry Bookstore or Health Sciences Bookstore on Bannatyne campus year round for giftware by Indigenous artists.
Stay up to date on events, share your photos and join the conversation on Twitter and Instagram with #UMIndigenous.