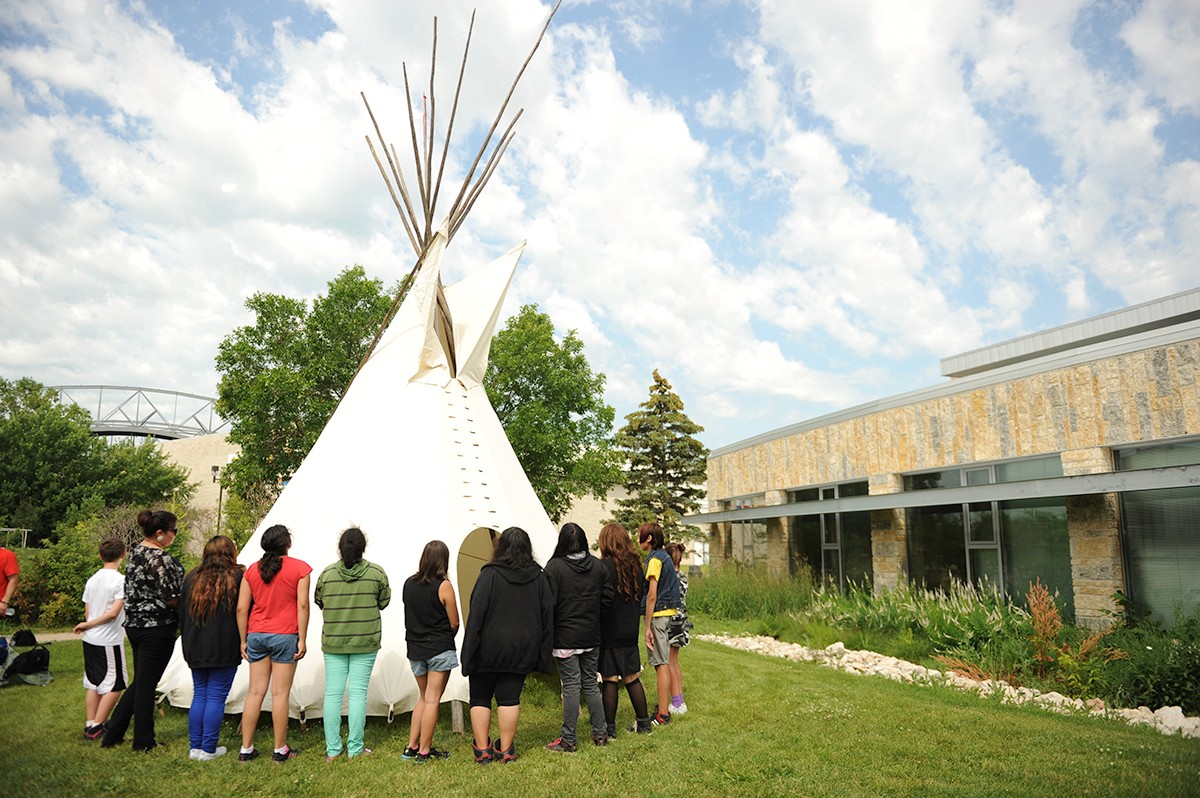 20th anniversary of National Aboriginal Day
June 20, 2016 —
Did you know that this year marks the 20th anniversary of National Aboriginal Day? In 1996, Indigenous organizations and the Canadian government chose June 21, the summer solstice, as a day to recognize and celebrate the unique and diverse cultures and contributions of First Nations, Métis and Inuit peoples.
"National Aboriginal Day is a time for celebration. With over 2,000 self-declared Indigenous students at the University of Manitoba, this day and the activities surrounding the day are an important part of creating culturally-respectful learning spaces. I am excited for everyone to come out and share in the fun," says Christine Cyr, director of the Indigenous Student Centre.
On June 20 and 21, the U of M's Indigenous community invited people to join in the many activities and events planned to mark National Aboriginal Day.
Programming began at Bannatyne Campus on June 20 at 7:30 a.m. with a teepee raising ceremony in the Medicine Garden of Indigenous Learning. Elder-in-Residence Margaret Lavallee led a blessing ceremony in the tepee.
At the Brodie Centre, there were cultural performers, craft vendors and a feast. The CEO Grand Rounds in Indigenous Health presented The Indigenous People of Canada: Introduction to the Terminology with Paul Chartrand.
On day two, June 21, a sunrise ceremony took place outside of the National Centre for Truth and Reconciliation.
Events held listed below:
June 20, 2016 Agenda – Bannatyne Campus
7:30 a.m. – 8:30 a.m. – Teepee Construction in the Medicine Garden of Indigenous Learning (located in the green space off Bannatyne Avenue beside Psych Health)
8:45 a.m. – 9:45 a.m. – Blessing Ceremony in the Teepee
9:00 a.m. – 2:00 p.m. – Health Program Displays in HSC William Avenue Mall
10:00 a.m. – 2:00 p.m. – Opening Remarks, Cultural Performers, Craft Vendors in U of M's Brodie Centre
11:30 a.m. – 2:00 p.m. – Feast in U of M's Brodie Centre
1:00 p.m. – 2:00 p.m. – CEO Grand Rounds in Indigenous Health featuring Paul Chartrand in Lecture Theatre A, Basic Medical Sciences Building
June 21, 2016 Agenda – Fort Garry Campus
5:00 a.m. – Sunrise Ceremony with Dr. Michael Hart at the National Centre for Truth and Reconciliation (located at Chancellor's Hall, 177 Dysart Road)
Noon – 2:00 p.m. – Indigenous storytelling and poetry with Katherena Vermette and Chantal Fiola, Métis fiddling with Ryan Gaudry, and teepee teachings with Carl Stone in the Duckworth Quadrangle.
2:30 p.m. – Archives and Special Collections (3rd floor of the Elizabeth Dafoe Library) is hosting the exhibit The Spirit of Red River: Louis Riel, Indigenous People & Early Winnipeg. Free tea and bannock will be offered to visitors on June 21. This exhibit runs until Oct. 7, 2016, and is open to the public Monday to Friday, 8:30 a.m. to 4:30 p.m.
National Aboriginal Day Reading List
Indigenous and Northern Affairs Minister Carolyn Bennett declared June Indigenous Book Club Month. To get your reading list started, we asked 10 Indigenous students, staff and faculty members at the U of M to share their favourite book by an Indigenous author. Happy reading!
Forty Years a Chief by Chief George Barker
Recommended by Norman Meade, Elder-in-Residence
I recommend this book because his leadership motto was "perseverance leads to success" no matter what we do. The other reasons for my recommendation are that it is a story of his life and his family; he was also my father-in-law and taught me many things about the good life.
Night Spirits: The Story of the Relocation of the Sayisi Dene by Ila Bussidor and Uston Bilgen-Reinart
Recommended by Carla Loewen, student advisor, Indigenous Student Centre
I took the majority of my Native Studies courses during my after-degree in Arts and was assigned this book. It was the first time I learned about a component of Manitoba history, which recounts the stories of the Sayisi Dene who were moved from their traditional territory to the outskirts of Churchill. It is a heartbreaking read, tough to put down, and written in the spirit of hope. I recommend this for anyone who has never heard of this point in history.
Three Day Road by Joseph Boyden
Recommended by Debra Diubaldo, Aboriginal Academic Advisor/Counsellor, Inner City Social Work Program, Faculty of Social Work
I loved this book. Joseph Boyden reveals his characters in the juxtaposition between the beauty and spirit of Traditional ways of being and the darkness of the First World War. The story unfolds as the main characters, Niska and Xavier, take a three-day journey down a familiar waterway in Ontario. The story was inspired by Ojibwa Francis Pegahmagabow, the legendary First World War sniper.
Halfbreed by Maria Campbell
Recommended by Diedre A. Desmarais, Area Director, Access and Aboriginal Focus Programs, Extended Education
This book is a classic and vividly portrays the contemporary struggle of a Métis woman's reality in a world of racism and poverty.  Ms. Campbell's pride in her heritage and commitment to family brought her through troubled times to a place of honor within Canadian society. She is a great educator and role model for all she comes into contact with.
Almighty Voice and His Wife by Daniel David Moses
Recommended by Trevor J. Phillips, Indigenous Grad Student Success Coordinator
Daniel David Moses' seminal play is a kaleidoscope of time and space where contemporary theatre square dances with legend and creation story. The play read on its own is jilting enough, but it's not until you see it performed live, when you come back from intermission and you're fully and completely immersed in the purgatory of Act 2, that the intensity of Moses' subversiveness really knocks you askew.
A titanic triumph of a play, from an iconic Indigenous playwright.
The Rotinonshonni: A Traditional Iroquoian History Through the Eyes of Teharonhia:wake and Sawiskera by Brian Rice
Recommended by Frank Deer, Acting Executive Lead, Indigenous Achievement and Director of Indigenous Initiatives, Faculty of Education
This book is important to me because it is provides a glimpse into the oral traditions of the Rotinonshonni people. Rice brings his experiences to bear as one who has walked the 1,000 kilometre journey of the peacemaker in an attempt to explore how the five nations would end conflict and form the confederacy. As Kashwenta, the Two-Row Wampum Treaty, is continuously cited as an important example of an accord between indigenous and non-indigenous peoples, this book offers some insight into the history of the nations who would eventually establish that treaty.
I Knew Two Métis Women by Gregory Scofield
Louis: the Heretic Poems by Gregory Scofield
Recommended by Sherry Farrell Racette, Associate Professor, Departments of Native Studies and Women and Gender Studies, Faculty of Arts
It's a tie! I Knew Two Métis Women because I kept saying to myself "I know these women!" It's written with such love and affectionate humour. And Louis: the Heretic Poems because he makes it all come alive. I have been inspired to make art from these poems. Scofield writes poetry like screen plays or theatre, you can see it all in front of you. I know this history, I've walked in the cemetery at Batoche and along the riverbank. It's so true to the people and their experiences. Everyone has to read these books.
The Gift is in the Making by Leanne Simpson
Recommended by Niigaan Sinclair, Acting Head, Department of Native Studies, Faculty of Arts
The Gift Is in the Making retells previously published Anishinaabeg stories, bringing to life Anishinaabeg values and teachings to a new generation. Not only funny, but innovative, illustrating how traditional stories can be modernized and told for today's young people. Think Nanibush invents Facebook and you know what I mean.
Manitowapow – Aboriginal Writings from the Land of Water edited by Niigaanwewidam James Sinclair & Warren Cariou
Recommended by Kristin Flattery, student, Faculty of Fine Arts
Manitowapow is a must read because it is relatable to many educational fields including: science, physics, literature, art, and politics by virtue of Indigenous storytelling however, is also understandable to a broad group of ages. I recommend Manitowapow to anyone wanting a deeper understanding of Kanata's true history. Manitowapow includes true testimonies of survivors and warriors of our First Nation community as well as provides Indigenous humour.
Keeper'n Me by Richard Wagamese
Recommended by Ruth Shead, Coordinator, Indigenous Achievement
Keeper'n Me is one of those books that you can read over and over and always learn something new. It's tells the story of Garnet Raven, who was taken from his family at age three. After bouncing in and out of foster homes, and spending time incarcerated, Garnet returns to his home reserve, where an older man named Keeper becomes his guide. It is full of teachings about identity and discovering what makes a person whole. Not to mention, it has some of the most charming characters you will ever come across. Be prepared to fall in love.