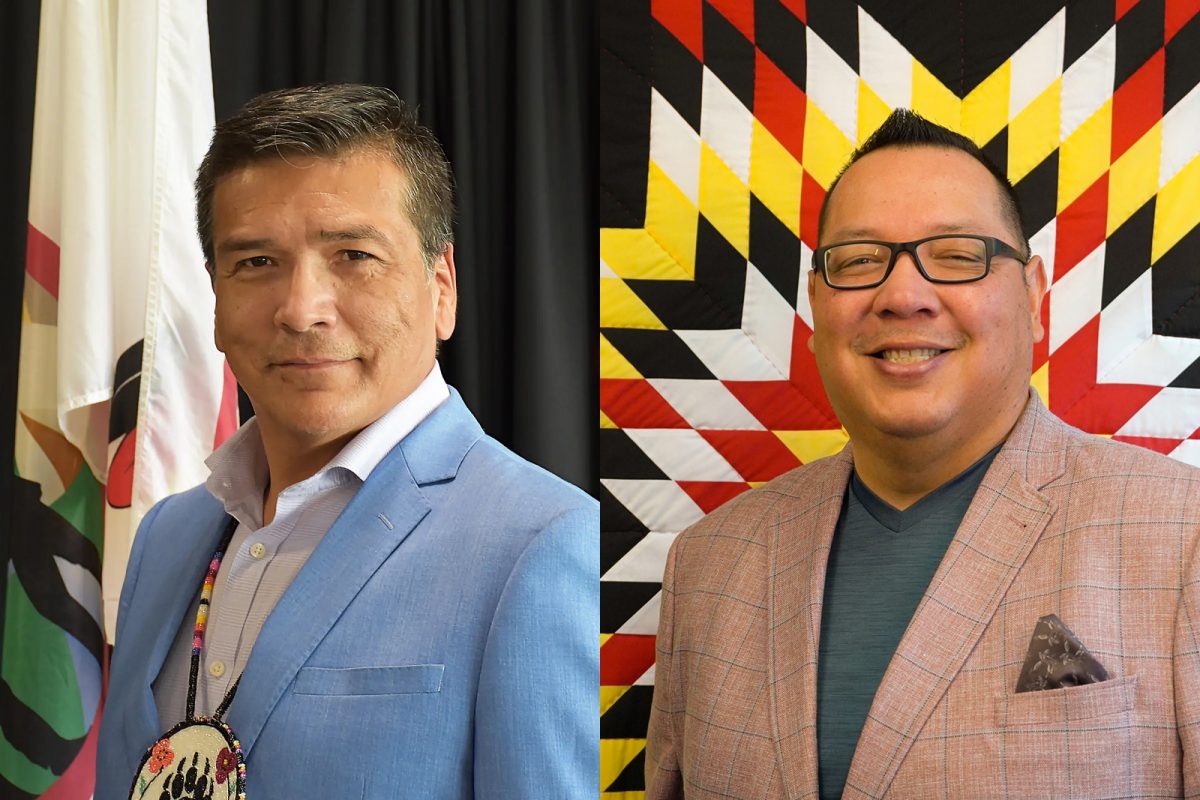 Naawi-Oodena "centre of the heart and community" to become Canada's largest urban reserve
Whelan Sutherland [BComm (Hons)/06] and Tim Daniels from the Treaty One Development Corporation featured at Leadership in Our Times: The Critical Issues Series
February 7, 2022 —
As the winter melt begins, so does the construction of Canada's largest urban reserve, Naawi-Oodena. The massive project involving the evolution of the Kapyong Barracks site into an urban reserve with world class attractions is led by Asper alumnus Whelan Sutherland [BComm(Hons)/06], CEO, and Tim Daniels, Chief Development Officer for the Treaty One Development Corporation.
The James W. Burns Leadership Institute and Indigenous Business Education Partners (IBEP) at the Asper School of Business welcome Sutherland and Daniels to discuss the development of Naawi-Oodena, including the significance of the land's important and historic location in the centre of Turtle Island (North America), previously known as Kapyong Barracks. The event is the second in the 2021-22 season of the Institute's series, Leadership in Our Times: The Critical Issues Series on March 8.
The Asper School of Business connected with Sutherland, who grew up in Peguis First Nation, and Daniels, Long Plain First Nation, to discuss their roles in the development of Naawi-Oodena, important moments in their careers, and why getting youth involved in this project is so important.
Asper: As part of launching this project, The Treaty One Development Corporation solicited a lot of community feedback. What did you hear from the community?
Tim Daniels:  We facilitated extensive engagement with our own nations as well as with the City of Winnipeg. We're creating a very large track of land between Tuxedo and River Heights, two affluent communities in Winnipeg, and we want to be good neighbours.
We also had to dispel a lot of rumours and misconceptions of what an urban reserve is. Leading up to us starting the master plan process, there wasn't much support for creating a reserve in the city. A lot of work needed to be done to win them over.
We knew we needed to develop a communication strategy and we needed to better understand our neighbours. When you go to the Madison Reserve you don't know you're on a reserve besides signage or flags. There's a seamless integration. So, we started releasing little tidbits of what we're planning prior to the master plan release March of 2021. COVID shutdown our big town hall meetings and we had to pivot our strategy and use this platform called Zoom.  That night in June 2020, we had 800 people watching us live. 

Tim Daniels: Our partners said that was the largest town hall meeting they've had in their 25-year history. There was a 75% approval rating after that session and it continues to grow as we release information to the public. It [the master plan] reached a target audience of 8 million people through the media, TV, radio, print media, and social media. 
Asper: As Naawi-Oodena will be the largest urban reserve in Canada ,there has been extensive discussion related to economic development. Can you speak more about the economic significance of this development?
Tim Daniels: There are many direct and indirect benefits. Some of the direct benefits first and foremost is job creation for our members. The first round of businesses are going to be all owned by Treaty 1. So, the profits generated from those businesses are going to be shared amongst the Treaty 1 nations equally. The profits are much needed in the communities to help with health, education, but also culture and recreation, to name a few examples. Some infrastructure is crumbling, with substandard sewer systems and water treatment centres.
There are also some indirect impacts. We need people to service these buildings, we need janitors, electricians, and so on. Then there's the business consultants we hired and the lawyers. Those people are earning dollars with us. And again, there will be people working at Naawi-Oodena who will shop in the city and pay their taxes and so on. There's a lot of spin off benefits of working with a First Nation urban reserve.
Whelan Sutherland [BComm (Hons)/06]: Like Tim said, it's very multifaceted. The City of Winnipeg will genuinely be generating revenue. We are also creating a place that people can shop, live, and play. We're doing it for Treaty One, but also creating an environment where anyone can come rent an apartment, and live and work.  You're creating and stimulating the economy creating that cycle, where people have disposable income. We just need to make sure we retain some of that because we're building a nation.
Many people don't realize that once it becomes an urban economic development zone we have to ensure that our nation has longevity. And so, we're creating all the avenues and revenue streams.
Asper: I wanted to ask you both, personally, what does it mean to play such an important role in the development of the area into Naawi-Oodena?
Whelan Sutherland [BComm(Hons)/06]: It's a tremendous opportunity. Understanding the struggles are People and Communities go through, we can now structure the project to allow for prosperity for our communities and people. Long Plain First Nation for example, they are creating lots of amazing opportunities out there with undertaking hotel development and some of the urban economic development happening there. It's inspiring, we know it can be done.
Our first year of operation we studied other urban economic zones. We went coast-to-coast, met with communities, and started to understand that once you get past those certain barriers, there's really no barrier. People will welcome it with open arms. There's systemic racism for sure. That's something that we use as a motivation as we move forward. We know that it can be overcome.  
We recognized that we need to open our lines of communication. If we started to share information with each other, we could make ourselves strong and benefit from one another; really, recognizing that there's opportunities out there that strengthens us as Indigenous people. For me, Asper has a soft place in my heart. I want more and more students – Indigenous students – to go to Asper. It really opened a lot of doors for me.
Tim Daniels: For me, we've been locked out of the economy for more than 100 years. What Canada did to us by sending us off to reserves and controlling our economy. We were controlled from our membership, who is an Indian, to controlling our movement. So, this is reconciliation for myself to get off the reserve and start reclaiming our lands in our treaty territory. Where we were situated, there was no economy. We were left within the boundaries of our reserves.
I started on the shoulder of great leaders. My dad told me we will never be poor because we have the land. But we have to do things with our land, we can't just sit on it. Acquiring more land is very important for the future growth of our nations. We need to get into these urban centres where the population is to support our businesses. That's what inspires me. The future growth of our nation for the youth, my children and their children to have opportunities.
Asper: I'm sure I can speak for everyone at Asper and the University of Manitoba that we're thrilled you are both part of the next Leadership in Our Times: The Critical Issues Series on March 8. Why do you feel that educating students, or the younger generation, is an important component of your project?
Whelan Sutherland [BComm(Hons)/06]: For me it's empathy. When I was young, our community leadership was focused on getting recognized more and more as a government. I didn't see a lot of youth engagement at that time. With me, I had to go through this process to try and fight the battles in order to try and open it up for a younger generation. That's why I got involved with youth councils, so I could understand more and help lead the way.
We want to recognize the importance of young people, the ideas they have, and get them on a pathway. There is a future, there are opportunities, but you need to work for it. It's not going to get handed to you. There are support systems in place that you don't even know about like when I first got into the Asper School of Business. I had no idea who they were. I got in on my own with my GPA. I didn't declare I was Aboriginal at the time.
One day, I was at the Aboriginal Centre just starving. Luckily, they had noodles and snacks like that there, and I heard this guy talking. He was talking so powerfully. His name was Robin Billy, now a former Chief in BC and Asper grad. We started talking and he said he was ABEP (now IBEP, the Indigenous Business Education Partners at Asper), and that's when I got in with their support system.
Tim Daniels: For me, it's telling that personal story that drives home what they're learning in class or in case studies. I've been invited throughout the years to the U of M as a guest speaker on what urban reserves are, what are TLE's and what do you do with them. For a dozen years I've been attending classes as a guest speaker and doing tours at the Madison site with them. It's about driving home that point of hearing personally from somebody who's lived it, as opposed to reading a textbook. Textbooks can't cover everything.
That's what I like to do. To inspire them to hear my story – how I came into what I'm doing – but also the struggles of our people and our communities.
Event information
Leadership in Our Times: The Critical Issues series featuring the Treaty One Development Corporation
When: 4 p.m. (CT), March 8, 2022
Where: Zoom (link will be sent when you register)
Register