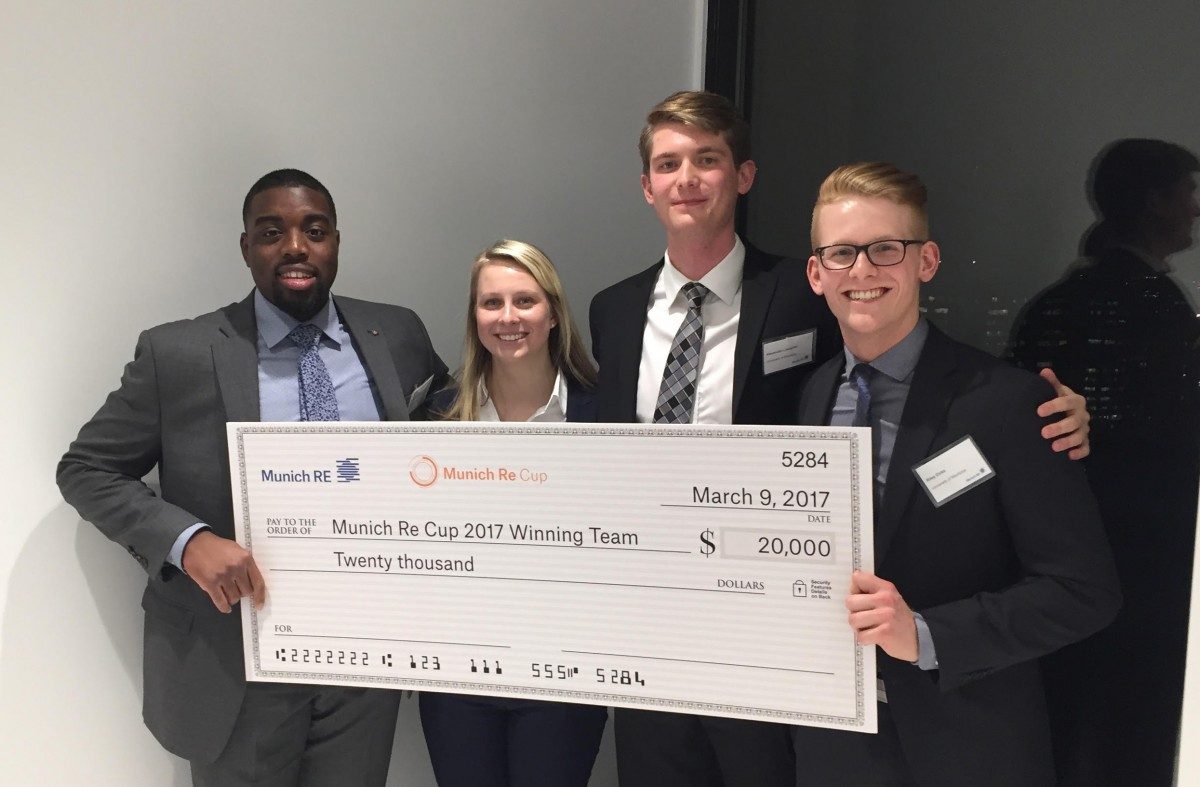 Munich Re victory for U of M actuarial students
March 20, 2017 —
A team of students from the University of Manitoba took home the $20,000 grand prize at the Munich Re Cup, a prestigious national actuarial case competition hosted in Toronto on March 9.
The team's first-place victory is the second in the competition's three-year history. Hosted by reinsurance company Munich Re, the case competition was open to all Society of Actuaries (SOA) Centres of Excellence across Canada. The Warren Centre for Actuarial Studies and Research at the Asper School of Business was named a Centre of Excellence in 2009.
"The Warren Centre is proud to have had such a quality team compete and win this prestigious competition. This is an exceptional achievement," says Lysa Porth, the centre's interim director and Guy Carpenter Chair in Agricultural Risk Management and Insurance.
The U of M team faced off against competitors from leading Canadian universities including Simon Fraser, Toronto, Waterloo, Laval, Western, Concordia, and Université du Québec à Montréal.
The competition challenged the team to answer the question, "How should insurance distribution in Canada change to best sell individual life policies to millennials?" The case study presented a mock insurance company to which competing teams played the role of consultants tasked with proposing effective solutions.
"Our strategy was to target millennials who would consider buying life insurance, as opposed to all millennials," says team member Frederick Sackey, an Actuarial Math major. "To identify these people, we targeted individuals based on their values and interests (rather than demographics) through social media channels. We then developed an online/app-based distribution platform where millennials can apply for a life insurance policy easily and seamlessly. We focused on areas such as automating our underwriting systems to make the process faster for users. What set us apart from the other teams was how we explained why our recommendations made sense, using industry statistics to support our claims, along with how they would affect the overall business and its stakeholders (ie. brokers). Also, we discussed both the pros and cons of our recommendations, but stressed on their benefits."
Faculty coach Steve Scoles says he's incredibly proud of the team's performance, which owes a great deal to meticulous preparation. "This group of students worked incredibly hard and did everything within their control to properly prepare for this event. With their effort and preparation, even if they had not won, they would have been champs in my eyes."