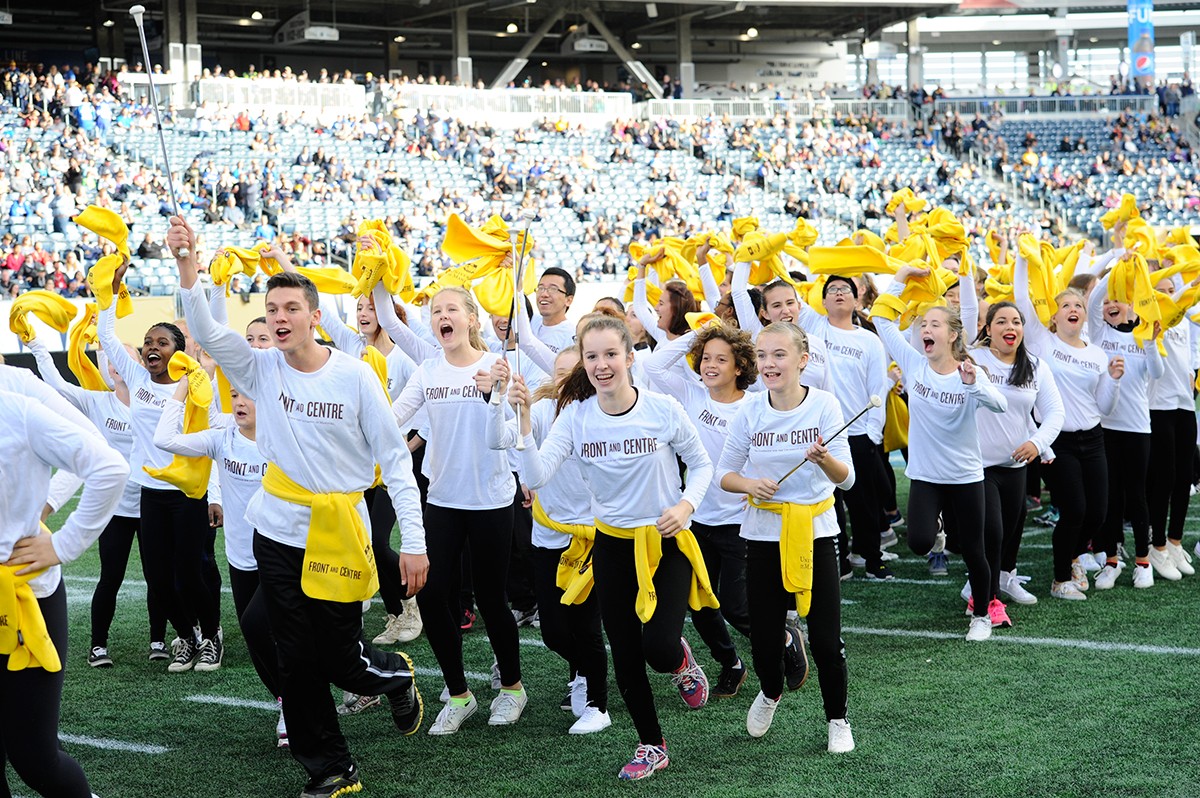 Momentum gaining for Front and Centre
Public launch event at halftime of Winnipeg Blue Bombers game has town buzzing
October 9, 2015 —
On Saturday, October 3 the University of Manitoba launched the Front and Centre campaign in front of thousands of community members at halftime of the Winnipeg Blue Bombers game. Special guest Israel Idonije revealed the amount raised to date: $215,294,636.
The energy of that event is spreading through Manitoba, and the scope and impact of the campaign continues to be a talking point in the community.
$215 Million raised. $285 Million to Go! Today's Leaders Building for Tomorrow. @umanitoba #takeyourplaceum #Support pic.twitter.com/8a2tpysiwT

— Israel (@iidonije) October 4, 2015
.@TracyBowman and I are proud to be @UManAlumni! https://t.co/qf673pngUA — Mayor Brian Bowman (@Mayor_Bowman) October 3, 2015
#frontandcentreum #israelisonije well on our way to $500m in the Front and Centre Campaign pic.twitter.com/eosIhsIZSI

— Chris Couture (@Chris_O_Couture) October 3, 2015
Congrats to @umanitoba and #frontandcentreUM Fundraising campaign for already raising $215 million from @mbchambersofcom — Chuck Davidson (@Davidson_Chuck) October 3, 2015
https://t.co/pD1unbdIca Congratulations @umanitoba on your Front and Centre launch. #frontandcentreUM #takeyourplaceUM IZZY!!!

— Ace Burpee (@AceBurpeeShow) October 5, 2015
"The money boggles the mind," wrote Winnipeg Free Press reporter Nick Martin. "The University of Manitoba has already raised an exceptionally precise $215,294,636.30 by late Saturday afternoon in the most ambitious capital fundraising campaign by a public institution in Manitoba history."
The CBC spoke with John Kearsey about the Front and Centre campaign launch. "This is such a great example of where our community once again shows its strength," said Kearsey. "Now we are reaching out to our alumni around the world. We still have a lot of work ahead of us but we're confident we'll get there."
CBC: University of Manitoba raises $215M in fundraising campaign
Coverage of the exciting launch event also appeared on ChrisD.ca and CJOB.
Leading up to the October 3 launch members of the president's campaign team shared the excitement on CJOB and the CBC morning show.
Event day was a resounding success. The public launch began with an intimate event where key donors, alumni and community members gathered. "The word transformational is often overused, but it's truly apt and fitting for what we're trying to do for the university," said Paul Soubry at the event. "We are well on our way and it feels really, really good."
"If you want to go fast, go alone. If you want to go far, go together." – Jeremiah Kopp
Jeremiah Kopp, president of the University of Manitoba Students Union (UMSU) was on-hand to speak to the room of supporters. "If there's one thing I can say on behalf of the 26,000 undergraduate students I represent, its thank you," said Kopp. "If there's any doubt if students are paying attention to this campaign, we absolutely are."
From the VIP event, the excitement spilled into the stadium with the lively halftime celebration. During the Bomber game, Brian Dobie, head coach of the Bisons football team, appeared on TSN and spoke about the dedication of Israel Idonije to the U of M. Later, Idonije spoke with TSN's Sarah Orlesky about the Front and Centre campaign.
The enthusiasm for Front and Centre continues to spread from that football game. The community is buzzing about the ambitious $500 million goal as well as the far-reaching impact of the U of M. Front and Centre is making a statement.
Individuals are encouraged to take their place and show their support for the University of Manitoba on social media with the hashtag #FrontandCentreUM.