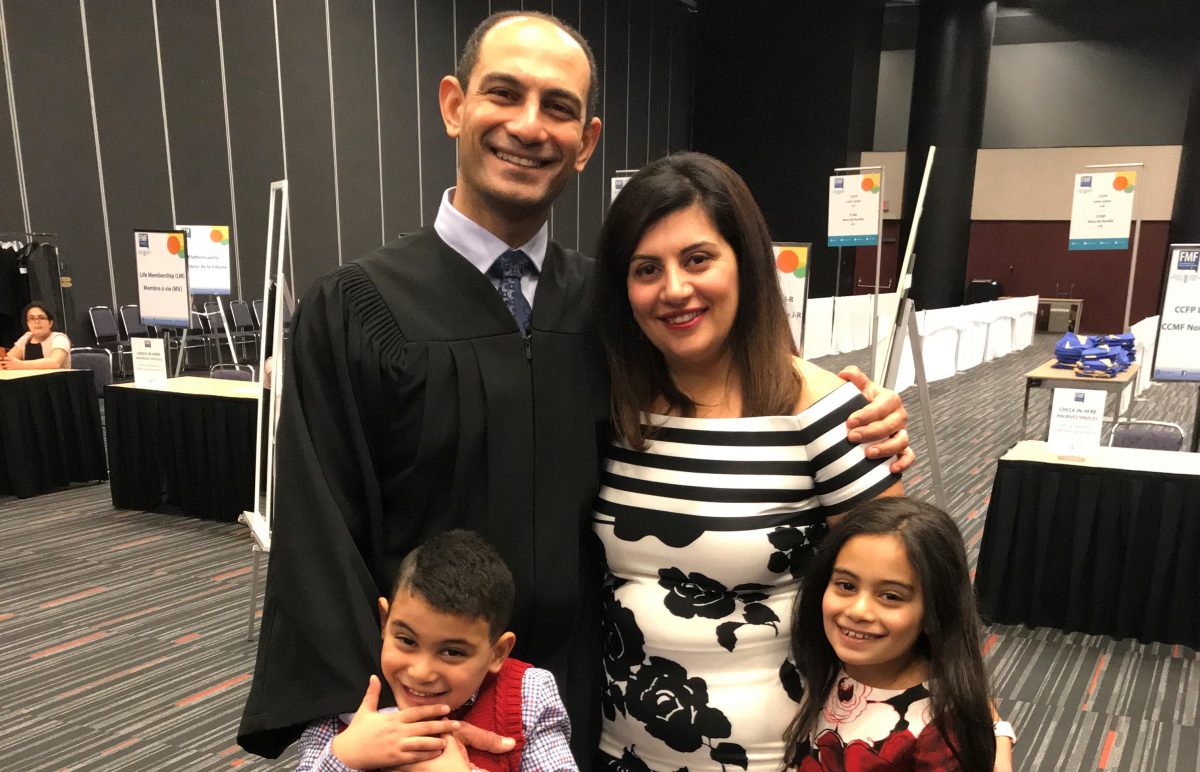 International medical grad embraces Canada, tops CFPC exam
November 17, 2017 —
Moheb Basta had two goals when he left Egypt: to find a better life for his family in Canada and to keep pursuing a career he loves – medicine.
It's not easy to make a new start. He was already a physician, his studies long over. But the University of Manitoba's International Medical Graduate (IMG) program offered the opportunity for a skilled and dedicated professional like Basta to prepare for work in a Canadian setting.
"I heard about it at the church I go to and they encouraged me to give it a try," he said.
"Our program is unique because it both assesses and trains internationally trained family physicians," said Martina Reslerova, director of the IMG program at the Rady, Faculty of Health Sciences. Only 20 people are accepted each year, hailing from countries around the globe, including Nigeria, Iraq, Sri Lanka and India.
"Very few physicians can come to Canada and just start working," Reslerova points out. "Even if you're a trained medical professional, integrating and adapting to a new medical system can be challenging." Medicine – family medicine, in particular – is taught and practiced differently from one country to another, she said.
It's important that those who take on the challenge of the IMG program understand that it's not going to be easy, Reslerova adds. It takes grit to dive back into your studies, in a language that isn't your mother tongue. It also means working in a medically underserviced area.
"Some of these places may not have had a physician in years," she says. "There's no question, it's very challenging. But our program is one of the only options for an internationally trained physician to work as a physician in Canada."
Basta did exactly what Reslerova hopes all participants do: he decided to make the most of it. "Winter, well, there's nothing you can do. I suffer like everyone else!" he laughed. Other than that, it was down to hard work. "I would go to the hospital or clinic in the morning, where I'm training. Then I would go home and try to read more about what I was doing," he said.
Stationed in Emerson, Manitoba, it was an endless cycle of practice and study, day after day. His family far away in Egypt. How did he do it? "I love it," he said with a big smile. "For me, it is not like work."
It's the puzzle that he enjoys most, he says. "When I don't know what's happening, I try to figure it out." And if he can't get results on his own, he reaches out to colleagues in Winnipeg. He keeps digging, keeps pushing, until he has the answers he needs. "Sometimes I fail, but it's always a challenge."
When his return-of-service agreement was over, Basta knew he could choose to work in a larger centre, but he decided to stick with small-town life. His wife Meriam and eldest child Marina joined him, followed by Mina Mark who was born here soon after. They've now settled in Altona, a farming community of just over 4,000 residents. "It's a very nice place, very safe," he says. "Schools are very good. I don't think that Winnipeg could offer more."
The final piece of the puzzle for IMGs who complete the program is to write their certifying examinations. "Each year, there's someone who does amazingly well," said Reslerova. And this time it was Basta.
According to the College of Family Physicians of Canada (CFPC), of all the practice-eligible candidates who sat for their exams in 2016 – Canadian-born or international – it was Basta who received the highest marks.
For his dedication and hard work, he was recognized with the Irwin Bean CFPC Examination Award at the 2017 Family Medicine Forum held November 9 – 11 in Montreal.
"There truly couldn't be anyone more deserving," said Reslerova.