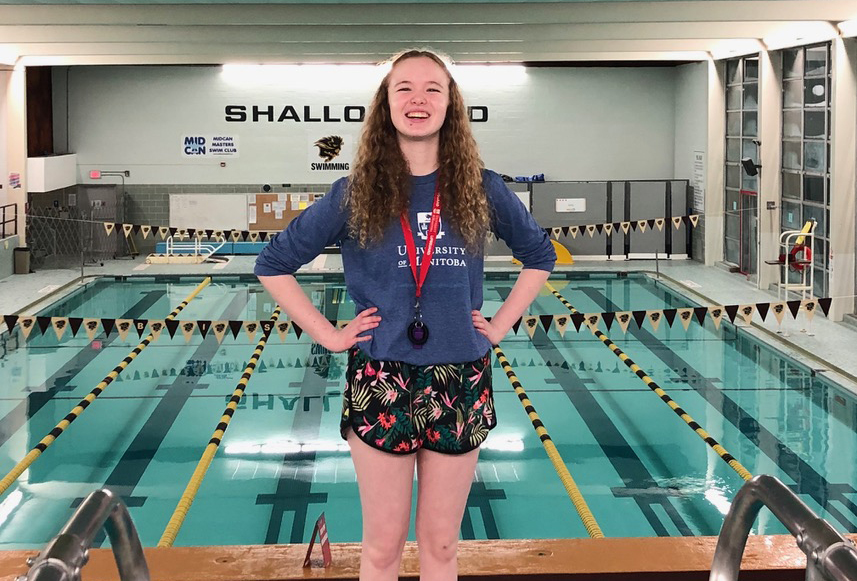 Mini U seeking swim leaders
Applications close Friday, September 25
September 22, 2020 —
Looking to put your Bronze Cross to good use? Mini U Programs is hiring lifeguards and swim leaders for the 2020 fall season.
As she begins her third year lifeguarding and teaching swimming lessons at University of Manitoba's pool, Sydney Dillabough reflects on her life poolside and how she found her way to Mini U. She says being a part of the Mini U crew has been a fantastic experience.
If you love the water as much as she does, you'll fit right in too.
How did you start working at Joyce Fromson pool and Mini U?
When I reached the tenth grade everyone around me was looking for jobs. My friends were telling me they felt dissatisfied or unhappy with their work environment. My sister, on the other hand, started working with Mini U at the pool a couple years prior and had nothing but great things to say about her job. I decided to follow in her footsteps.
Mini U aquatics staff get the opportunity to both lifeguard and teach swimming lessons. What's it like to shift between roles?
It's wonderful to switch things up amidst my day. For a little while I get to teach kids how to swim and then shortly afterward I'm guarding the pool and making sure everyone stays safe.
"Plus, every session is full of fresh faces to teach, new stories to hear and new people to meet."
Can you describe the culture at the pool including working with your colleagues?
The pool is a fantastic place to work because of the people around you. Everyone is super kind and personable, and the environment is welcoming. I've met some of the most inspiring people here.
Applications for lifeguard and swim leader fall positions are due Friday, September 25. Visit the Mini U employment page for applications and more details.