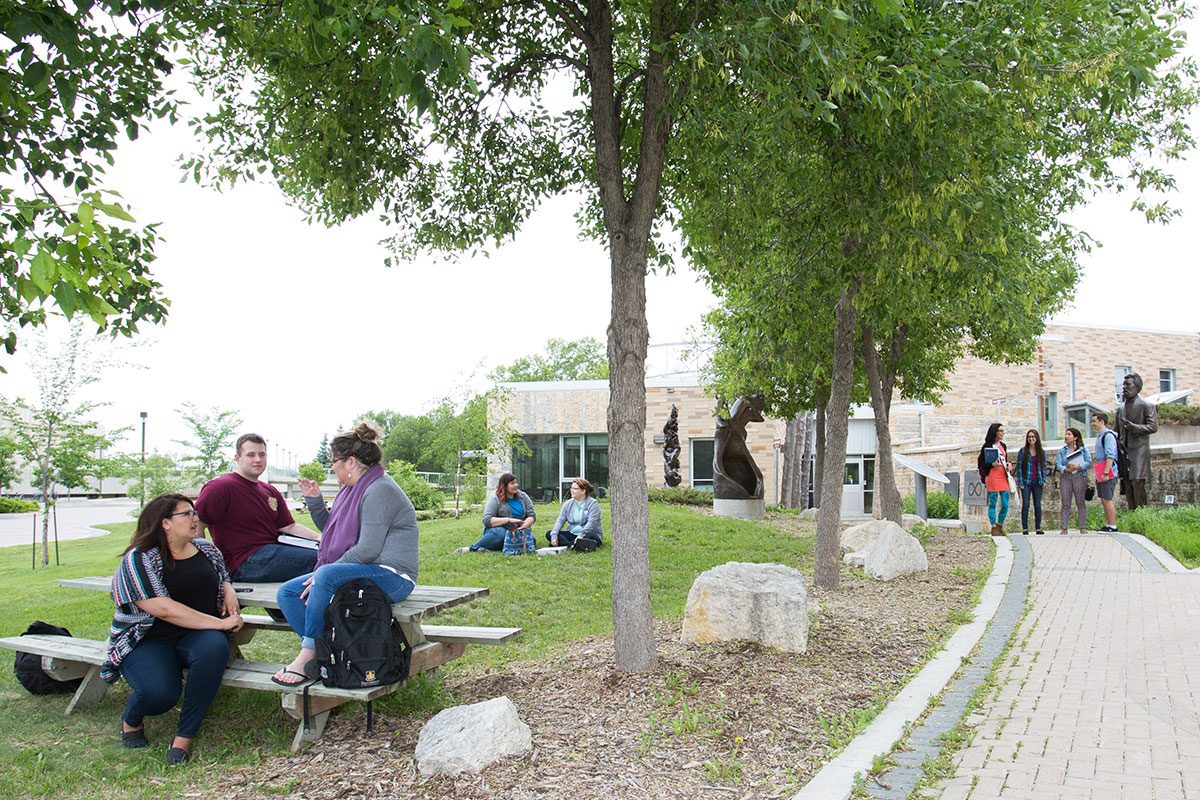 Migizii Agamik – Bald Eagle Lodge: from 2008 to 2018 and beyond
September 17, 2018 —
This is the third in a series of articles about the creation of Migizii Agamik – Bald Eagle Lodge.
Ten years ago, with a ribbon-cutting in June, and an official opening on Sept. 19, Migizii Agamik opened to the public. It didn't take long for Indigenous students to feel its impact.
Former Anishinaabe student Nadia Green [BN/14] was affected by its presence on campus. She grew up on Berens River First Nation, and recalled feeling "vulnerable" and "kind of alone" as an Indigenous student on campus prior to the building's opening. But as soon as she stepped through its doors, she felt a sense of community.
"I remember thinking that this is what I need right now," she says. "Whenever I'd be stressed out, I would just have to go to the centre, and I would feel a boost of energy and that feeling that you were supported. I didn't even have to talk to anyone. I would just have to go there to feel the buzz of the building with all the other students, and it felt like I wasn't alone."
It took close to three years for the building to be officially named. Tobacco was passed to Elder Charlie Nelson in early 2011, and a few months later, he came up with Migizii Agamik – Bald Eagle Lodge. A feast, pipe and water ceremony were held after the building was named.
The name came to Nelson in a dream, where a scared little boy saw a bald eagle come out of the clouds to calm everything down.
"Even though there's all this other stuff going on in the dream, the main character was that bald eagle, because it was the bald eagle that calmed everything down," says Carl Stone, advisor at the Indigenous Student Centre. "The bald eagle calms the energy of those facing the challenges of a strong force. It captured the spirit of the building."
Legacy of Migizii Agamik
Ten years later, Migizii Agamik's impact is still felt. Fourth-year Métis student Gillian McIvor is one of many current students benefitting from its presence on campus.
"Since I've been getting involved here, it's been a really nice feeling to have a support group, and also to be able to learn more about my identity and to be a leader in the Indigenous community," she says.
McIvor's words resonate with Brenda Lee Lafreniere, a counsellor with the Access and Aboriginal Focus programs, whose vision is for the next generation of Indigenous students to continue the work already being done on campus and within the building.
"The design and the stories that go along with this building – we hope that the future generations will continue with those stories and provide their voice," she says.
"You have the voice ― use it and follow through with actions that can provide leadership and phenomenal change. This building is an example of that. It's going to survive generations, but not only that, the spirit and the teachings that go along with it are also alive and will live on."
---
Join us for Indigenous Homecoming on Sept. 26.