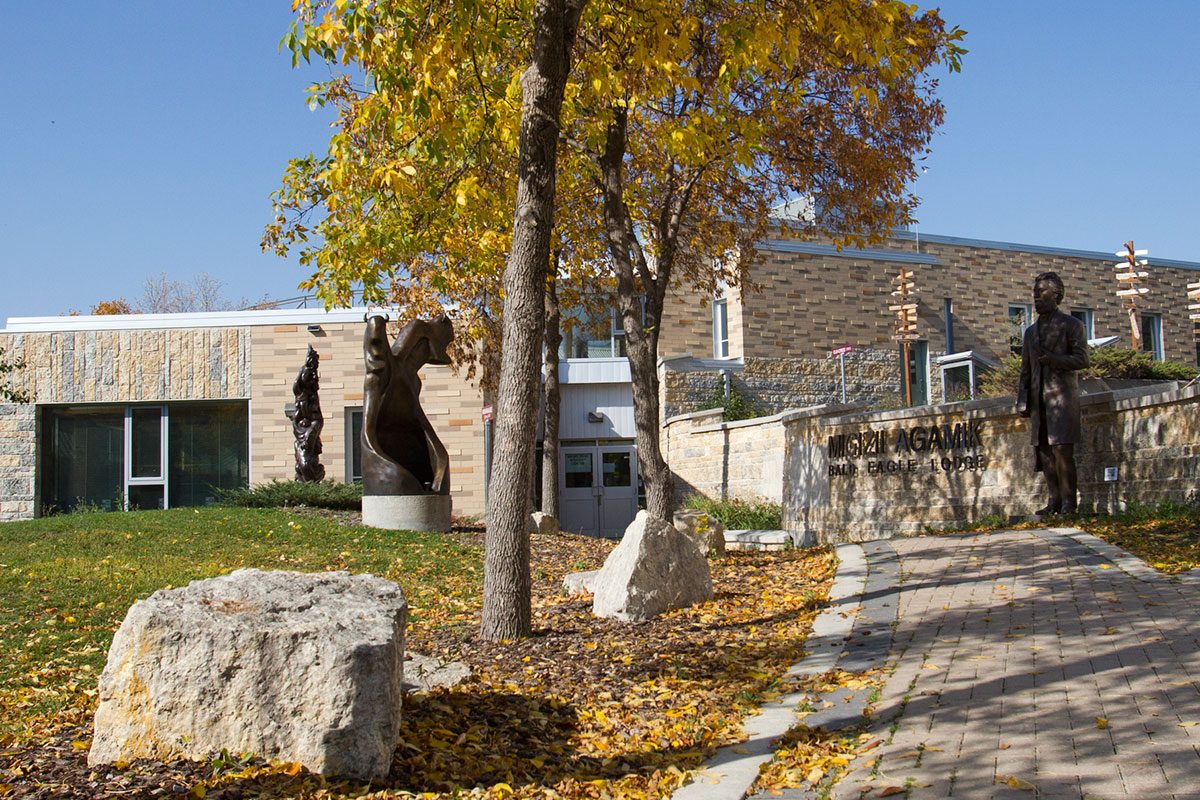 Migizii Agamik – Bald Eagle Lodge: Celebrating 10 years of community
September 17, 2018 —
This is the first in a series of articles about the creation of Migizii Agamik – Bald Eagle Lodge, celebrated at this year's Indigenous Homecoming.
A long-time dream became a reality in 2008 when Migizii Agamik – Bald Eagle Lodge officially opened its doors at the University of Manitoba.
The idea for the building, which offers a dedicated space on campus for Indigenous students, first took shape in the 1970s when student leaders Ovide Mercredi, Elijah Harper, Edwin Jebb and Moses Okimaw advocated for ― and established ― one of the first Native student associations in Canada. That same group also successfully lobbied for a department of Native Studies and an Aboriginal Student Centre on campus.
Rumblings of a building devoted to bringing together Indigenous students, academics and services continued to gain momentum in 1989, when then Aboriginal Student Centre director Kali Storm was hired.
"Migizii Agamik was a dream of a safe space for Indigenous students on campus where we could create a sense of community founded on Indigenous beliefs and practices," she says. Storm explains that Dr. Laara Fitznor, an associate professor in the Faculty of Education, and Dr. Fred Shore, an assistant professor in the department of Native Studies, led a group that would eventually turn the dream of Migizii Agamik into a reality.
"I was fortunate enough to be part of this team and learned a great deal from all of its members over the many years it was around, advocating for Indigenous students, staff, faculty, community and programs," she says.
After years of discussion, design plans for Migizii Agamik officially began in 2004. Prairie Architects Inc. was hired to oversee the physical vision for the building. The team included Eladia Smoke, Destiny Seymour and Dave Thomas, all of whom were Indigenous architecture students at the U of M.
"We wanted [the building] designed by Indigenous people," says Indigenous Student Centre (ISC) advisor Carl Stone, a vital voice for the Indigenous community on campus since the mid-1990s. "We even wanted the construction workers to be Indigenous, so that it was Indigenous all the way, and Prairie Architects made sure of that."
In October 2005, the building's creation was confirmed. Elder Garry Robson held a ceremony, laying tobacco down on the four corners of the lot where Migizii Agamik would be constructed. A prayer was made to Mother Earth to build on the land.
The following spring, consultations among Elders, students and members of the community and university began.
"The emotion was that we needed to get it right, and I remember some Elders saying this," Stone says.
"I knew the opening of this building was going to be a significant event for this university ― and significant for Indigenous people coming to this university ― because there was nowhere else on campus, other than the Aboriginal Student Centre, where we tried to create space for Aboriginal students."
The new building would not only be home to the Aboriginal Student Centre, but also act as a hub for services, programs such as Access and Aboriginal Focus programs, the University of Manitoba Aboriginal Students' Association, department of Native Studies faculty and the Office of Accessibility.
A number of Elders were brought in to help with the cultural aspects of the building, including Roger Armitte, then Elder-in-Residence for the Aboriginal Student Centre, as well as Ann Callahan and Charlie Nelson. Also involved were Florence Paynter and Robson, who eventually became the first Elders-in-Residence at Migizii Agamik.
Construction officially began in early 2007, after nearly two years of consultation and fundraising.
Note: Over the years, some names mentioned in this article have evolved. For example, the Aboriginal Student Centre is now known as the Indigenous Student Centre.