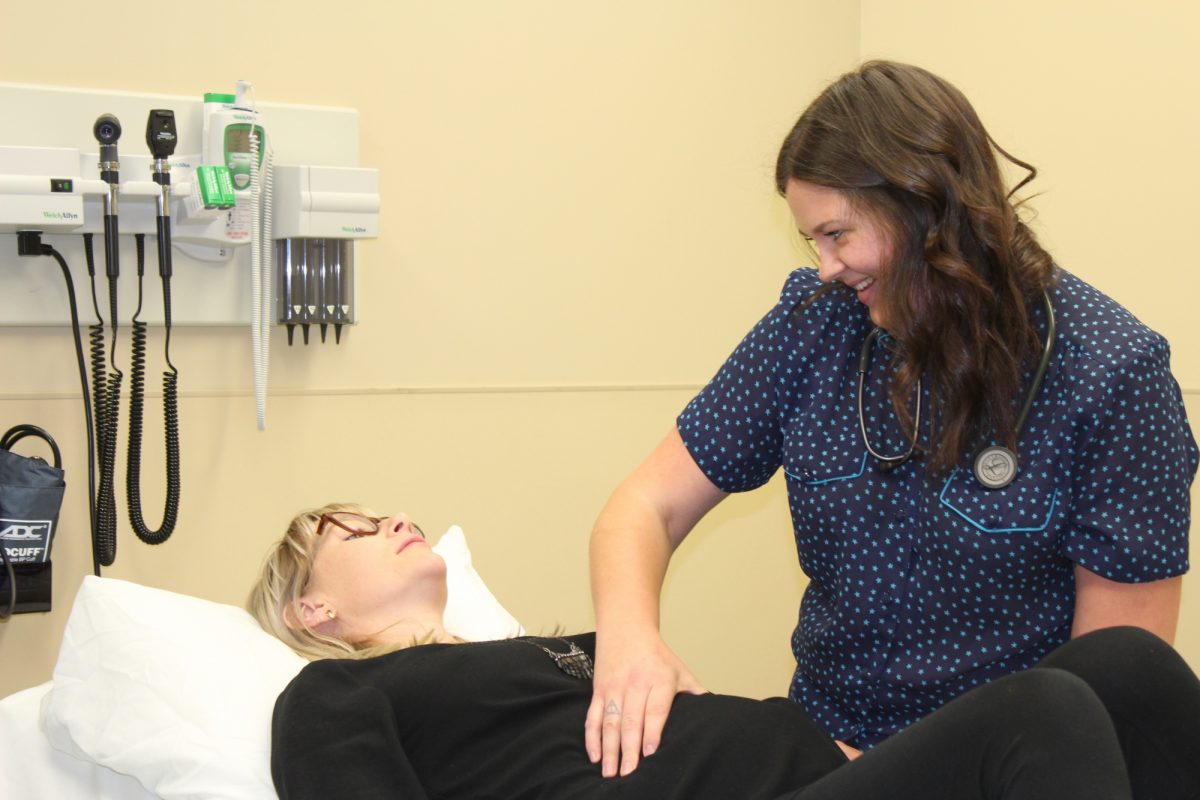 Supporting birth 'amazing every single time' for Manitoba midwifery grad  
June 10, 2019 —
On her four-year journey to a bachelor's degree in midwifery, Adelle Harman has supported the births of about 100 babies.
"I've witnessed something amazing every single time," says the 27-year-old from Thompson, Man., who has aspired to provide prenatal, birth and postpartum care since she was 18.
"All the prenatal care culminates in this birth moment that's a very intense experience. And there are so many rewarding moments when you do home visits after the birth, like breastfeeding success, or an older sibling meeting an infant for the first time.
"It's just so special. There are really great family moments that you get to be part of."
In May, Harman was one of 12 Manitoba students who graduated from the McMaster University midwifery education program. A partnership between the university in Hamilton, Ont., and the U of M College of Nursing was formed in 2016, after the Manitoba program in which the class initially enrolled was discontinued.
The partnership enabled the students to complete McMaster coursework online and at U of M, and to undertake clinical placements in Manitoba.
The new midwives had a double celebration of completing their degrees, enjoying a U of M party with family members and faculty in Winnipeg, then flying to Hamilton for McMaster convocation.
Harman, now professionally licensed by the College of Midwives of Manitoba, has accepted a job in her hometown as one of four midwives at the Thompson Clinic.
Thinking back to her late teens, Harman knew she wanted a career in health care. She got a job as an admitting clerk in the emergency department of the Thompson hospital. But when she moved on to working as a clerk on the maternity ward, she found her calling among the labouring moms and newborns, and knew she wanted to train as a midwife.
"I thought, 'Definitely, this is for me,'" she remembers. "It's a passion."
A common misconception, Harman says, is that midwives support only out-of-hospital births. In fact, Manitoba midwives are licensed for hospitals and are thoroughly trained to work with hospital teams.
Midwives support pregnant women and their families in making informed choices about the birth care and location that are right for them, Harman says.
The McMaster midwifery program included a large component of clinical experience. Some of the placements were in midwifery settings. "You're on the job, you're on call, you're attending births and you're working in the clinic," Harman says.
Other placements were interprofessional, giving the future midwives an understanding of health-care roles that may intersect with theirs.
"I did a placement with an obstetrician, a labour-and-delivery placement following nurses at St. Boniface Hospital, a postpartum unit placement at Health Sciences Centre, a neonatal intensive care unit placement, and a community placement at Women's Health Clinic," Harman says.
Her favourite clinical stint was the month she spent at the birthing centre in Rankin Inlet, Nunavut – a community where she lived as a small child.
"I just love the North, and Rankin Inlet holds a special place in my heart," she says. "My long-term dream would be to move further north and work there."
Harman hopes to see expanded midwifery services in the North so more women can give birth without having to leave their communities.