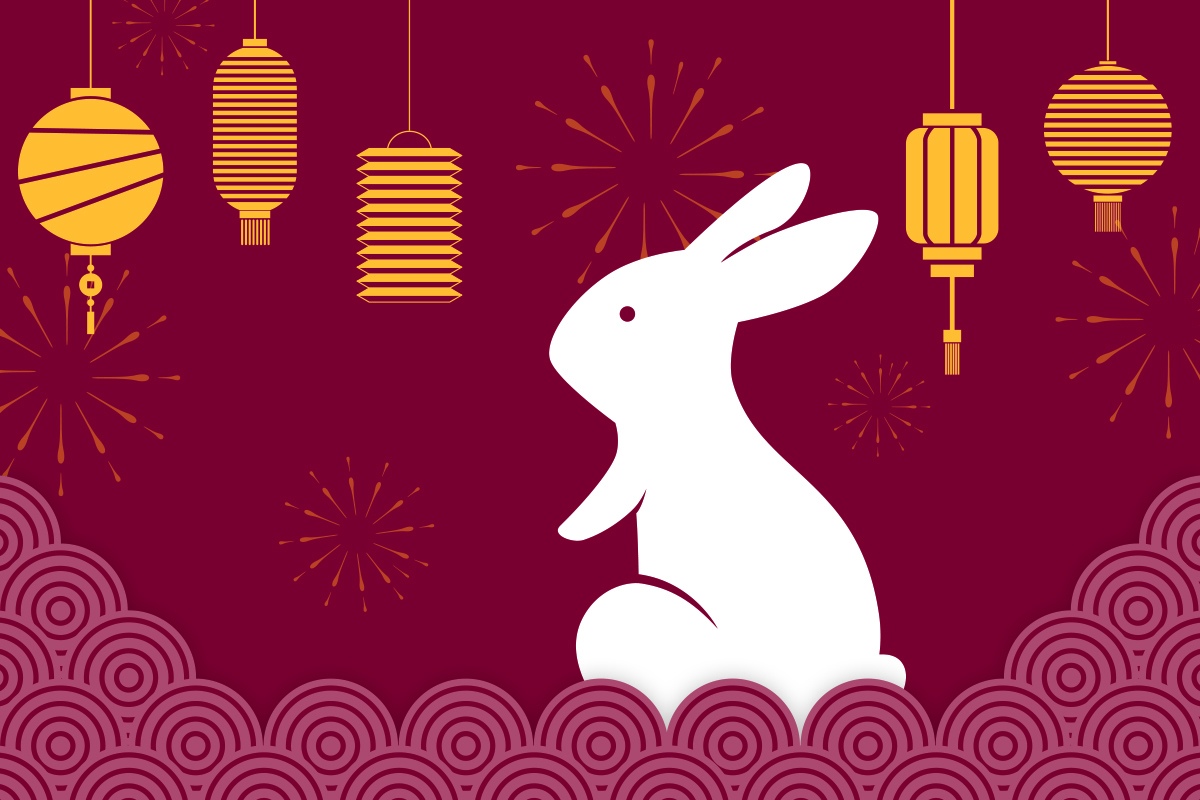 Memories of Lunar New Year
Asper MBA student shares well wishes for the Year of the Rabbit
January 20, 2023 —
Xīn Nián Kuài Lè! Sun Leen Fai Lok! Happy Lunar New Year! May your New Year be filled with good health, prosperity and joy!
Having grown up celebrating Lunar New Year, much of my identity, pride and love for the Chinese culture stems from the fond memories and tradition this holiday brings. Many of these traditions, such as wearing red or bright colours, holding big family dinners and gifting red pockets, are quite common when celebrating Lunar New Year. With that being said, there are also other traditions, beliefs and superstitions that are specific to each family and are deeply rooted in a family's history. Generally, these specific traditions are passed down through generations and are heavily reliant on the family's belief system and religion. As a whole, however, Lunar New Year brings families together, while also preparing each person for a successful and joyful New Year.
My own family is primarily Buddhist which means that a part of our Lunar New Year celebrations involves us visiting the Buddhist temple to pay our respects, honour our ancestors and ask for blessings in the new year. On New Year's Eve, my family would have a large get-together with copious amounts of food and afterward, we would visit the temple.
Upon entering the temple, we would be greeted with the smell of incense, zodiac-specific decorations depending on the year, and crowds of people wearing red or traditional Chinese outfits, known as the qipao or cheongsam. The colour red signifies good fortune and prosperity, and although not entirely necessary, some people believe in wearing new clothes to symbolize a fresh and clean slate. Throughout the night and as the New Year approached, the sounds of cymbals and thumping of the tanggu – a traditional Chinese drum – could be heard, which signaled that the Lion dance, a traditional dance bringing in good luck, had begun.
As a child and probably even to this day, the Lion dance is one of my favourite parts of Lunar New Year. The Lion dance consists of brightly coloured lion costumes, usually with two performers in each, mimicking a lion's movements. As the Lion dances its way through the crowds, some people will either place their hands on the Lions or even 'feed' them (the performers) with red pockets as to show appreciation and draw in good luck.
In addition to our trip to the Buddhist temple, another large part of celebrating Lunar New Year is the preparation and practices or superstitions that go with the holiday. In the days leading up to Lunar New Year, preparation would involve buying flowers, decorations and cleaning the house to clean out the old energy. Once the New Year arrives, there are specific practices or superstitions that my family would follow to ensure that we kept the good luck and fortune for the New Year. An example of these practices would be to not do housework, especially on the first day. To be even more specific, I was always told that we could not sweep the house or throw garbage out, as it would be seen as sweeping or throwing away good luck and fortune. Many of the practices that we follow are meant to ensure that our New Year is filled with as much positivity and good fortune as possible.
To add to the whole experience, another practice that I always enjoy is what I think of as a 'best wishes' standoff. In actuality, this is a conversation between two people wishing each other the best in the New Year through mostly generic sayings. It is quite normal for the two people to go back and forth saying different greetings as to cover all bases in work, health, life, school and more. As a kid I saw this as a 'best wishes' standoff because it seemed as though the greetings would not stop until one person had run out of greetings. Some examples of these greetings are, "May you have great luck and great profit!" or 大吉大利 (dà jí dà lì), or "Wishing you lots of energy and good spirit!" or 龙马精神 (lóng mǎ jīng shén), among many others. That is to say that if you and I take part in Lunar New Year's greetings, I will do my absolute best to prolong it.
In recalling my own favourite Lunar New Year traditions and memories, I hope that those celebrating the holiday were also able to do the same. For the upcoming Year of the Rabbit, I wish you and yours good luck, good health and prosperity.
Happy New Year!
Meredith Liu, MBA Student