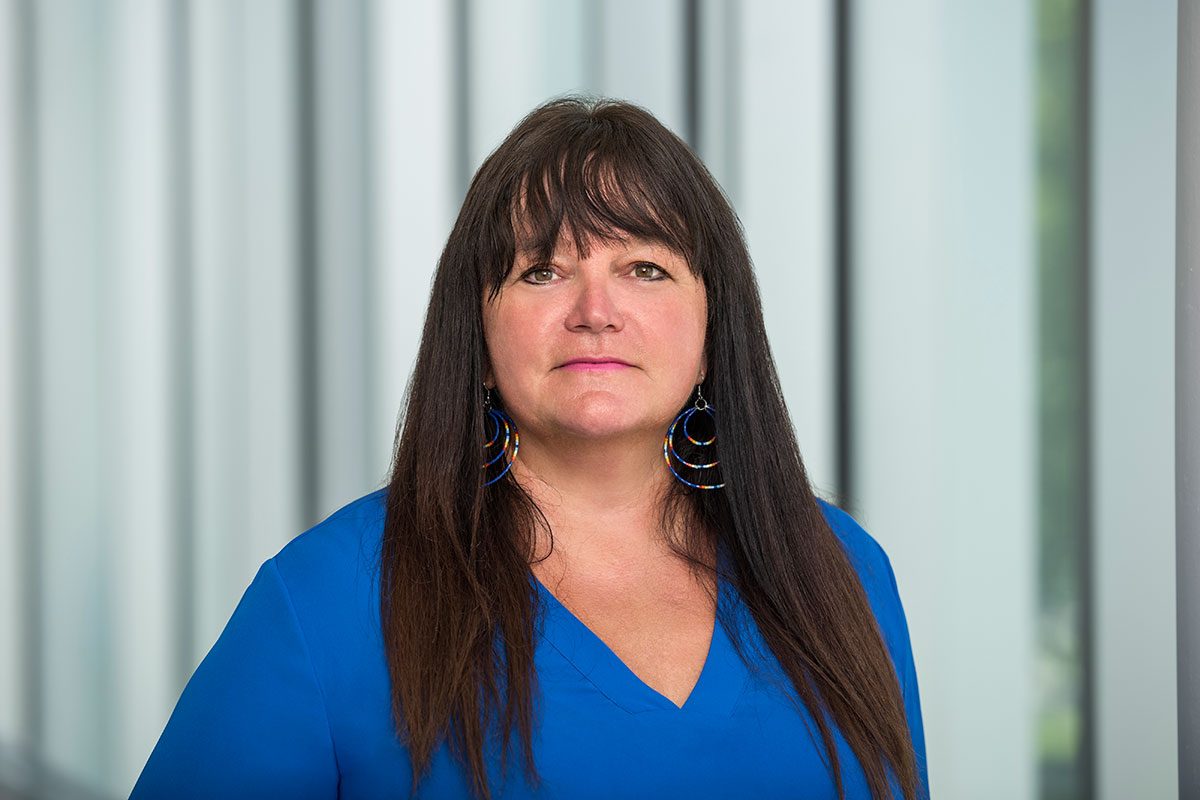 Meet the U of M's first Vice-Provost (Indigenous Engagement)
November 7, 2017 —
Dr. Lynn Lavallée was so passionate about the Vice-Provost (Indigenous Engagement) position at the University of Manitoba that she reconsidered early retirement to pursue the job. She was named to the new role effective Sept. 1, 2017 to Aug. 31, 2022.
Formerly the associate director at Ryerson University's School of Social Work, she played a key role in establishing Ryerson's Aboriginal Education Council, and was appointed Chair of the Provost's Aboriginal Advisory Council to advance Indigenous perspectives.
UM Today sat down with Dr. Lavallée to learn more about her background, goals and hopes for the future.
UM Today: Where are you from?
Lynn Lavallée: I was born in Sudbury, Ontario. My dad and his many generations were from Temiskaming. There the names are Lavallée, Pepin, Gauthier, Caya, Cada, Richard and Taylor. My mom was born in Timmins, and her mom was born in Maniwaki, Quebec. My maternal grandfather was born in Swan Lake, Manitoba. On my mom's side the last names include Labelle, Lafond (Lafont), Godon and McIvor. I'm registered with the Métis Nation of Ontario and identify as Anishinaabe.
Why do you feel it's important to identify the territories and last names of your ancestors?
The reason I identify the territories and last names of my ancestors is because identity is complex. I think that we need to be transparent with our identity when we take up positions in the academy that are for Indigenous scholars. I do that because I want people to know who I am.
I also do it because I find when I talk about who I am and my ancestors, I find relations. Someone might be related to the McIvor's in Swan Lake or in Sandy Bay, so it's a personal reason but also a professional reason.
What attracted you to come to the University of Manitoba?
When I saw the posting, I thought, wow, the University of Manitoba is a trailblazer.
Institutions, including the University of Manitoba, have had executive leads and non-academic positions, but U of M was now the first university to release this Vice-Provost (Indigenous Engagement) position.
Also, I've always felt drawn to Winnipeg. I have distant relatives here – whenever I meet another Lavallée, we know we're related.
I'd like to also try to connect to the Godon and McIvor's in Manitoba. Also, my childhood friend moved here. So I feel really at home here.
You have three degrees from three different disciplines. What led you to pursue such different fields of study?
I like that question, because they're all connected but it's not always obvious. My undergrad was completed at York University. I did a double major (honours) in kinesiology and psychology.
In kinesiology you could do one of five streams, I did the certificate in athletic therapy.
For my psychology degree I had to do a thesis option. I became interested in athletes who appeared to be constantly injured, what is called in the field, the psychological antecedents of athletic injury.
In my undergraduate thesis, I duplicated a study, measuring psychological stress with athletes and measuring their injury rates, and I reproduced those results, confirming that athletes with higher degrees of stress experienced greater severity of injury.
For my master of science completed at the University of Toronto, I designed a mental skills training program, focusing on stress management and performance enhancement principles. I delivered the program and then measured and compared athletes' injury rates between those who participated in the program and those that did not.
From there, I went to Oregon State on scholarship and started my PhD in health and human performance for this same topic. I did one year of my PhD there, but then decided to change my focus to the psychophysiology of stress and morbidity and mortality that we see in our communities. That's related to my personal life. My parents died young. All parents or grandparents had passed away by the time I was 29.
We know about the statistics of Indigenous peoples related to health and morbidity and mortality, so I became interested in that area.
When I decided to change my discipline focus, I would've had to go into sociology, and I couldn't pay for my final year as an international student so I came back to Canada and I thought, what area do I need fulfilled?
I visited the faculty of social work at the U of T and got along well with the then interim director, so I went into social work to get that social welfare piece that I needed to understand psychophysiology of stress with Indigenous peoples. We now understand this area of study as the social determinants of health.
You have been appointed U of M's first Vice-Provost (Indigenous Engagement). How do you think the establishment of this role will help further Indigenous achievement at the University?
A lot of the work that I'm going to be focusing on are priorities that people have been focusing on already. As I say all of the time, the Strategic Plan is the plan.
There is so much happening around Indigenous achievement at the U of M and there are a lot of moving pieces. A lot of people are doing great work and they aren't aware of the great work that other folks are doing. For example, if folks at the Rady Faculty of Health Sciences have designed something that's working well, how can we learn from that and cater it toward a different faculty? I think that's one of the largest aspects of this position. Just looking at what everybody's doing, and trying to connect people.
You started your new role on Sept. 1. How has your first two months at the U of M been?
Phenomenal. I'm excited because people are excited. People are coming to me to say, 'hey we're thinking of doing this.' It's not like I need to break down doors to advance initiatives. People are carrying out initiatives, and it's more like how can we manage everything that's going on, especially if they're wanting our office to be included.
People who are close to me in Ontario, especially my professional friends –– they feel the same as I do – that I'm here for a reason.
Also, it's a personal journey for me. This job is huge. I really feel that all eyes are on us. We're the first one to release this position, and a corresponding position [at the University of Saskatchewan] has just been filled, and people are wanting to see, is this going to work?
The only way it will work is if we all work together. It's not about me. It's about how does this position fit within the institution.
What will be your biggest priorities in creating pathways to Indigenous Achievement at the U of M?
I really feel that the Indigenous Education Blueprint is a priority for the institution. The Blueprint will lead to further Indigenous achievement on many levels. Also, the strategic objective of ensuring that all graduates of the University of Manitoba have some knowledge of Indigenous peoples of Manitoba and Canada – that's definitely come across as a priority with the people that I've been speaking to.
On a student level, one of the main priorities is increasing the number of Indigenous students coming into the institution, but also really defining what Indigenous student success looks like and how can we accurately capture that.
I think there are many Indigenous student success stories that don't fit the success categories of the institution currently, but they're still a success, and the University of Manitoba has an impact.
An example of that is if someone starts here, they drop out, and they finish somewhere else. The University of Manitoba might have created that foundation. There's a success there, but we have to find out what the story is.
For me – and this is more personal – I struggled through university financially. It took me 17 years from my undergrad in 1990 as a mature student, to finishing my PhD in 2007. In those 17 years I moved 17 times. And part of that was coming back from Oregon and being homeless. I had a master's degree and couldn't find a job. I couch surfed, stayed in a car over the summer months, and then finally rented a room. Is that a success? I don't know.
We don't know what people's challenges were and so I think we need to hear more from our students about what their stories are.
What are some things in your life that you're most proud of?
I think I have to go to my family. I think about my niece, my nephews and my grand nephews, and I'm very proud of the carrying on of the next generation. For me, the thing that brings me the most joy is seeing their faces and accomplishments.
From a professional standpoint, it's this position. It's something that I never anticipated.
I definitely have an administrative background and I love that type of work, but I didn't aspire to be involved in senior level administration, however when I saw the specific posting for Indigenous engagement, I was like, I can do that. So coming here, and being successful in obtaining the role – and now it's a question of being successful in getting some stuff done.