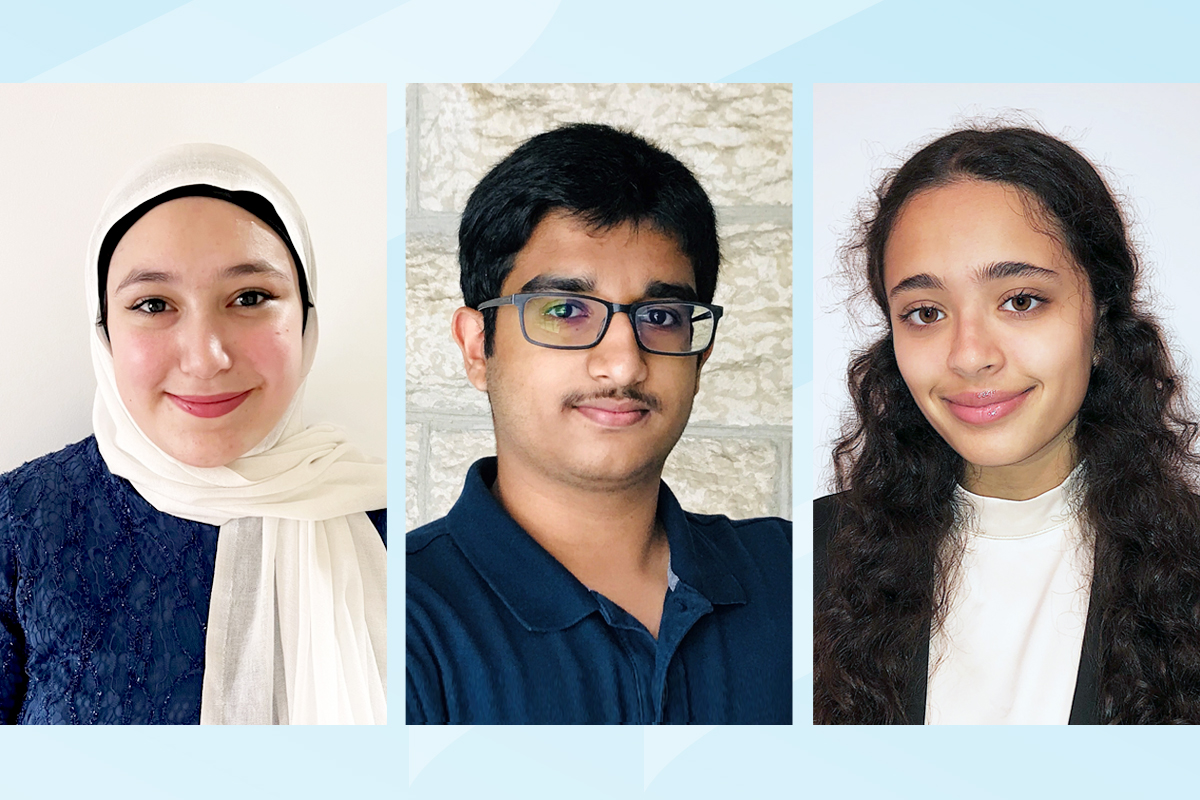 Meet the 2022 Leaders of Tomorrow
May 11, 2022 —
Ten high school students seeking admission to UM have been awarded BMO Financial Group Leader of Tomorrow and BMO Financial Group Indigenous Leader of Tomorrow scholarships. The recipients are all multitalented students, greatly involved in their communities, with high academic standards (minimum 90 per cent average in specific grade 11 courses). Each scholarship is valued at $16,000 over four years of study.
"Amidst all the challenges that our students were faced with in their final year of high school during the pandemic, they demonstrated much resilience and drive," says Jane Lastra, associate registrar and director, Financial Aid & Awards. "Each and every student interviewed is worthy of recognition— the interview panel was unanimously impressed with their academic, personal and community strengths. There is no doubt that these scholars will achieve all of their academic hopes and dreams."
2022 BMO Financial Group Indigenous Leader of Tomorrow Scholarship recipients
Iman Jarkas (Fort Richmond Collegiate), Keenan Karish (Gimli High School) and Kiana Mercredi (Daniel McIntyre Collegiate)
Iman Jarkas was born and raised in Winnipeg. An active member of the Indigenous Circle at her high school, she was determined to bring more awareness to Indigenous health issues. She participated in the Breaking Barrier, Building Bridges initiative, which brings together Indigenous and non-Indigenous students to participate in team building events, gain leadership skills, build connections and help students gain insight about Indigenous culture and history.
An academic tutor and member of the Manitoba Islamic Association, she also represents her high school as a member of the Pembina Trails Indigenous Youth Leadership Development Group (IYLDG), advocating for Indigenous students by providing insight on how to improve the education of present and future Indigenous students.
"I want to be a doctor because I would like to be an advocate for Indigenous communities," Jarkas explains. "I have witnessed first-hand the health disparities present in my family and my Indigenous community, which has higher rates of diabetes and mental health illnesses. I would like to gain an education in psychiatry to help provide mental health supports for youth, since Indigenous youth have a higher risk of suicide in Canada."
On receiving the scholarship, Jarkas says it "will make a big difference on improving my post-secondary education moving forward. Not only will it help support me financially, but it will also help me succeed academically. Because of this award, I feel motivated and excited to start my post-secondary education and give back to my Indigenous community."
2022 BMO Financial Group Leader of Tomorrow Scholarship recipients
Armaandeep Dhanoa (Maples Met School), Nathan Varghese (Westwood Collegiate), Rebekah Soneye (Murdoch Mackay Collegiate), Reva Trivedi (St. John's Ravenscourt), Rhea Gupta (St. John's Ravenscourt), Sarah Marks (Gray Academy of Jewish Education) and Kethan Nutakki (Craig Kielburger Secondary School)
"To me, receiving this award is an affirmation that I will have the proper resources to pave my path to a career in the sciences," says Rhea Gupta. "Not only is the financial burden relieved, but a door to increased opportunities is opened too. Further, the award rewards my extracurricular efforts throughout high school, and motivates me to continue to put community service and extracurriculars on the same pedestal as academics."
Gupta has been serving as the leader of the Green Team club at St. John's Ravenscourt, as well as the Youth in Philanthropy Club (YiP), which receives support from The Winnipeg Foundation to provide grants to various philanthropic organizations in Winnipeg. Outside of school, she spoke at the National Youth Forum for Diversity and Inclusion in Toronto in 2019, where she helped organize forums to present to young children, tackling critical topics such as homelessness and Islamophobia.
She explains: "The scholarship will help me immerse myself in a more rounded university lifestyle, in which I can focus on academics, gain hands-on experience, and involve myself in the community as well. For instance, I may be able to invest in spending more time at a lab, which will allow me to acquaint myself with research and perhaps, find a mentor too. As the scholarship celebrates leadership potential, it will also encourage me to strive for leadership positions in university, which can better prepare me for my career life. Overall, this scholarship validates my goals and gives me the confidence that I can achieve them."
Nathan Varghese has been an active member of his school student council and has been volunteering as a Recreation Assistant at Deer Lodge Centre. A founding member of the Westwood Historical Society, he and a friend competed in the Manitoba Caring for Our Watersheds (CFOW) Contest in 2021, winning first place for their innovative proposal for the creation of an Augmented Reality app to bring experiential learning to students.
"My goal is to pursue an education that provides opportunities to learn and grow through research, exploration and new connections," Varghese explains. "I am planning to enter a career that will allow me to make positive, tangible differences in the lives of others."
Varghese is interested in scientific research and is passionate about people-focused work, hoping to pursue a career in health and social services.
"Helping others achieve their goals and overcome challenges is something that I am passionate about and hope to continue doing throughout my career journey," says Varghese. "This scholarship provides the opportunity to pursue quality education at UM, establish relationships and connections, engage in research and contribute positively to the university community."
"Education is a key driver in BMO's Purpose-driven commitment to grow the good for an inclusive society," says John MacAulay, Regional President, Prairies Central Region at BMO. "It's our privilege to partner with the University of Manitoba in supporting these young leaders whose contributions will enrich our society and help pave the way toward a collective brighter future."
Become a BMO Financial Group Leader of Tomorrow
Visit the Financial Aid and Awards website for more information on the BMO Financial Group Leader of Tomorrow scholarships and the BMO Financial Group Indigenous Leader of Tomorrow scholarships.