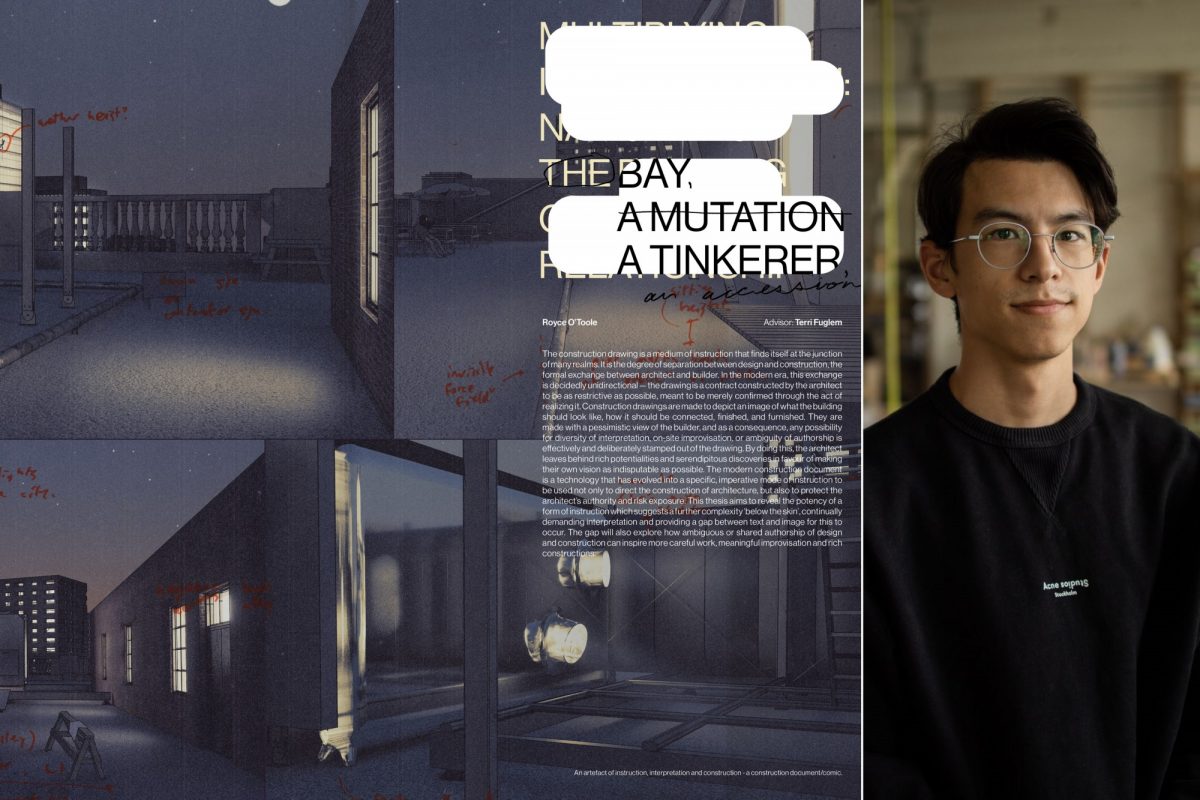 Meet Royce O'Toole 2021 RAIC Student Medal Winner
December 17, 2021 —
The Royal Architectural Institute of Canada offers the RAIC Student Medal annually to a graduating student in each School of Architecture in Canada who, in the judgment of the faculty of the respective School, has completed the outstanding final design project/thesis for that academic year.
The 2021 recipient, Royce O'Toole, graduated from the Master of Architecture program in October 2021 and we asked him to respond to the following questions:
What are you most proud of in regards to your educational achievements?
Completing my thesis book: The Bay, A Tinkerer, An Accession
How did your time at the UM influence your current path?
During my time in the Faculty of Architecture, I was given many opportunities to learn how to solve problems in creative ways, which prepared me to be flexible and perseverant in my career.
How would you describe the impact the Faculty of Architecture had on you?
The Faculty of Architecture's impact on me is difficult to measure, because I suspect the ideas gleaned from the Faculty's teachings have become so engrained in me that I can't fully grasp the extents of the influence on the way I think, talk, and see the world.
What professor, instructor, mentor, Elder, or teaching experience has had the most impact on your learning at UM?
My studio professor in the first year of my Master's degree, Neil Minuk – his enthusiasm and critical appreciation of all facets and scales of design has had a profound impact on the way I think about architecture.
What is the one thing people don't know about you (or your educational journey) that they would be surprised to learn?
When I was in high school, I met with an architect from a local firm to learn more about the profession and see if it was something I wanted to study in university. I left the meeting feeling very excited to pursue a career in architecture. Years later, after completing my undergrad, my first job in an architecture office ended up being with the very same firm, through no connection from the original meeting.
What is one piece of advice you would give to students thinking about joining the Faculty of Architecture?
To have an open mind – your first idea will rarely be your best idea, and great design will often need to be massaged from difficult processes.
What inspires you?
Appropriate and thoughtful design executed with care.
Final Words?
I would like to thank the RAIC for recognizing and celebrating student work, and for giving it a platform amongst the professional world.
You can view highlights of Royce's design thesis work by visiting his webpage.