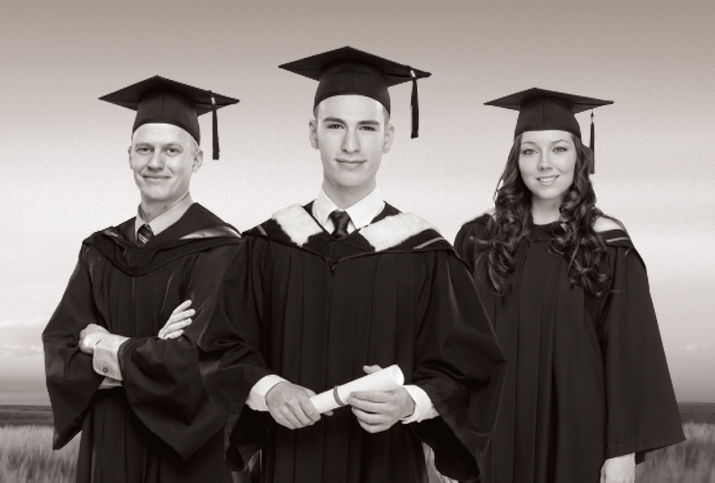 Meet just a few of U of M's inspiring grads
June 3, 2014 —
Graduating from the University of Manitoba as a part of the 135th Spring Convocation are three inspiring students. They, and hundreds more like them, will cross the stage and embark on a new chapter in their lives. Take a moment and meet just a few of U of M's inspiring grads.
Nathan Coleman – College of Medicine
"I am happily married to my wife of almost 7 years, we started medical school with 2 children and are currently expecting our fourth any day now."
Nathan Coleman isn't your typical student. Balancing medical school and a growing family is a unique challenge that comes with a unique set of perks. "I have always enjoyed coming home to the kids – they get so excited, I become a superstar just by walking in the door," he says. Nathan graduated from the College of Medicine on May 15th. He is starting a residency in family medicine through the U of M's Northern Remote Family Medicine Program, which will send him to the northern corners of Manitoba, as well as Nunavut and Northwest Territories. He looks forward to the challenges that practicing medicine in the North will present, as well as the immersion in northern culture. During his time at medical school, Nathan spent time in Nunavut and Churchill where he experienced northern life. Besides learning and exploring medicine, he also met with elders to learn about their lives, camped on the tundra with his family, and sampled local food and activities. These experiences inspired him to pursue a career in northern medicine. Nathan received bursaries from the University of Manitoba and the College of Family Physicians of Canada Medical Student Scholarship, which is awarded to only one student in each medical school in Canada. He credits these for lessening the financial load, and also helping him to attend a national medical conference. According to Nathan, balancing medical school and his family has made for a hectic few years. With his new role as a doctor and a new baby, things probably won't be slowing down any time soon.
Joseph Tritt – Desautels Faculty of Music
"One of the challenges I faced during my time at U of M was juggling schoolwork and gigs. While studying at U of M, I had my first professional music directing experiences. Much of my time outside of school was spent rehearsing and performing!"
The end of Joseph Tritt's time at the U of M isn't the beginning of his career. Though he crosses the stage in cap and gown on June 5th, the Desautels Faculty of Music grad has already begun working as a musical director. Joseph explains that he found his way through not finding his way; he says, "I believe that the reason I had a hard time picking a major was because I was always meant to be a music director, which requires a diverse musical toolbox." His schedule for the remainder of 2014 is full. He's the Resident Music Director at Rainbow Stage; he'll be working on this season's shows The Producers, A Closer Walk with Patsy Cline and Disney's The Little Mermaid. Then in December, he'll be the Music Director for Cabaret at the Royal Manitoba Theatre Centre. He also works as a vocal coach and accompanist. Surely his natural talent played a big part, but Joseph says the experiences and courses he took at the U of M helped him get to where he wanted to go. He says classroom work like musical theory and history, as well ear-training and hands-on music-making in the studio helped him become a success. He received scholarships early on, including the Patricia Ruth Rogers Music Award and the Faculty of Music Endownment Fund Scholarship, but later in his degree he was ineligible – because he was too busy working in his field to be a fulltime student. While most students finish their degrees and embark on their careers, Joseph's has already begun – on some of our city's biggest stages.
Laura Svab – Faculty of Education
"I retired from the Canadian Forces in January 2009, after serving over nine years as a combat solider in the Artillery and Infantry, in order to pursue my passion for teaching."
For Laura Svab, the road to becoming a teacher wasn't the typical one. After spending nearly a decade in the army, including being posted in Afghanistan, she decided to hit the books. She got a Bachelor of Science, then a Bachelor of Arts, and on June 5th, she will receive her Bachelor of Education degree, all from the U of M. She credits Veterans Affairs with supporting her through her academic career. "Every course taken throughout this program, as well as both of my practicum experiences, teaching both in English and French, have been extremely rewarding. I feel confident to begin my new career due to the knowledge and experiences I have had in the last two years," Laura says. She's hoping that new career will blossom in Montreal, where she is moving with her soon-to-be husband to be closer to family. As if being a student wasn't challenging enough, she used her spare time to volunteer in the community, including with the Boys and Girls Club, Big Sisters, and U of M's Unicef group, among others. Giving back and making the world a better place is how Laura has spent most of her adult life, and that's sure to continue on into her life as a teacher.