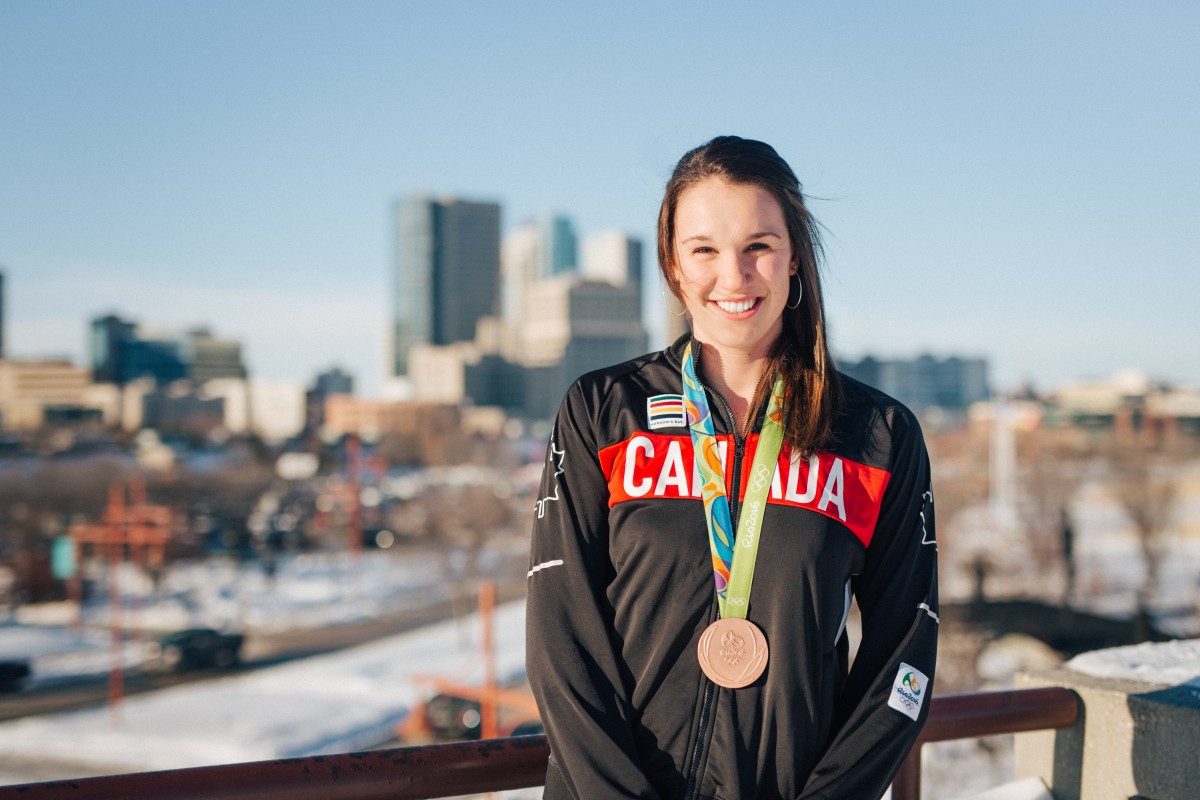 Meet Chantal Van Landeghem, master's student and Olympian
February 22, 2018 —
I momentarily forgot Chantal Van Landeghem's face. Two years earlier I—and likely most of Canada—was screaming at her image on TV, then saw pictures of her everywhere. But as I walked into IQs to meet her, I suddenly drew a blank. So I turned to Plan B: find the most athletic-looking person. Bingo, spotted her.
The 6'4" swimmer who won Canada's first medal at the Rio Olympic Games with her relay team is easily the most athletic person in the entire building on this day. She's also probably the nicest—easy to laugh, and smiling incessantly.
After studying abroad, Landeghem has returned to Canada and now calls the University of Manitoba home. UM Today sat down to meet this exceptional graduate student, one of the roughly 3,800 remarkable students enrolled in the Faculty of Graduate Studies.
Who: Chantal Van Landeghem, master's student and Olympian
Advisors: Lorna Jacobson and Adrienne Leslie-Toogood
Studying in: Department of Psychology, Faculty of Arts
Favourite stroke: Freestyle, sprint; the shorter, the better
Least favourite stroke: Butterfly; it's exhausting
Current hobby: Hot yoga and board games with the family
Guilty food pleasure: Chocolate
Best pre-competition pump-up song: Anything I can dance to
Superstitions: I like to splash my face with water before I race.

UM Today: You were born in Winnipeg. Then what happened?
Van Landeghem: I lived here for 18 years and then accepted an athletic scholarship down to the University of Georgia. So I completed my bachelor of science in psychology down there while competing. I took a year off school in 2016 and I trained in Toronto in the hopes of competing in the Olympics. I made the team, which was so incredible, and then we won the first medal of the Rio games—a bronze medal in the 4×100 meter relay, on night one. So that was really cool.
And then I applied to a bunch of grad schools but when I got accepted to the University of Manitoba for clinical psychology it was, I don't know, it just felt great. It felt great to come home. It was a decision that made a lot of sense for me professionally and what I wanted to do outside of the pool, which is to work as a sports psychologist with athletes. I want to break down that stigma of mental health that is especially prevalent in sports because athletes are taught about mental toughness and to push through pain. And I think sometimes mental health can be neglected.
I'm retired from swimming now but all that passion I felt for swimming I feel for my education.
So what's your master's thesis?
Right now I'm looking at exercise addiction. It is a thing. There's not a huge prevalence rate but it's a maladaptive pattern of exercise. It's correlated with empathy deficits—so people who struggle to share another person's emotions. So I want to look into that.
The second part is to look at alexithymia, which is a dysfunction in emotion regulation. So someone with alexithymia doesn't know what emotions they are feeling so they can't properly identify their emotions or explain them.
So does having alexithymia moderate or mediate this relationship between empathy and exercise addiction?
What is exercise addiction?
It is a behavioural addiction. There are two types. The first is exercising for the sole purpose of exercising. And the second form is as a means to lose and control weight, and that co-occurs with an eating disorder.
I'm going to be looking at both of them. And there is debate in the literature whether primary exercise addiction even occurs on its own without an eating disorder. So I'm going to look into this and see if I can find any evidence suggesting exercise addiction can occur on its own.
Were you always interested in psychology?
I have been since Grade 11. That's when I began working with Dr. Adrienne Leslie-Toogood (read a Q&A with her) who is now one of my advisors. She was actually my sports psychologist. When I was working with her she opened up my eyes to a whole other side of sports that I had no exposure to. So she really opened my eyes and nurtured my interest.
When did you get into swimming?
I started swimming competitively when I was 4-years-old. My dad took me to the pool when I was a few months old and I just loved it. So I grew up being in the water with my dad and younger sister. So it was only natural to put me in formal, competitive lessons. Ever since then it's something I have just got so much enjoyment from.
When you were a kid, what did you want to be when you grew up?
I wanted to be an Olympic swimmer. That was always my dream. Professionally, I never had any idea what I wanted to be until Grade 11 when I discovered sport psychology and I have never looked back.
Your dream came. So what was going through your head in Rio when you were swimming or watching your teammates do their part in that medal-winning race?
During the actual race, when I was going, I was so in the zone I can't even tell you what I was thinking about. I was the second leg of the race though so I was out of the water for the third and fourth legs and the excitement that I felt, the nerves, is indescribable. I haven't felt anything like that before or since then. When Penny Oleksiak touched the wall and we realized we won bronze, there was this moment of we-did-it. All the hard work, and sacrifice, and blood and sweat and tears, it turned into this cumulative moment of pure joy. That was amazing.
Where do you keep your medal?
It's in a box by my bed.
How is it adapting from being a world-class swimmer to becoming a graduate student?
The cool thing about sport is it teaches you so many life skills, and I directly apply those to my grad studies. Things like time management, and resiliency when things don't go your way—like getting a poor grade—and learning how to bounce back from that. And being a good teammate and being a good classmate share a lot in common.
You do a lot of talks to primary education students on mental health issues as well as the importance of having dreams and working hard. What would you say to post-secondary students?
I would say, you know, it's going to be tough. So often we look on TV or at our peers and we think it's easy. But it's not. It's a struggle and that struggle is what makes us tougher and makes us grow and learn. For me, my biggest thing is to enjoy failure as much as I can and to take as much from failure as I can—to not be afraid of failure. I think failure makes us learn and grow.
Let's go further. Pretend I just studied hard for an exam but did poorly, what would the sports psychologist of you say to me?
I would ask you how you would talk to your son or daughter and how you would help them get through something like that. What would you say to them, or a friend to help them get through it? Say that to yourself. You have to have self-compassion.