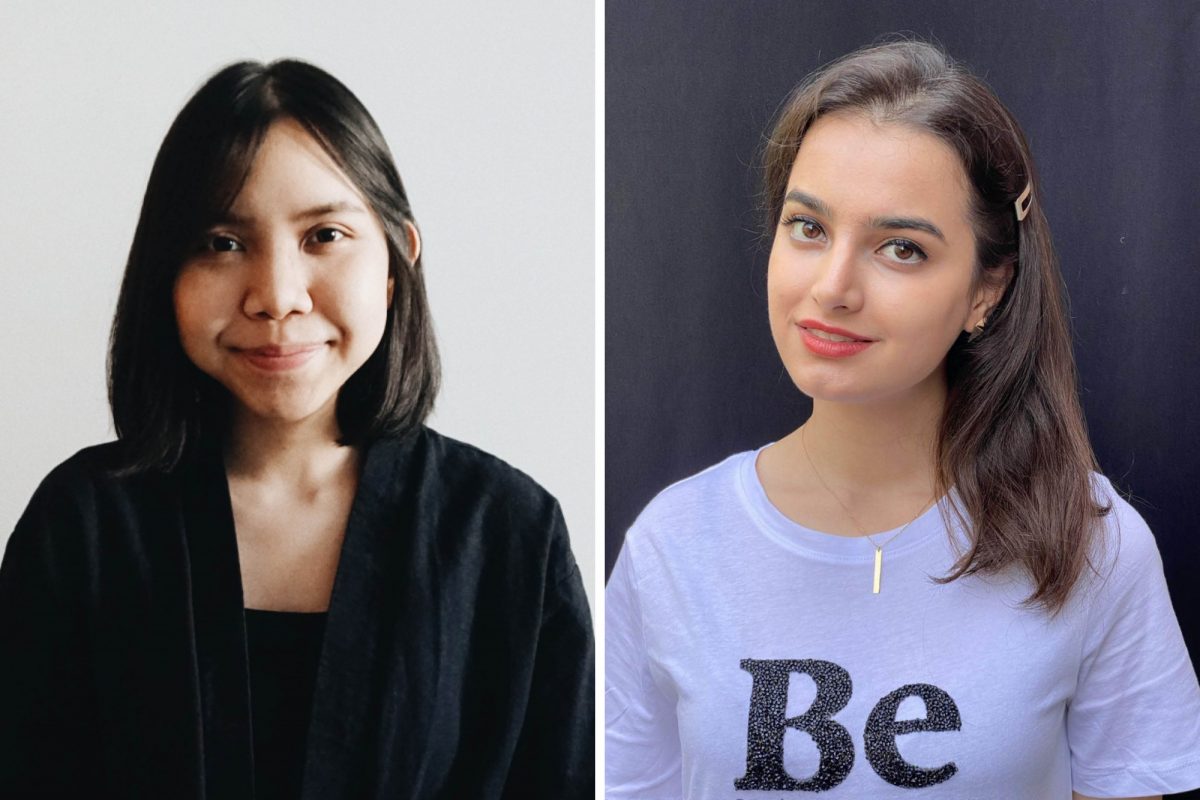 Meet Andria Langi, 2021 Manitoba Association of Architects Medal recipient and Saba Mirhosseini, 2021-2022 Manitoba Association of Architects Recruitment Award recipient
January 11, 2022 —
Each year, the Manitoba Association of Architects offers a scholarship to attract excellent students to pursue graduate studies in Architecture at the University of Manitoba and a convocation medal to the graduate student with the best Comprehensive Design project or thesis.
The 2020-2021 Manitoba Association of Architects Medal recipient, Andria Langi, graduated from the Master of Architecture program in October 2021 and incoming student Saba Mirhosseini received the Manitoba Association of Architects Recruitment Award. We asked them to reflect on the following questions:
What are you most proud of in regards to your educational achievements?
AL: I would say that I am proud that I was able to overcome all the obstacles that I faced, to keep persistent and tenacious, and to make my curiosity come true. Moreover, to do my design thesis far from home and family, during the strangest period of time.
SM: Over the years, I have had the chance to work with professors and professionals in this field, and this has led me to gain experience and use 'questioning' as an important step in my work. I have also had friends with me who have taught me a lot. I'm proud to always be trying and challenging myself because it allows me to take advantage of opportunities.
How did your time at the UM influence your current path?
AL: I got to meet and be inspired by fellow students and professors who opened my eyes to career possibilities. The opportunity to work as a research assistant and get involved in international symposiums and exhibitions became one of the experiences that helped me discover my passion and what I want to do in the future.
SM: Since I have just started my studies in Manitoba I need more time to answer this question, but I am excited to challenge myself in a new context and at a new university.
What is the one thing people don't know about you (or your educational journey) that they would be surprised to learn?
AL: I came to Winnipeg from Bandung, Indonesia for my master's degree. And prior to that I worked in a film and animation production house in Indonesia!
SM: This is a difficult question, I usually try to keep all my work and journey's on LinkedIn, ISSUU and Instagram to listen to comments and record my memories. But the truth about me is that in every moment I watch movies, theatre, everyday events, walking or whatever, my mind is always on communication and questioning, and when I can analyze them in my mind, I feel I'm alive.
What is one piece of advice you would give to students thinking about joining the Faculty of Architecture?
AL: Do not be afraid to explore your interest using all the provided resources and people. School is the place where you can keep trying, make mistakes and learn from them. And the most important of all – keep being curious!
SM: Many people ask me about this and I encourage them not to give up on their dreams and desires. I believe that architecture is a discipline that needs hard work and if they do their best, they will get the results. I tell them to document all their efforts and achievements and prepare a portfolio that describes them well.
Who or what inspires you?
AL: I believe, as an architect, we design for people and places. Therefore their stories always become my source of inspiration in my design process. It always fascinates me to learn about someone's history, culture, and hope – and to be reminded of how different but also similar we are.
SB: My father has always been an inspiration to me. He is an architect, and since I was a child, I have enjoyed sitting next to him and watching him draw, sketch, and read books, and this made me always have some connection with architecture. When I was young, my toys were Legos, and before entering the university, I could draw a plan and a section and work with AutoCAD. My father's presence in my life has always given me the energy and strength to see everything from a different angle and experience architectural life like him.
How would you describe the impact the Faculty of Architecture had on you?
AL: As an international student, pursuing my master's degree, the Faculty of Architecture opened doors to a lot of creative experiences and valuable opportunities that helped me in starting my career as an architect.
What professor, instructor, mentor, Elder, or teaching experience has had the most impact on your learning at UM?
AL: I had the honour to work with Prof. Lisa Landrum as her thesis student. I also worked with her as a research assistant for the CAFE Project and Theater Archimagination Symposium. Prof. Landrum has always supported me in developing all the ideas that I thought were impossible to accomplish. She always pushed and guided me throughout the process, and I am really grateful for that.
Final Words?
AL: I am deeply honoured to have been awarded this medal by the Manitoba Association of Architects. It really motivates me, as a designer and researcher, to know that the institution – and the professionals – found my thesis significant and important. It pushes me to keep engaging with the community and share their story as a young designer and researcher.
You can view highlights of Andria Langi's design thesis work by visiting her webpage.
SB: This award is so valuable to me. This support helped me in many aspects; spiritual, financial, motivational, etc. These aids are effective. I am very grateful to my donor, and I hope to compensate for it by developing and improving my abilities in the path I am taking as an architect.