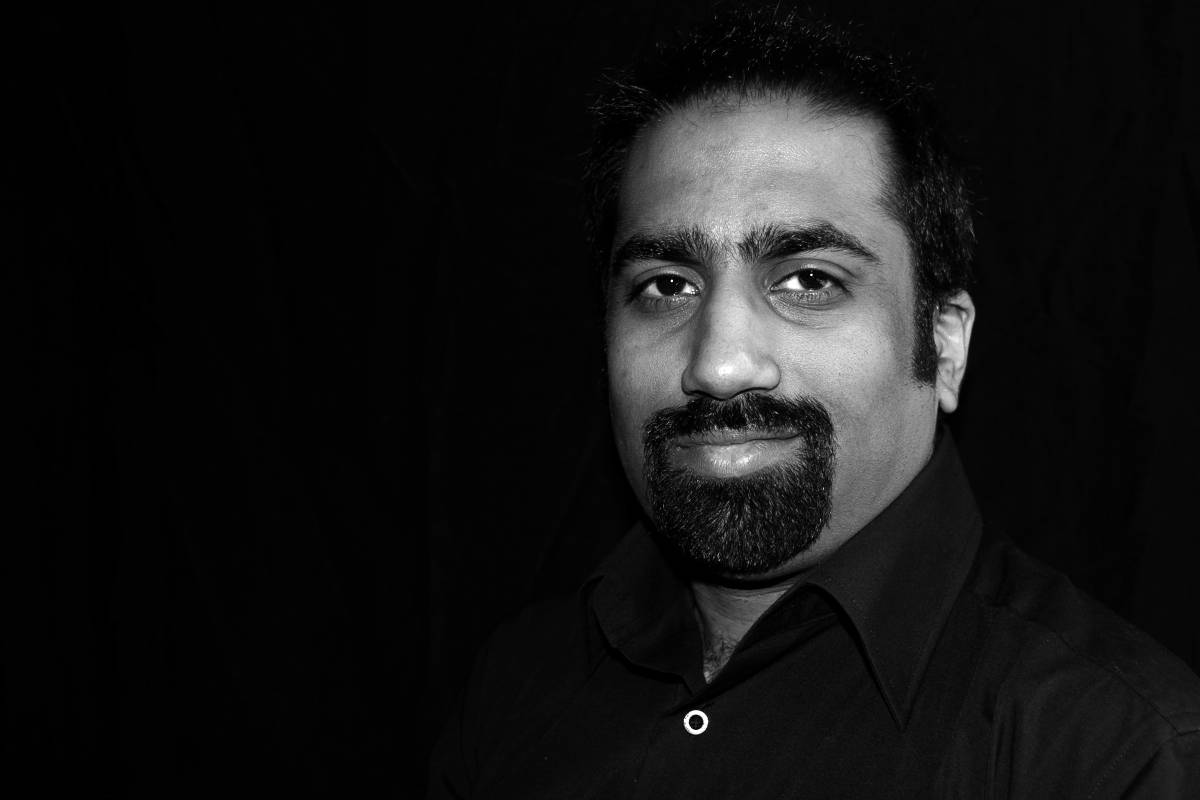 Meet Amar Khoday, 2021 Rh Award Winner in the Humanities category
May 27, 2022 —
Amar Khoday studies the connections between resistance and the law. Resistance is manifested in public and private spaces through myriad forms of conduct – ranging from the violent to the non-violent, the lawful to the criminal and the directly confrontational to the clandestine.
Khoday is the 2021 recipient of the Terry G. Falconer Memorial Rh Institute Foundation Emerging Researcher Award in the Humanities category, in recognition of his research into the ways resistance interacts with law and vice-versa. UM Today caught up with him recently to learn more about him and the research he is undertaking.
Tell us a bit about yourself and your research.
I'm somewhat eclectic in my approach to legal scholarship and the subjects that I cover. I'm attracted to historical and/or comparative approaches to studying law. There's probably a reason for that. Prior to studying law, I completed undergraduate and graduate degrees in history. My interest in history has certainly influenced some of my writing. In addition, because I obtained my J.D. in the United States and my graduate legal education in Canada, I'm often interested in examining how different jurisdictions approach similar legal issues.
Generally, my research has tended to hover around three broad areas of study. The first focuses on aspects of criminal law and procedure. Stretching back to my days as a law student, I've been fascinated by law enforcement's use of trickery when conducting interrogations and investigations. In addition, some of my recent work has examined themes concerning racism and criminal justice.
My second area of research delves into the connections between law and resistance. I'm captivated by how courts and legal systems respond to acts of resistance, and especially those moments where law can serve as a protective mechanism for resisters. During my doctoral studies, I examined this interplay through the lens of refugee law. Since then, I've been looking to focus on other areas of law that interact with acts of resistance, including criminal law and the law of evidence. This interest in law and resistance prompted me to create a seminar course at the law school which I've been teaching since 2015.
Lastly, I've been interested in how law, as well as participants within legal systems are depicted in various mediums of popular culture, such as films, television, literature, and music. Law is present in so many story lines that exploring the connections between law and popular culture just makes sense. Just to give you an example of its appeal, I am going to be participating in late June in a continuing legal education seminar on Star Wars and the Law. This seminar will involve both legal academics and practitioners and indeed this was initiated by a member of the practicing bar.
Why is this research important?
Regarding my law and resistance research, its significance lies in focusing attention on the ways that legal systems may legitimize certain forms of resistance. An example of this may be where officers or soldiers in a particular military seek refugee status for engaging in desertion to avoid being associated with military actions that are condemned by the international community as contrary to basic rules of human conduct.
Another important aspect of this research is to highlight and examine instances where individuals or groups, through their resistance, may bring about political, social, economic, or legal transformations within a given society or government. In studying such developments, one might examine the goals of these resisters, the means they've employed, the targets of their resistance, and issues of proportionality.
With respect to my criminal law and procedure scholarship, it is important to consider the ways in which law enforcement officers perform their investigative responsibilities and how courts place or ought to place limits on police conduct. A lack of judicial oversight is likely to have significant consequences, not the least of which might include wrongful convictions.
What does the Rh Award mean to you?
Given the stated purposes of the Rh award and the fantastic work so many researchers across the university are engaged in, it's a truly humbling experience to receive this award. It arrives just as I'm approaching my ten-year anniversary here at the University of Manitoba. The Rh Award is a nice recognition of the scholarship I've produced during my first decade as an academic.
In addition to the recognition, the monetary aspects of the Award will provide significant assistance, particularly with respect to hiring students as research assistants. This will, in turn, help them gain research experience and earn some money while doing it.
What do you hope to achieve in the future?
Much of my work, up to now, has been focused on articles, book chapters in edited collections and blog posts. In the next five to ten years, I would like to make the shift toward writing books.
With respect to subject matter, I hope to further explore certain areas of interest – which will likely tie-in to my main research areas mentioned earlier. For example, drawing from my earlier training in history prior to embarking on a path in law, I'd like to do more work in legal history. An article of mine was published in the Osgoode Hall Law Journal late last year where I wrote a legal history of a Supreme Court of Canada case from 1977, Smithers v. The Queen. This decision is assigned in many criminal law courses across Canada annually. My article examined the previously uninterrogated racial dimensions of the case and how the Court largely left out the issue of racism in constructing its factual narrative of what transpired. In undertaking this research, I dug into the trial transcript, the legal documents submitted to the Supreme Court of Canada, as well as newspaper articles from the period. In writing this history, I also drew on critical race theory, which I've used in other writing and intend to employ in future work too.
What about you would people find surprising?
I guess it would depend on which people we're talking about! Perhaps, it might surprise some people that I love portrait and dance photography. I used to do a lot of photography and digital editing well over a decade ago. This was more of a hobby than anything else, but I also had a few paid gigs. Eventually, I became more focused on my doctoral studies, then my job etc. My photography took a back seat. However, I sometimes manage to shoot portraits upon request. Every now and again, I'll dig back into my old work and post something on Instagram.
Any advice for early career researchers and students?
In connection with research, one bit of advice that I share with law students in my seminar courses is for them to consider further developing their research papers once the course is over with a view toward submitting them for publication. Students' research and insights might be helpful to others who have an interest in the subject matters about which they're writing. To foster law students toward developing their papers towards publication, I offer to provide suggested edits and feedback, in addition to advice on possible venues to submit their work.
Beyond knowledge dissemination, there may be added benefits or opportunities that come from such efforts. For instance, it might catch the attention of some employers when reviewing a job application to see an applicant who has submitted an article for publication, or more so, already possesses a publication record. Many students have very good grades, so one way to stand out is to go beyond having a good academic transcript – getting published is one way to accomplish that. It tends to signify an ability to write in a more sophisticated way, to conduct research, and to carry an idea from inception to publication. It is also indicative of someone with perseverance and initiative.
Research at the University of Manitoba is partially supported by funding from the Government of Canada Research Support Fund.