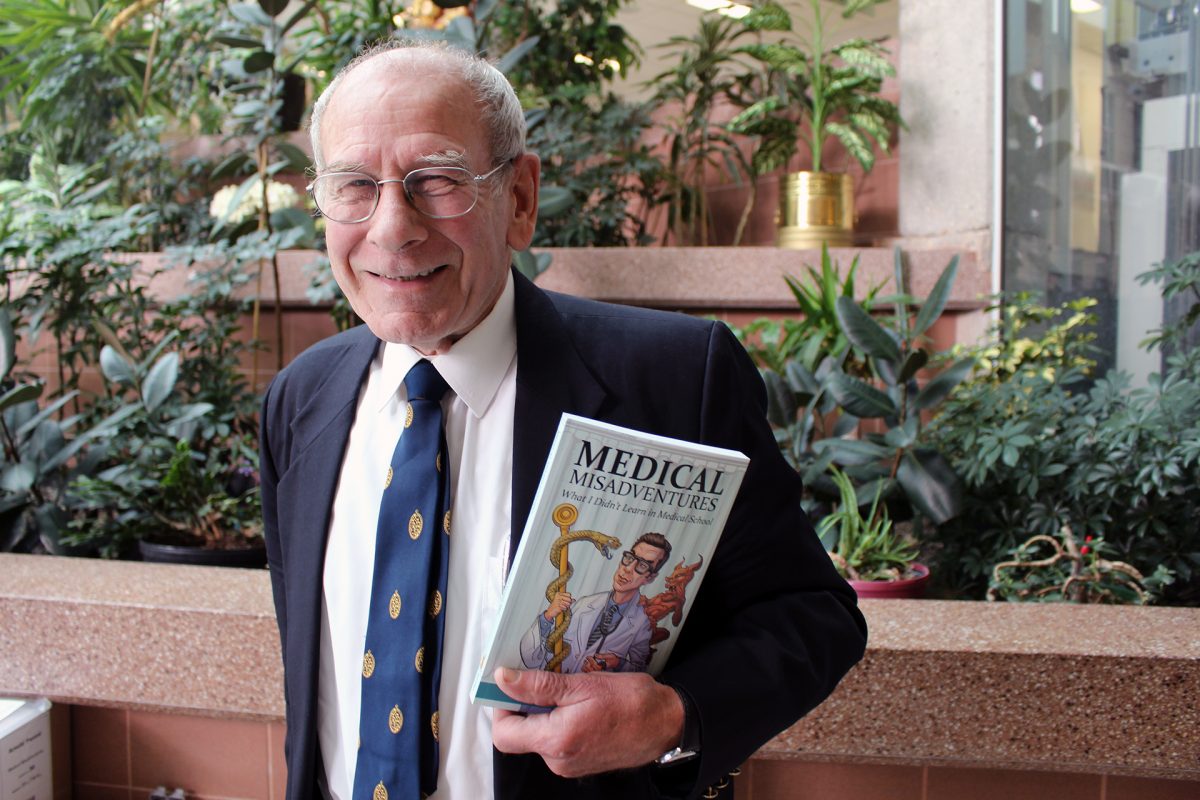 Physician pens book about 'medical misadventures'
November 19, 2019 —
Dr. Arnold Tweed writes in his newly released book that "the practice of medicine, for better or worse, is a curious mix of science, art and divination, and the results are never entirely predictable." This statement sums up the collection of short stories about his colourful experiences as a physician titled, "Medical Misadventures: What I Didn't Learn in Medical School."
Tweed tells stories of miraculous recoveries, near-death experiences and eccentric patients, including a stripper bitten by a venomous snake, a boy in suspended animation after collapsing in the snow and a woman who survived being run over by a train.
"It's not the great moments of medicine that I've tried to record," said Tweed, "Some of them are embarrassing, some humiliating, but the events that are hard to explain usually involved unusual characters and unusual situations."
Tweed grew up on a farm near Killarney, MB. He completed in undergraduate studies at Brandon College in 1959, and went on to medical school at the University of Manitoba graduating with his MD in 1964. He completed his residency in anesthiology at U of M and worked in Winnipeg in a variety of fields including intensive care, general practice and emergency medicine. He also spent several years as an armed forces medical officer.
In 1983, Tweed moved to London, ON to chair the anesthesiology department at Western University. From there, Tweed and his wife Glenyce travelled and worked in various locations including Singapore, Denmark, New Zealand, Oman, Bahrain, Saudi Arabia, and Nepal. In 2003, he accepted a position at the University of Toronto before retiring in 2014.
Tweed held his book launch on Bannatyne Campus on October 30, a location that seemed appropriate since many of the stories in his book are from his time as a U of M medical student, intern and resident at the Health Sciences Centre.
How did the book come about?
The book started about 40 years ago as after-dinner stories. When I retired, I needed something to do, so my son said, 'Why don't you start a blog?' That amused me for a year or so, then I decided, 'why not put them all together and make a book?'
What drew you to a career in medicine?
I didn't start off wanting to be a doctor, I dreamed of being a cowboy. At the time I was doing my undergraduate training in science, the oil fields were opening up and a lot of my colleagues were majoring in geology. That didn't appeal to me. I started to think about medicine. I thought – I like biology, I like science and I get along reasonably well with people most of the time.
What made you want to travel and live in different places?
Anesthesiology is a good specialty because it's mobile. I was particularly interested in going to several of these places because they had just established new universities and departments. I was the founding professor of some of the anesthesiology departments.
We spent 15 years travelling, my wife and I, most of it in the Middle East. I was teaching anesthesiology and practicing and she was teaching English, usually in business schools. It's culturally interesting. You meet interesting and challenging people.
What is your favourite story in your book?
The exotic dancer who called herself Juanita and used a snake in her act is probably one of the more interesting stories. It's a true story, there will be a few people at the Health Sciences Centre who still might remember it, but there aren't many left. Fortunately, now I can tell it publicly because there's no one left to contradict me.
How do you reconcile your scientific training with the unexplained phenomena you've encountered while treating patients?
I was educated in the science of medicine. We were students of Joe Doupe, John Gemmell and Arnold Naimark, the icons of this university. That's governed my life and the life of my classmates. But there are still things that you can't explain. There's an unpredictability to human nature and medicine that doesn't quite always fit the mold.
Do you have any advice for medical students and young doctors at the start of their careers?
I think it would be impertinent to suggest my experiences serve as any kind of model. Medicine is still interesting and challenging. People starting today face the same challenges we did. You have to have an open mind, an inquiring mind, a good scientific basis for your medical practice and you have to listen to people. There's no easy formula for being a good doctor.
Dr. Arnold Tweed's book is available for purchase at the Health Sciences Bookstore and half of the sales will go to the Medicine Class of 1964 Legacy Fund. So far, Dr. Tweed has donated nearly $1000 to the fund from book sales.
Medical Misadventures is available on Kindle, and will soon be available in print on Amazon.