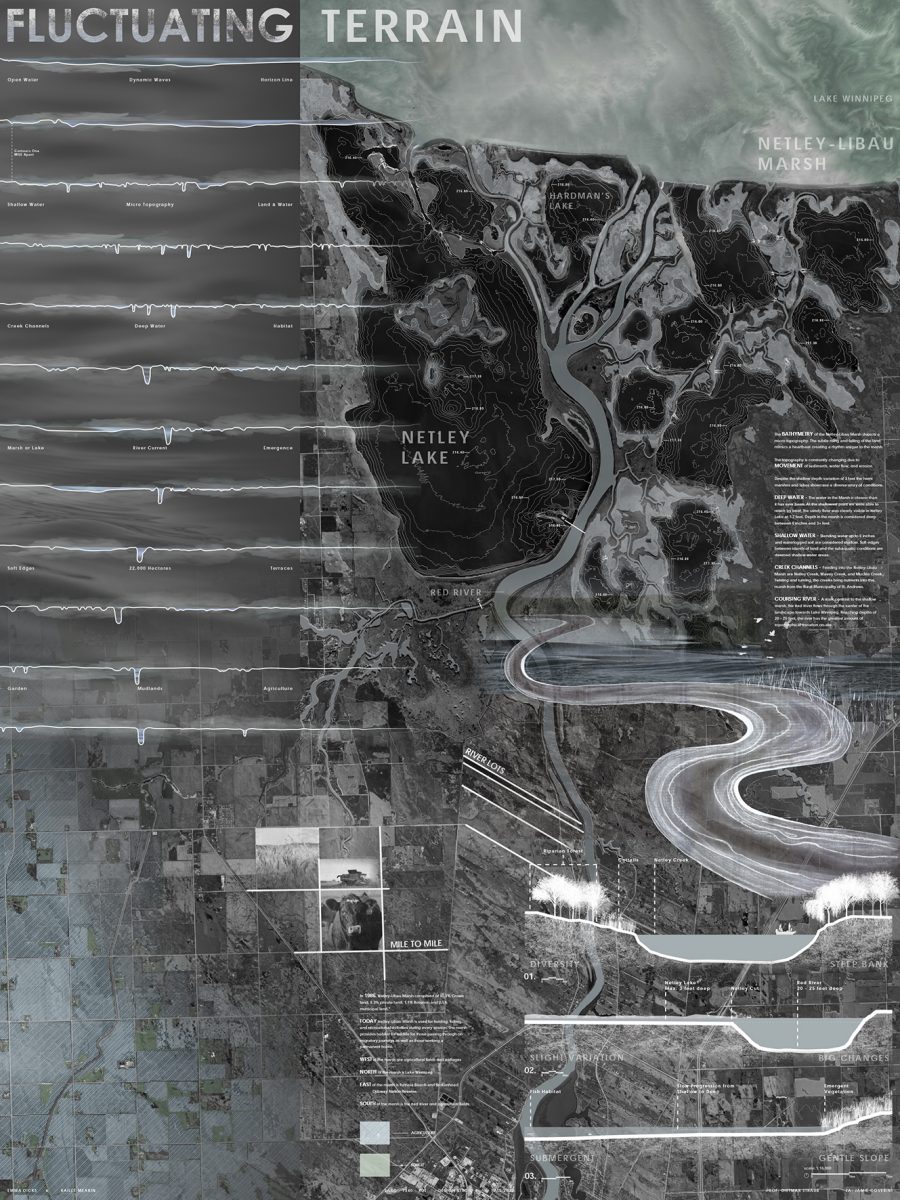 Master of Landscape Architecture Students Win GIS Days Map Gallery Awards
February 23, 2023 —
Master of Landscape Architecture students Emma Dick, Kailee Meakin (1st place), Manuela Villarreal (2nd place), Tasnim Ferdous, and Nazi Yaghoobiyan (4th place) have been awarded the GIS Days Map Gallery Awards in November 2022. All submissions are regional analyses and have been produced in LARC 7340 Design Studio 4, taught by Prof. Dietmar Straub with the teaching assistance of Jamie Coverini.
The students portrayed large-scale terrains, their history, hydrology, ecology and cultural context. They built up "pictures" by acquiring knowledge and information about the lost natures of ecologically sensitive landscapes in Winnipeg and Manitoba. The goal was to create landscape portraits of regional terrains, which allow the identification of patterns and structures by superimposing numerous layers of maps bearing spatial and geographic data representation. The regional study shows where significant interventions in the landscape happened and how the interventions impacted the environment. The visualization is fundamental for developing draft design strategies on a regional scale, and it enables students to formulate essential questions and synchronize them with the available knowledge. Design starts by creating a backdrop for the designer's imagination.
Shortly before the fall term break in 2022, I received an email from Meg Miller, UofM GIS & Data Visualization Librarian, stating that the deadline for submission to the GIS Days Map Gallery has been extended to November 11th. Maps needed to have been completed in the last year. Meg mentioned that "it would be pretty cool if we could get University of Manitoba representation in that top 5!" Students from LARC 7340 Design Studio 4 in 2021 and 2022 submitted their work for the GIS Days Map Gallery Awards, which was well worth it.
The GIS days organizers received 28 submissions from grads, post-grads, undergrads, and GIS Professionals. The map gallery winners were chosen based on a people's choice vote. The participation and success of the University of Manitoba students have been a profound milestone experience with the positive side effect of creating recognition for the Faculty of Architecture and the Master of Landscape Architecture program at the University of Manitoba, both nationally and internationally.