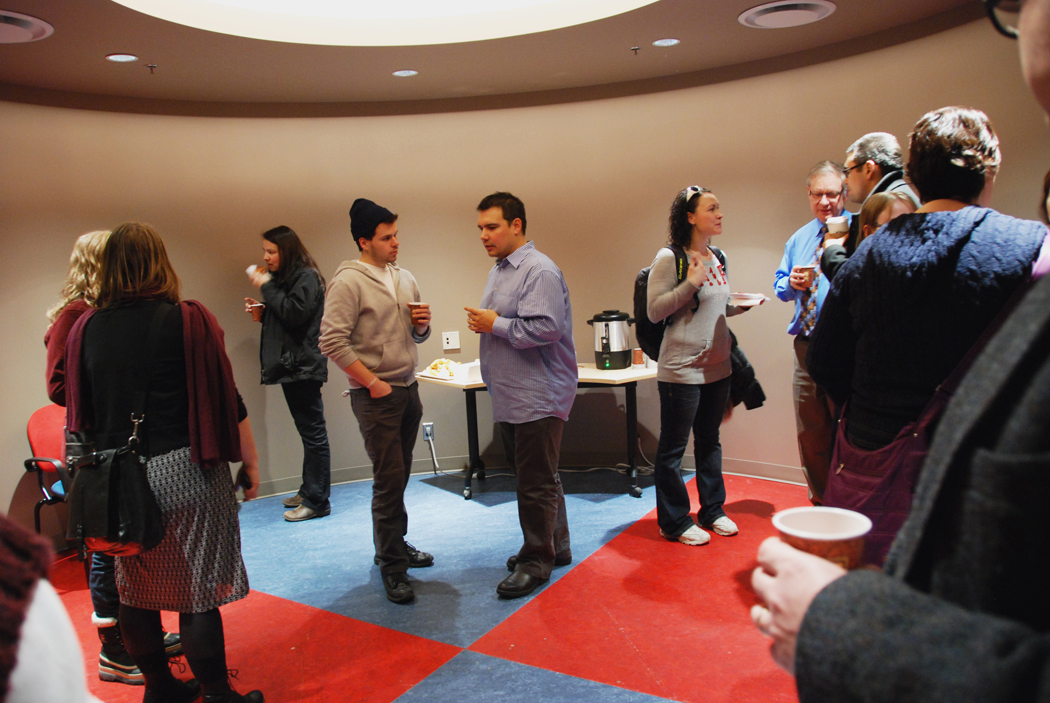 Mamawipawin, a unique Indigenous space, offers a new type of classroom — and learning
January 6, 2014 —
Kiera Ladner, Canada Research Chair in Indigenous Politics and Governance and associate professor in the department of political studies, has been thinking about a different kind of research lab for a long time.
Rather than a typical science lab, or even a typical classroom, she envisioned a space that "doesn't look like an institutional space, composed of podium and classroom, a front-of-class versus rest-of-class split." The new space has been up and running for two years now on the fourth floor of Isbister.
Mamawipawin, a Cree word that roughly means "the space where we gather," has an architectural design that reflects critical Indigenous teachings about community, individuality, research and life. It also has a ventilation system to support Indigenous research protocols like smudging ceremonies.
The idea for the space was born over seven years ago, and as Ladner reiterated at the official opening on January 18, 2012, it took a lot of work by many people to bring it to realization.
Such a structure, she said, suggests "one source of knowledge, and a deep 'knower-learner' split, rather than shared knowledge and opportunity, different gifts and a certain kind of equity."
Part her search for a different space came from learning, teaching and knowledge philosophies and research protocols that diverge from that usual model. The problem of how to conduct the kind of research and discussion Ladner wanted for herself and her five graduate students was urgent and central to the research itself.
"We wanted to have — and needed — a kind of space that was creative rather than sterile, that reflected culture, values and community, that allowed for building partnerships and capacities with people, between groups," she said.
Ladner's research area of Indigenous politics and governance made her problem even clearer. "Bringing an elder into a regular classroom space was extremely problematic," she said.
"Everything about the way the space is structured contradicts those cultural values, and the kind of values I wanted to bring into and endorse in my research.
Ladner: I wanted to bring research back to the community, creating research and knowledge exchange with community
"I also wanted to bring research back to the community, creating research and knowledge exchange with community," she said.
So it was important to Ladner to have a space into which people could be invited, where they would feel comfortable, and feel that they belonged and that they had something to contribute.
Her efforts are futile, she said, if her research doesn't make sense to everyday people in the community. An elder usually will begin stories or teachings with a ceremonial smudge, she noted. "In a typical classroom, you have problems of ventilation and other spaces around you."
The two circular spaces available on campus including that in Migizii Agamik (Aboriginal House), she continued, are great, but as an event rather than a research space. Excellent for what it is being used for, in other words, but not what Ladner needed on a continuous basis.
It is a physical, technological and an intellectual space for discussions about resurgence, resistance and transformation in Indigenous politics, said Ladner. It is intended to promote new thinking about research, generative methodological transformations and ways of doing research with Indigenous peoples around the world.
Ladner conducts community-based research into constitutional reconciliation and decolonization. Her work aims at creating an understanding of competing ideas, both within communities and between Indigenous nations and Canada. Her hope is that her research and the new space will bring communities together — engaging grassroots, traditional leadership and political leaders in discussions about their visions of the future. What do they see as self-government? What is the meaning of Indigenous governance and traditional governance? Can traditional governance be recreated to meet modern needs?
Mamawipawin, or the Indigenous Governance and Community Based Research Space, was built through funding from the Canadian Foundation for Innovation (CFI), the Manitoba Research and Innovation Fund (MRIF), the U of M and with support from Apple.
With files from Sean Moore
A version of this article originally appeared in the February 9, 2012 edition of The Bulletin.