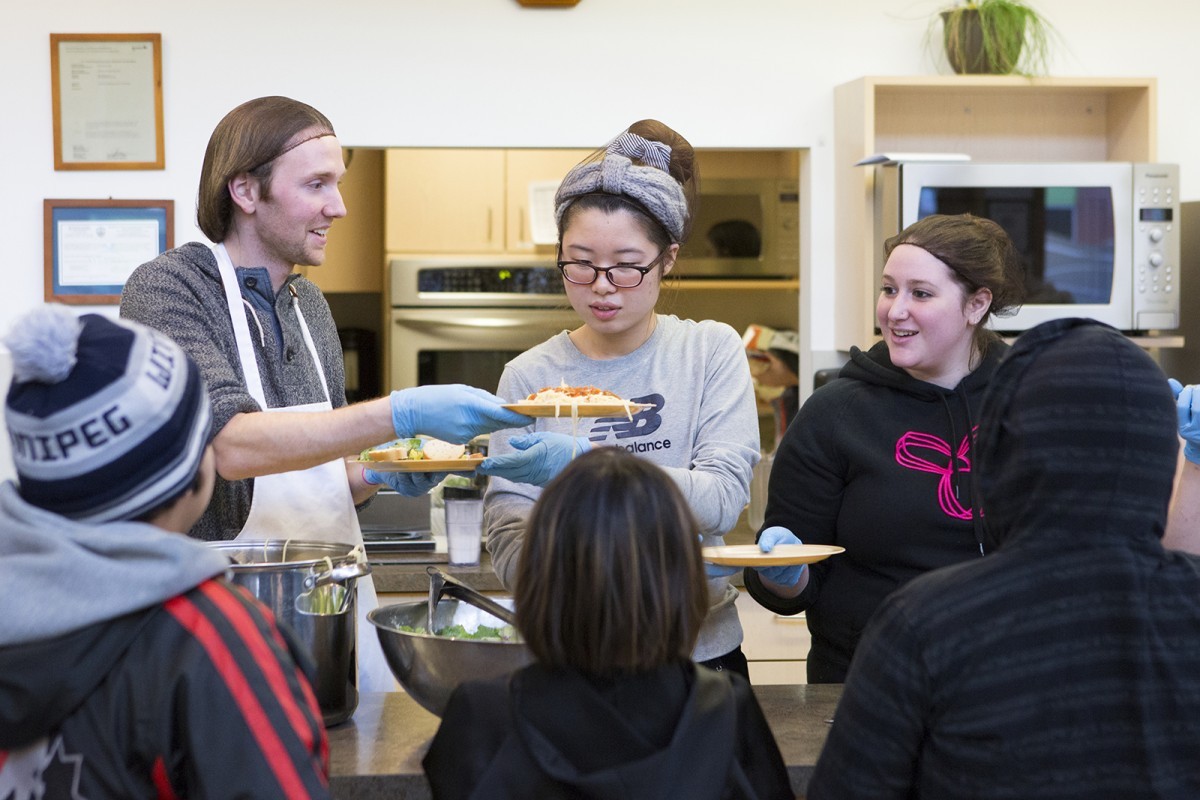 Ma Mawi Wi Chi Itata Centre: A positive place for kids in the North End
February 25, 2015 —
Volunteer coordinator William Hudson at the Ma Mawi Wi Chi Itata Centre says the community centre embraces the true meaning behind its name: A place to work together and help everyone.
During Reading Week, Ma Mawi served as a host agency for three U of M students. Instead of taking a much needed break, these students volunteered at Ma Mawi as part of Alternative Reading Week, where they assisted in everything from meal prep to hands-on activities with the children at the centre.
The Ma Mawi Wi Chi Itata Centre is deep within the North End. On an average evening, there will be 70 to 80 kids running around, drawing, painting, playing games, climbing the rock wall or flipping ollies in its indoor skate park. The centre is an important hub in the community, providing meaningful services to adults as well as children, giving them somewhere to go after school. The building is open seven days a week for youth in the area with programs running every day — except on Christmas, when there's a giant community dinner.
The North End community centre is a light among those it serves, but the shine of its spotlight isn't often seen by the rest of Winnipeg. "The thing about Ma Mawi is, it's here for the community. The more accessible it is for community members, the more they belong here and want to be here," says Hudson.
Darby Cumming was one of the U of M students who spent his reading week at Ma Mawi. He graduated from the U of M in 2011 with a degree in history, but is back at the university, taking cultural and language courses. When he heard about Alternative Reading Week and the opportunity to volunteer time at Ma Mawi, he wanted to get involved.
"For us, it was all about interacting with the kids," says Cumming."We're seeing what it's like for the kids growing up in the inner city. We're getting an understanding of what Ma Mawi does."
He also says his time at Ma Mawi gave him a greater perspective on the North End and that he sees a lot of optimism coming from a gathering place for vibrant young people. "I think it's been really interesting how incredibly talented some of these kids are," says Cumming. "We have this idea what the North End is like and what North End kids are — it's one of the big problems in Winnipeg. There's this negative perception of the North End, but when you see these kids, they have so much potential. They're talented. They're funny. You really hope that they have a good future. You can really see them growing up and being really successful."
The Alternative Reading Week participants only spent three days at Ma Mawi but it was time well spent according to Hudson.
"I think it's really special for the university students to put themselves out there and make themselves available to these youths," says Hudson.
"All it takes is a smile. That will have impact on these kids. For them (U of M students) to give their time, even though it's only three days, spending a few minutes chatting with these youth may have a huge impact."