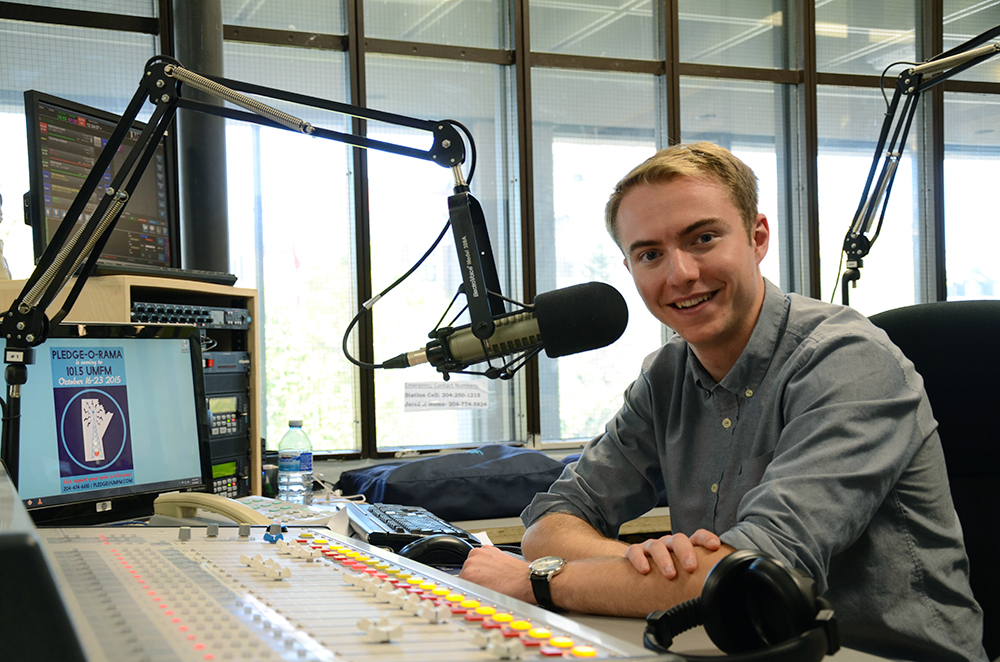 Listen up!
New podcast launched by Asper students, for Asper students
October 3, 2016 —
Asper School of Business students can now tune into a weekly podcast of news, events and interviews with alumni and high-profile members of the Winnipeg business community thanks to CSA Today, hosted by Commerce Students' Association (CSA) Vice President of Operations Eric MacLise.
The new podcast launched early in September, and broadcasts live every Tuesday at 10 a.m. on 101.5 UMFM radio. Episodes are available after broadcast at soundcloud.com/umfm1015/sets/csa-today.
The program's goal is to engage students in the "great opportunities" available in the Asper community, and to inspire them with stories and interviews from prominent local leaders and entrepreneurs, says MacLise. He also hopes the podcast will help promote events to a student body that often leaves campus the moment classes end for the day.
"The initial idea for the podcast was something that students could get in the habit of listening to in their cars as they go to or from school, to get caught up with the events happening in the week ahead."
So far, response to the podcast has been strong, says MacLise. "We're averaging 50-plus streams through the first two episodes. Students are keen to promote their events on the show, I've had no trouble finding guests, and faculty have been very supportive with recommendations on future interviews."
The first episode sets the bar high with an insightful half-hour conversation with Kevin Donnelly, vice president of venues and entertainment at True North Sports & Entertainment. Donnelly shares memories and highlights from nearly 30 years of working in the entertainment industry. He offers listeners a unique backstage glimpse into the unique demands of running the MTS Centre, planning and promoting shows in the Winnipeg market, and working with some of the world's biggest performers and superstars.
His recollections of working with The Tragically Hip over three decades, and watching them rise to fame and national adoration, are bittersweet. "These are five hardworking guys who never got too big for their britches," Donnelly says. "I wish we could change how that story ends." (The Hip performed in Winnipeg this July as part of a final tour in honour of lead singer Gord Downey, who has been diagnosed with terminal brain cancer.)
MacLise, who has completed two co-op terms at Emotion Media Inc. and True North Sports & Entertainment, says his personal interest in the sports and entertainment industry will likely result in a lot of interviews with movers and shakers in those areas.
"For instance, I'd love to interview Winnipeg Jets head coach Paul Maurice and get him to talk about his leadership and coaching philosophy. Leadership is a very transferable skill across professions, and I imagine students would be keen to hear from someone in Paul's position."
This week, he interviewed New Leaf Travel Company President and CEO Jim Young.
EPISODES & GUESTS
Kevin Donnelly, Vice President of Venues and Entertainment, True North Sports & Entertainment
Bryce North, Co-Founder/CEO, Advolve Media, and Co-Founder, TrapTap Inc.
Kelly Mahoney, Director, Asper Career Development Centre, and Martin MacCool, Vice-President, Winnipeg District, Scotiabank