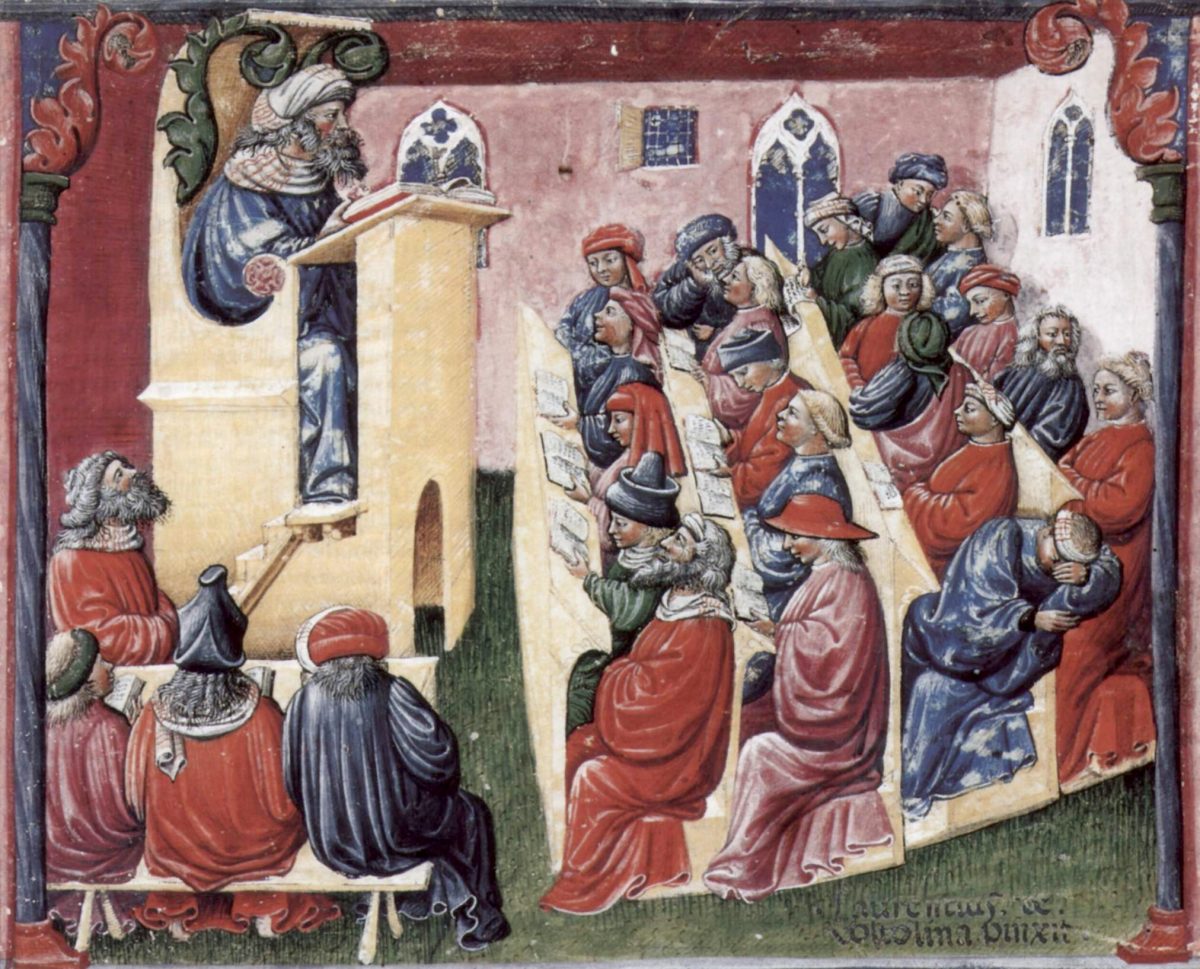 Like the first universities, we've moved our classes somewhere new
May 5, 2020 —
Though we're not on campus, UM is definitely open and, in some ways, we're resembling the first universities, which had no central campus and held classes wherever space could be found at a decent rent, from churches, to inns, to brothels. Today, like our predecessors, we've adapted and temporarily moved to a new home online, but we're still connecting and sharing knowledge.
Prior to the first universities being created in Paris and Bologne around 1200, all levels of education were chaotic, reports historian Philip Daileader of the College of William and Mary. Students and teachers travelled great distances to foreign lands where they never had to speak the local language, only Latin, the language of instruction. This led to local towns taking economic advantage of these students and their teachers, and the Church was also not fond of these fragmented classes spread all around as they were difficult to supervise. The concept of the university solved these issues by uniting the groups—but crucially, at this early time, "university" was an idea, not a place.
The number one reason universities were created, Daileader says, was to unite teachers and students together to have greater bargaining power with local towns: they could negotiate for better rents by threatening to strike, and if unappeased, move to another town, which was easily done since the university owned no buildings. And in the annals of early-university strikes, a famous one occurred in 1229 when the University of Paris left the city after police officers killed some students who started a riot and fought with police. The university knew the students were at fault, Daileader notes, yet it demanded the officers be punished because the University of Paris was run by the Church and all its students were given the legal status of clerics, and it was grave crime to harm a cleric. Still, the city refused the university's request, and so the University of Paris went on strike and left town until 1231, denying the locals the riches of the university's spending.
Universities have a long history of moving classrooms on a whim, and today COVID-19 has forced us to move in the new age. And although the spirit of teaching and learning remains the same, there are struggles that are as alien to modern professors as they would be to medieval ones.
"We're finding ourselves in a really different situation because the courses we have designed were for face-to-face pedagogy and now, for most of us, this online shift just means video conferencing and we haven't had time to develop any expertise in e-learning. We've spent years creating lessons that relied on experiential learning and the ability to demonstrate things in the classroom. It's difficult to do that online," says Francine Morin, professor and associate dean undergraduate programs in the Faculty of Education.
"There is a social nature to learning, for teachers to respond on the fly to things like students' body language, which gives clues of what needs more explanation. And I think it is easier to keep students involved and engaged in a face-to-face setting. The level of learner engagement would be something we will regain when back to face-to-face. Students multi-task more when they are in online environments, which can influence what they learn."
There are, of course, resources for professors to use in these upended times: The Centre for the Advancement of Teaching and Learning offers an array of tutorials and expertise to help professors adapt to this new classroom setting. Such community and resources are something the first university professors would surely have loved to have.