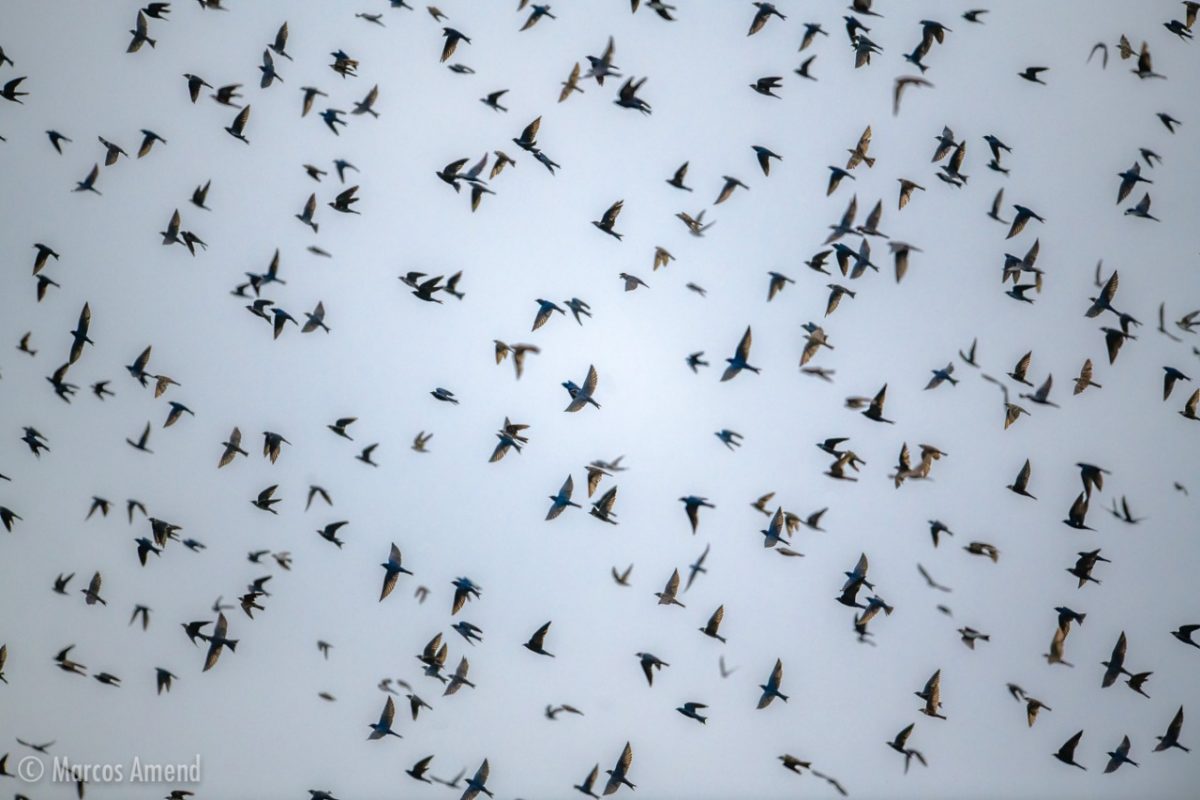 Light pollution altering avian migration, UM study finds
December 1, 2020 —
If you need to wake someone up, it helps to turn on the lights. If you need to kickstart a 9,000-kilometer migration, lights can do that too. Whether that is wise is another matter, though.
A new study to be published in Environmental Pollution by the Avian Behaviour Conservation Laboratory (ABC Lab) at the University of Manitoba is the first to show that artificial light at night— "ALAN"—impacts the timing of spring migration, as migratory birds use light cues to initiate their journeys.
Former biological sciences honours student Reyd Smith led the project with assistance from honours student Maryse Gagné, and advised by Associate Professor Kevin Fraser. They attached light-logging geolocators to purple martins (Progne subis), a long-distance migratory songbird about the size of a smartphone. The researchers measured the amount of ALAN the birds experienced while roosting in their overwintering sites in South America and looked for a relationship to when the birds began their spring migration.
As they report in their paper, "Pre-migration artificial light at night advances the spring migration timing of a trans-hemispheric migratory songbird," the birds that experienced the highest levels of ALAN left on average eight days earlier, and arrived to their northern destinations eight days earlier.
"Migration is risky enough when you consider the amount of human-based hazards birds are now facing along the way," says Reyd. "The potential costs associated with advanced timing due to ALAN exposure before they even start spring migration may make it much more difficult for birds to arrive safely."
Eight days is a significant amount of time when you consider how, for eons, these birds have timed their migration to coincide with the emergence of insects in spring so they can restore energy reserves after completing their migration, develop eggs, and feed their young. Such disruption—advancing the whole breeding cycle— may lead to a mismatch with the availability of food and good weather, which would be particularly detrimental to species already exhibiting steep population declines, such as purple martins and other migratory aerial insectivores.
This story is only beginning to be understood and climate change complicates the plot: springs have been arriving earlier and weather is becoming more variable, influencing the timing of when insects hatch. Purple martins, stuck in their old itineraries, or mis-cued by mismatching signals, may be arriving at the wrong time and losing out on much of the feast. To allay this problem, in a separate project, Fraser has begun looking into if, and how, a field experiment that exposes chicks to alternative light cues (an artificial sun) can help purple martins adjust faster than evolution would allow.
"We have a lot to learn about how much birds can adjust their timing so that they can be successful with climate change. There may be strategies we can use to assist the process," Fraser says.
Funding was provided by the University of Manitoba, NSERC, Nature Canada, Central Lakes College, Minnesota Audubon, Minnesota Ornithologists' Union, Brainerd Lakes Audubon Society, Mille Lacs Band of Ojibwe, and Ellis Bird Farm.
Research at the University of Manitoba is partially supported by funding from the Government of Canada Research Support Fund.