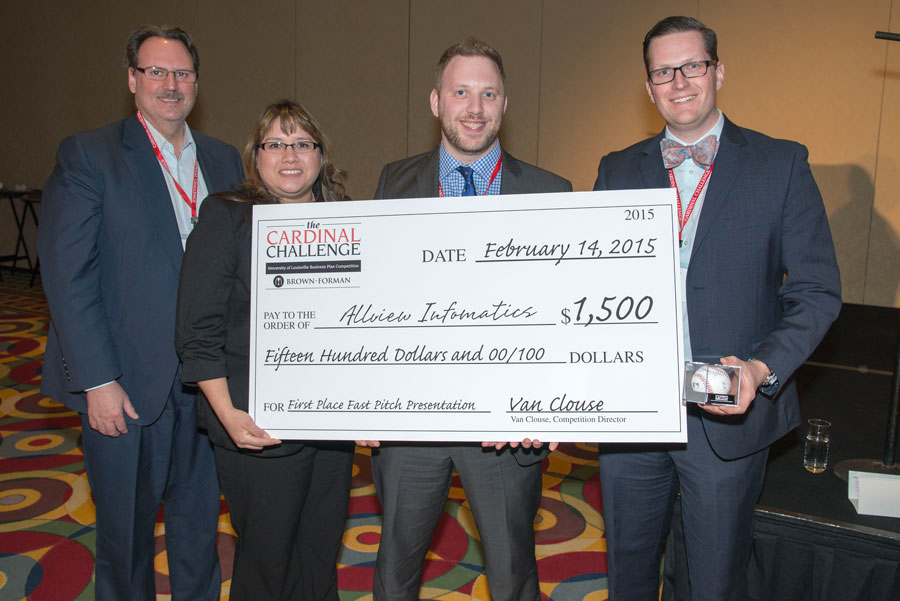 Life on the competitive edge
June 29, 2015 —
Asper MBA student Sam Fay delivers a first-hand account of life on the investment competition circuit, where teams from leading business schools pitch business ideas to real investors, and gain invaluable feedback about how to turn their business plans into successful ventures.
As part of the MBA's Business Planning Competitions course, Sam and his teammates traveled to some of North America's most prestigious competitions to pitch Allview Infomatics, a retail intelligence service that uses newly designed software to detect people and track movement in video surveillance to produce information useful for business decisions. The software was originally developed by researchers in the U of M's Department of Computer Science Engineering.
Global Venture Labs
It's 4:30 in the morning at the end of January and all I want to do is go to sleep, but my teammates (Sunny Singh, Kathleen Bluesky, Mike DeLuca and Brad Tole) and I are sitting in a breakout room at the University of Western Ontario, trying to close a gap in a presentation we will be delivering to potential investors in about four hours. This is our introduction to the Global Venture Labs Investment Competition (GVLIC) – a competition to encourage entrepreneurship and connect investors and business leaders with young upstart companies trying to get off the ground.
The competition at Western is a bit of an eye-opener. Our presentation goes okay, but we are not prepared for the judges' Q&A, so it's definitely a learning experience. We are on the outside looking in during the finals, but watching the other teams compete helps illustrate what we needed to do better.
GVLIC also gives us the opportunity to get to know some of the teams we'll see competing on the circuit with us. Competing is important, but so is camaraderie. Inside the competitions, the gloves come off – but outside, well, let's just say it's best to pack some painkillers, because inevitably you'll be hurting the morning after the previous night's festivities…
Georgia Bowl
The few weeks leading up to the Georgia Bowl at Georgia Tech are a blur. Before I know it, I'm on the plane to Atlanta, feeling ready to go. My teammates and I are far more prepared for this competition, so the presentation and Q&A go well. However, we do not make it to the finals, which is disappointing but teaches us another key lesson: American judges/investors want a reasonable guarantee your idea is protected through a patent, trade secret, copyright, etc.
This makes sense. If I'm going to give you money, I need reassurance someone isn't going to steal the idea and take away your ability to repay my investment. We'll have to do better at Louisville's Brown-Forman Cardinal Challenge, which is only a week away…
Louisville
Before I know it, it's Valentine's weekend. Like every good husband, I'm about to clear US customs to spend the weekend in Kentucky thousands of miles away from my wife. US customs is friendly, but it's the typical friendly-but-say-the-wrong-thing-and-you'll-end-up-in-a-tiny-room kind of friendly. Which is why this exchange with a Customs officer is out of the ordinary:
Customs: "Reason for you trip?"
Me: "I'm competing in a business venture competition."
Customs: "A what?"
Me: "It's like Shark Tank."
Customs: "Are you crazy?"
Me, thinking this is some sort of trap and I'm moments away from a very awkward situation: "No, it's really not that bad at all."
Customs, looking up at me like I am actually crazy: "Well, heaven help you then."
The guard hands me my passport and I move quickly toward the boarding gate, hoping I won't be declared unfit to fly due to my desire to have strangers tell me our idea is ridiculous and that we'll never make a dime. And so begins my journey to Louisville. Heaven help me indeed…
Firstly, don't call it Loo-is-ville, Loo-ee-ville or anything like that. It's Loo-ah-vul – or, after multiple glasses of bourbon, Loo-vul.
Louisville is known for many things: baseball bats, bourbon, the derby, and, as we came to learn, one ginormous agriculture convention. Upon our arrival and throughout our quest to prepare for the competition, we discover that every space is booked solid. So we improvise and find a "quiet" hallway in our hotel to practice our presentation. It turns out our "quiet" hallway is also the preferred route to the public washroom for one very inebriated farmer from Wisconsin. Generally you have to be good at handling distractions at these competitions, but to call this a distraction is like calling a hurricane a light mist. Our friend interrupts us multiple times, and while it is frustrating while it is happening, I think it actually benefits us in the long run by forcing us to relax and shake out the jitters.
The social events at the competition are something else. Southerners really do a good job of making things fun, and the events are filled with good food, fun activities, and really great times with a number of competing teams who go on to become our friends on the circuit. Competing is great, but getting to meet people from all over is probably, for me, the best part of the competitions.
Cardinal Challenge
But back to why we're really here: the competition itself. Our presentation and Q&A knock the ball out of the park. What happens in that room is like lightning in a bottle: hard to catch, but once you do, look out. It shows our team at our best and we are riding high afterwards. We don't want to be cocky, but we leave it all out there and we are feeling good. I'm told it is a tough decision; the judges in our bracket go to the wire and are the last to finish deliberating. In the end, though, it isn't meant to be.
Being told the judges second-guessed their decision after the finals does not soften the blow of not making the cut again. You've got to have a thick skin and short memory at these competitions, because the eight teams not in the finals compete in a 60-second elevator pitch. So half an hour before the pitch, here I am, writing my pitch and trying to practice so I'll be ready to go.
And then I'm in an auditorium again, in front of my peers, advisors, potential investors, and members of the public, along with seven other very nervous pitchers. One by one, our names are called until there are three of us left: me, the Rensselaer Polytech team, and Michigan. They call my name and up I go. A minute feels like forever but I find myself in some sort of trance. What comes out of my mouth is every word I stumbled over while practicing; somehow they flow without hesitation. I say everything I'm supposed to within the time allowed, without pause or stutter. And I win the competition.
Closing the circuit
It's incredible to celebrate with my teammates and proudly represent the U of M on that stage. I still have the giant cheque we won; I couldn't part with it after rallying from defeat to triumph. It's a moment I'll always cherish and remember. Unlike the morning after the victory celebration.
We go on to compete at the U of M, University of Oregon, and University of Texas. While we come closer to winning again, we achieve greater triumph outside the competition circuit. I wasn't sure where we would go with our business, but the corporate contacts we acquired along the way have led to some exciting opportunities. We'll see where things take us.
I went into the Business Venture Planning Competitions course to compete, learn and travel. What I experienced was so much more: I have friends all over the world from the competitions, a lifetime of memories, and a possible business opportunity to look forward to in the future.
Video: Cardinal Challenge Fast Pitch (Sam Fay appears at approx. 4:50)