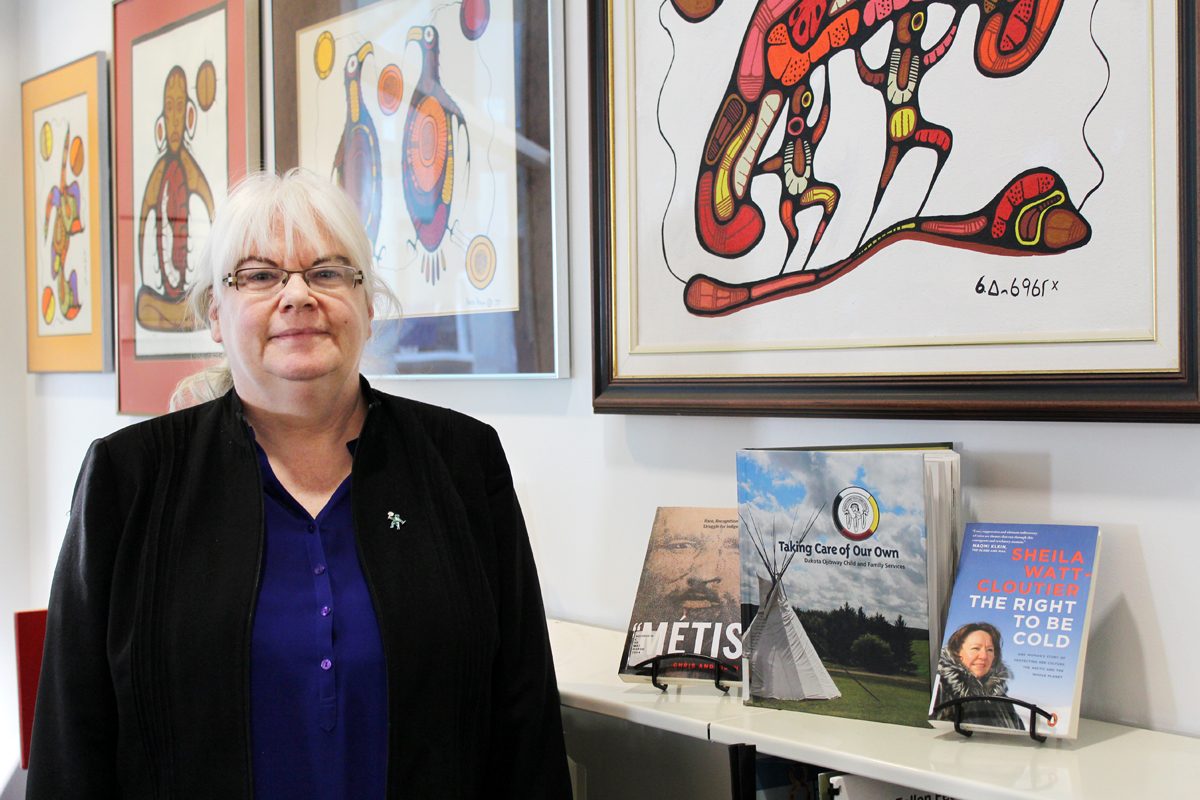 Library collection marks 20 years of honouring Indigenous voices
December 14, 2017 —
When Janice Linton was a child in southern Ontario, her grandmother was asked to lead Brownie and Girl Guide troops for Inuit girls at a tuberculosis sanatorium.
It was during the 1960s, when thousands of Inuit were removed from their eastern Arctic communities and brought south for treatment. Many children were separated from their parents for months.
Linton's grandmother formed close bonds with the girls and developed a deep appreciation for Inuit culture. She felt that Canada was not doing right by Inuit people.
"She wasn't a nurse or anything," Linton remembers. "She was just watching, listening and informing herself."
Today, echoing her grandmother's role as an ally, Linton also supports Indigenous people in a health context. As the U of M's Indigenous health librarian, she is a nationally recognized expert who has helped make the university a leader in the field of Indigenous and circumpolar health.
The university's renowned Indigenous Health Collection is marking its 20th anniversary. Housed in the Neil John Maclean Health Sciences Library on the Bannatyne campus, it's the only stand-alone collection devoted solely to Indigenous health at an academic health-sciences library in Canada.
"In this library, the same respect that's given to an established medical textbook is given to First Nations, Metis and Inuit community voices," Linton says.
The collection is located on the library's second floor in an art-adorned space called Kanee Ga Ni-What Kee-Kandamowin Anishinabeck (First Peoples Place of Learning).
It originated in 1997, when Dr. John O'Neil, then-director of the U of M's Northern Health Research Unit, donated more than 600 books and reports that had been amassed by the unit. Ada Ducas, head of the library, was instrumental in securing space, funding and a dedicated librarian for what was initially called the Aboriginal Health Collection.
Linton was hired in 1998 to expand and maintain the collection. She has built it into a rich repository of nearly 5,000 items – some rare and out-of-print – including books, reports and audiovisual resources.
"The original collection had a lot of gloomy reports on death and disease among Indigenous people," Linton says. "I was determined to balance that with Indigenous perspectives and stories.
"I asked Elders, 'What should I be collecting?' I contacted Indigenous communities to ask if they could recommend resources. I've listened to Indigenous people to make sure the collection highlights community-based programs and holistic approaches to health and healing."
Linton places a high priority on materials by Indigenous authors. In response to the health-related calls to action made by the Truth and Reconciliation Commission, she will continue, she says, to acquire resources on topics such as residential schools and the intergenerational effects of colonization.
The library collaborates with the Rady Faculty of Health Sciences' Indigenous Institute of Health and Healing – Ongomiizwin. Linton guides researchers, faculty and health providers in accessing online or hard-copy resources to support Indigenous research, curriculum and health services. "People contact me from across North America," she says.
She uses her database searching skills to create online bibliographies and subject guides on topics such as "trauma-informed care" or "racism as a social determinant of health."
"I remember when people couldn't find any published materials on traditional medicine," she says. "I came up with a 24-page bibliography."
Linton is now involved in a study with 10 other universities in which librarians will conduct interviews to better understand the perspective and needs of Indigenous faculty.
A priceless item in this librarian's personal collection is the guestbook from her grandmother's house. Many of the Inuit Brownies and Girl Guides kept in touch for decades and came to visit when they were grown up.
"Half of the guestbook is in Inuit syllabics," Linton says. "It's one of my most treasured possessions."