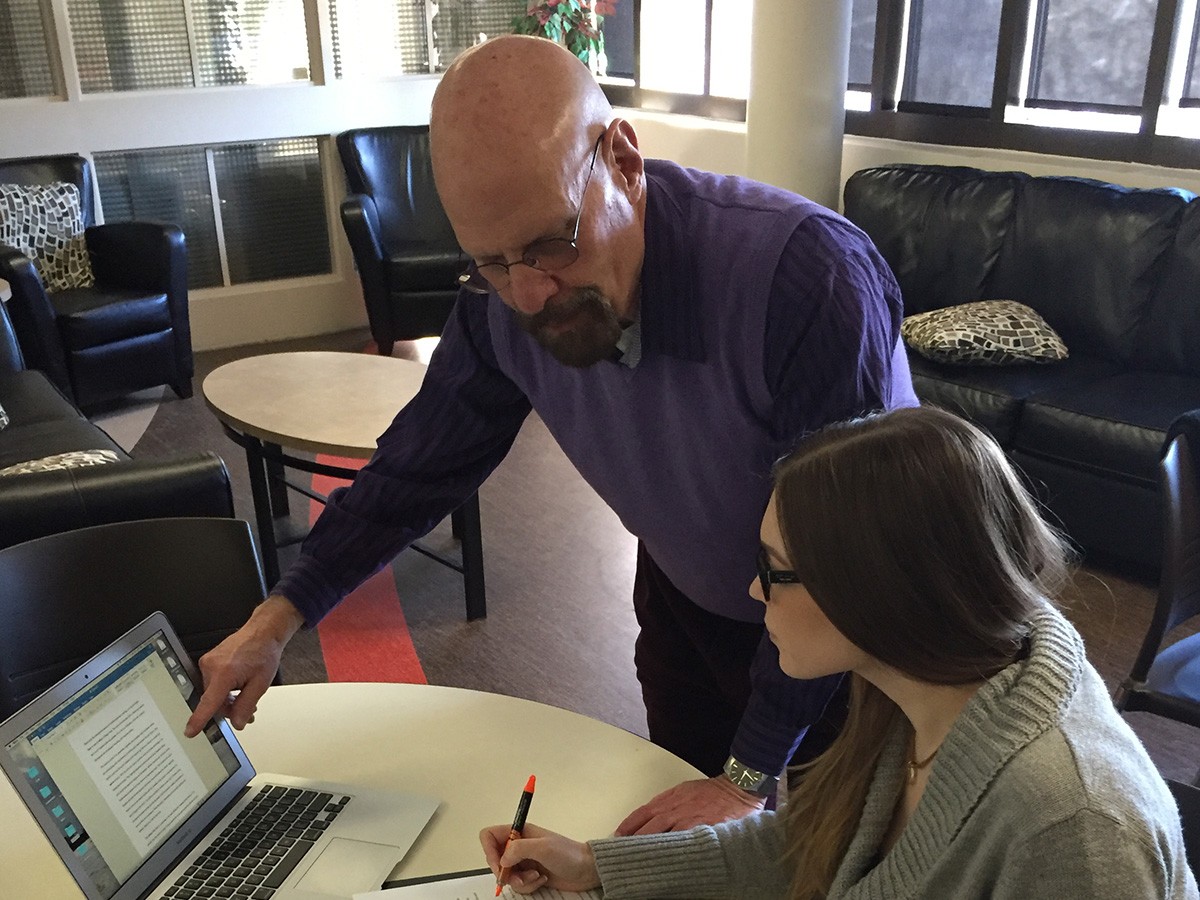 Leveraging resources to help sharpen students' writing, research skills
March 23, 2016 —
Howard Harmatz teaches students in the department of business administration in the Asper School of Business and has made concentrated efforts to help students hone skills, seeking out resources to aid them with issues they may face.
"I'm very concerned with the difficulties many students have in writing and their struggles. I tried to find resources and then I started partnering up with the Academic Learning Centre (ALC)," said Howard. "I wanted to make it accessible so I invited staff to come in (to class)…to outline what it takes to write a paper."
Harmatz, a sessional lecturer, teaches undergraduate courses on business in society and management and capitalism, along with teaching a short MBA course on critical and creative thinking.
In addition to pulling in ALC staff, Harmatz has also had library staff come to his classes and help students expand their research skills, advising them on resources available.
Over the past few years, Harmatz has joined in the Long Night Against Procrastination, an international all-night event that started in Germany.
At the U of M, the event is run by the Academic Learning Centre and Libraries with UMSU and is aimed at combating procrastination by providing a relaxed, quiet environment for students to write and study. This term's event takes place on March 23, 2016 in the Elizabeth Dafoe Library from 10 p.m. to 8 a.m. on March 24. During the event, there will be one-on-one consultations with librarians and writing tutors.
Harmatz attends the event until about 3 a.m. and students can get one-on-one guidance from him, as well as writing tutors.
"They feel personal support. For the students who make good use of it, their writing did improve. It's very satisfying to participate with it," said Harmatz.
Along with seeing students' writing develop, he's also observed improvements in their critical reading abilities. He said getting the chance to work one-on-one can help students reach breakthroughs on writing and for developing critical arguments.
Connor Schmidt, a second year bachelor of commerce student majoring in finance and leadership, took part in the LNAP in the fall.
"I found it very valuable to have writing tutors there all night. Having these resources available all night allowed me to really get an understanding of the writing process and further develop my skills in writing," said Schmidt.  "I would highly recommend attending this event to any student who wants to either get help with writing a paper, or take advantage of valuable study time as exams creep closer."
Along with working with students in classes and at Long Night Against Procrastination, the ALC offers a range of support for undergraduate and graduate students throughout the year.
"Our goal is to support students as learners and writers," said Kathy Block, writing services coordinator at ALC.
"Much of the work we do is in individual meetings with students. For example, ALC instructors and tutors work one-to-one with students on study skills and time management, supporting students as they transition to university and as they develop study approaches that fit with the requirements of different disciplines," said Block. "We organize content tutors who work with Indigenous students, for example on courses in biology, chemistry and statistics. These tutors are located in Migizii Agamik – Bald Eagle Lodge."
Working one-to-one, the ALC also offers tutoring in writing for undergraduate and graduate students. ALC instructors and graduate student tutors work with graduate students, usually in one-hour appointments, said Block. Trained tutors (upper level undergraduate and graduate students) work with undergraduate students in 30-minute appointments on their writing.
The trained tutors are upper-level undergraduate and graduate students. Appointments with tutors most commonly focus on understanding assignment guidelines, organizing and clarifying ideas and citing and referencing, explains Block.
The ALC additionally offers a range of workshops throughout the year.
"(We also work) with students in group settings. Supplemental Instruction leaders work with students in first year courses such as statistics and chemistry, facilitating review sessions for small groups of students," said Block.
"Working with a tutor, students see that talking about their ideas, voicing their questions and getting feedback from a reader on a draft leads to better writing and greater academic success," said Block.
Students can go to the ALC website for more information about services. They can also contact the ALC at 204-480-1481 or drop by the office at 201 Tier Building.
The ALC services are free, funded through Student Affairs.