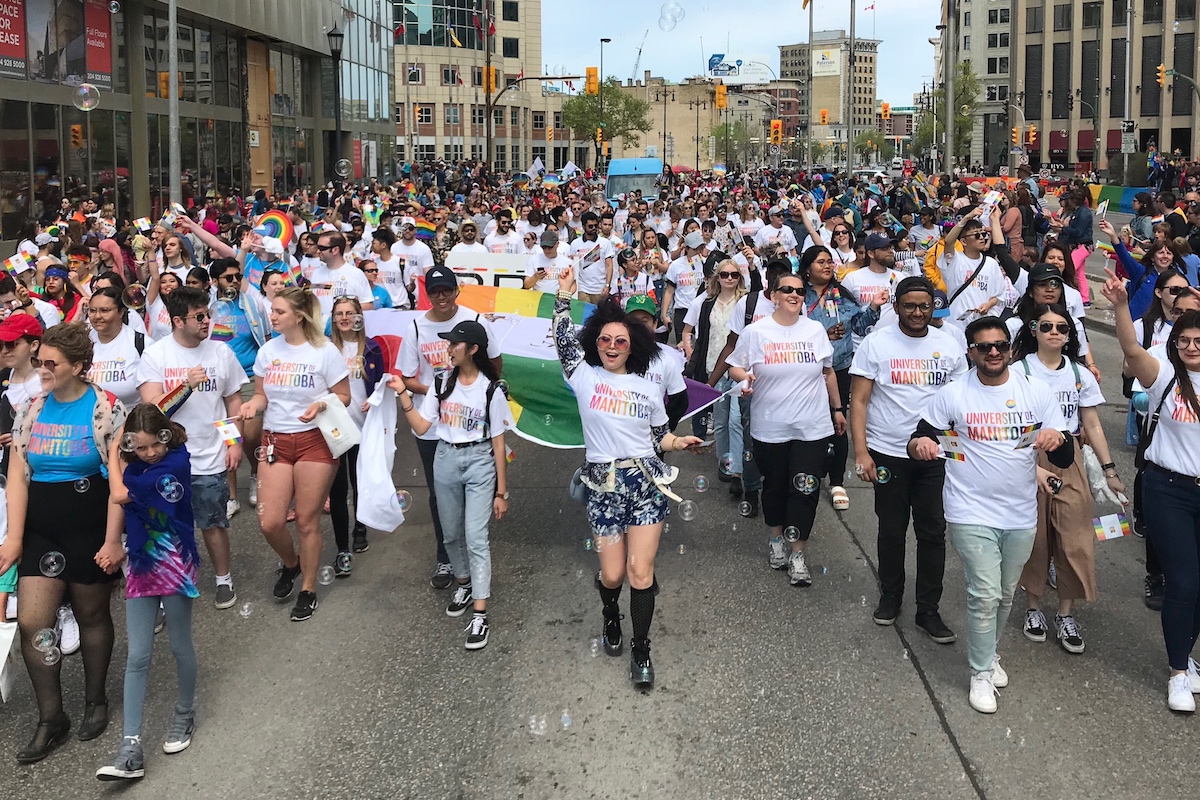 Let's come together for Pride 2022, a message from President Michael Benarroch
Progress Pride Flag to permanently fly on the Fort Garry and Bannatyne campuses; join us at the Pride Parade
May 30, 2022 —
The University of Manitoba has long raised the Pride Flag on our campuses in a ceremony that reminds us of our duty to create diverse, welcoming and inclusive communities. On June 1, we will raise it again, and this time it will remain up to permanently fly on our Fort Garry and Bannatyne campuses.
Join us as we raise the Progress Pride Flag in front of UMSU University Centre, across from Administration Building, on June 1 at 9 a.m. and hear from Faculty of Kinesiology and Recreation Management professor Fenton Litwiller (they/them), who is Chair of UMQueer.
Pride Week and Pride Month are about coming together to celebrate. We are thrilled to be able to do this in person again, and I encourage everyone to take part in any or all of this year's events, like the Pride Parade. These events are enriching and serve as reminders to be in allyship with two-spirit, lesbian, gay, bisexual, trans, queer, intersex, asexual, and other sexual or gender identities (2SLGBTQIA+) all year long.
UM is committed to work with integrity and passion in support of the 2SLGBTQIA+ community. For example, the UM Queer Committee has worked with staff, students and faculty to encourage awareness and diversity, and the University of Manitoba Student Union created a 2SLGBTQIA+ representative position as well as the Rainbow Pride Mosaic resource centre. I'm grateful for the work these groups do all year long, supporting the 2SLGBTQIA+ community's artists, educators and advocates.
Our faculty drive much change as well, like professor Robert Mizzi, Canada Research Chair in Queer, Community and Diversity Education. His research examines the various anti-homo/transphobic educational programs in use throughout society to determine their effectiveness on policy development and social cohesion. His findings will change the way we engage educational interventions around 2SLGBTQIA+ inclusion and ultimately lead to more safe, diverse, and prosperous workplaces.
There is always more to do, and we will continue to move forward together. Pride is not about standing on a curb watching a parade. It's about working with each other to create a society where everyone knows they belong.
Michael Benarroch, PhD
President and Vice-Chancellor