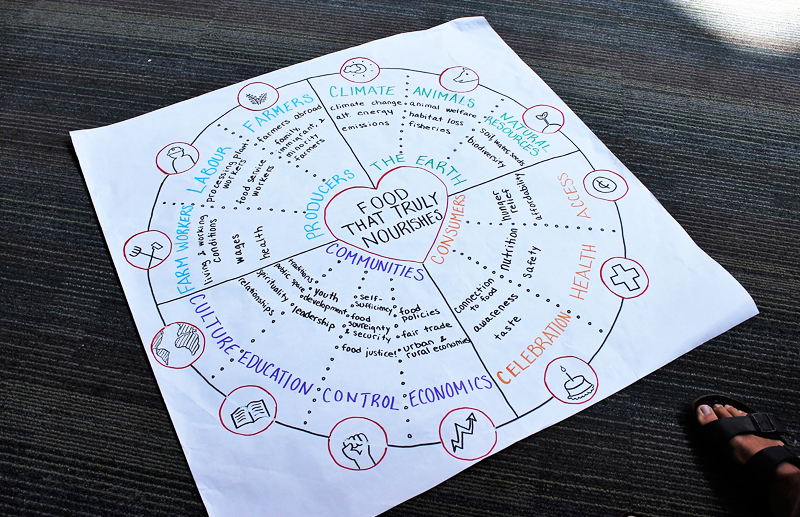 Let's Change How We Eat on Campus
Special Food Systems Research Group student seminar
March 15, 2018 —
Coordinators of the UManitoba Campus Food Strategy Group, Hannah Chan and Eliana Hotz will be discussing their latest initiative, The Good Food Challenge, on Wednesday, March 28th at 3:00 pm in Room 130 Agriculture Building. Hannah and Eliana are Human Nutritional Sciences students in the Faculty of Agricultural and Food Sciences. They recently sat down to answer a few questions regarding the Group's purpose and this initiative.
About the Group and the Good Food Challenge
The student-led Campus Food Strategy Group (CFSG) is the University of Manitoba chapter of Meal Exchange, a national organization that works with post-secondary campuses across Canada on issues of food security and food sustainability. "It is amazing to work with a national organization like Meal Exchange that has overarching pan-Canadian goals, but also provides resources to individual campuses across Canada to go out and work within their own communities," says Hannah. For example, campuses on the coast deal with marine and seafood issues, whereas an opportunity in Manitoba is to start studying Indigenous food sovereignty rights.
The Good Food Challenge uses a Calculator food service audit tool and Campaign strategies to leverage the food purchasing power of post-secondary institutions in Canada to support more sustainable, socially equitable, humane, and community-based food systems. The University of Manitoba has been chosen as one of the first campuses in Canada to pilot this program. After two years of research and development, the nation-wide launch of the Good Food Challenge will be happening this Spring.
Eliana and Hannah collaborated with the National Aramark Sustainability Manager, and utilized the research conducted over the past two years by Student Standards Committee to identify food ingredients that carry third-party verified certifications and food origin information. They hope to foster food system collaboration and transparency through their research.
"The goal is to shift Canadian campuses towards what we view as a more mindful and strategic food procurement plan," notes Eliana. At a national level, Meal Exchange is aiming for 20% Good Food procurement by 2025. To achieve this goal at the UofM, the Campus Food Strategy Group has established a multi-stakeholder committee to help them identify opportunities and barriers within the Manitoba food system and hopes to get a signed 'Good Food Campus Commitment' by the UofM president.
Why is it important
When asked this question, Hannah refers to a recent study done at UofM. "It was shocking to me to see that over 30-40% of UofM students are considered 'food insecure' and that this is consistent with the national average." Knowing that diet and nutrition affect mental health, Hannah believes student access to healthy, affordable and sustainable food is critical. "There are still many conversations yet to be started and voices yet to be heard," adds Eliana. "As a prairie province, farming is an integral piece of our Manitoba identity. It would be great to bring students and farmers together to explore how both groups can be stewards of our shared food system."
About this Talk
"We want to have a discussion about food sustainability – what it is and what it could look like on our campus," say Eliana and Hannah of their upcoming talk. They will share their research process on the current baseline condition of the campus food system and hope to spark conversations.
As coordinators, Hannah and Eliana are creating meaningful conversation spaces to connect people, especially students, to improve the overall campus food system. They truly believe everyone has a unique entry point into the food system. "Everyone eats, so everyone's involved! Come join us in starting the dialogue. Let's change how we eat!"
Connect with the UManitoba Campus Food Strategy Group on Facebook (@umanitobafood), Instagram (@cfsgumanitoba) and Twitter (@cfsgumanitoba).
What is the Food Systems Research Group? The FSRG is an umbrella group fostering creation of multi/trans-disciplinary collaborative research to advance the theme of Safe, Healthy, Just and Sustainable Food Systems.
To receive future notices from the Food Systems Research Group send an email to foodsystems [at] umanitoba [dot] ca to join our mailing list.
Tanvi Vakil is a science student in her final year, currently helping with communications with the Food Systems Research Group and the National Centre for Livestock and the Environment.