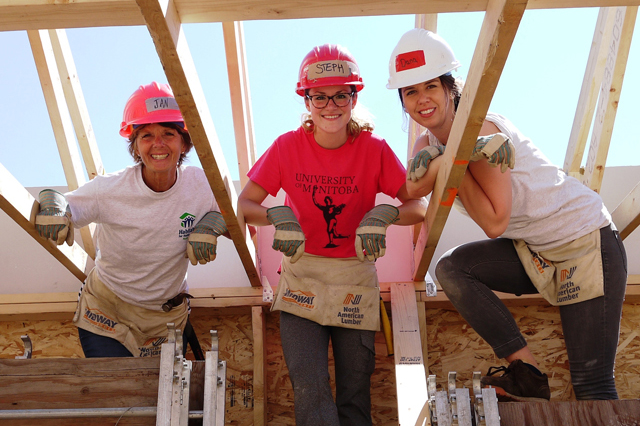 Lend a hand for Habitat build on campus – no need to be handy!
May 3, 2018 —
You don't need any prior carpentry or construction skills to volunteer on the Rady Faculty of Health Sciences' Habitat for Humanity build in June.
Training is provided on-site. Hardhats, safety glasses, gloves, boots and tools are supplied. There will be a job to suit every volunteer's comfort level, organizers say, as a house gets framed up right on the Bannatyne campus.
All you need are your community spirit and your enthusiasm to help a Winnipeg family attain the dream of owning a safe, decent, affordable house.
"They've got site managers who can find tasks that fit everybody's skill level," said Dr. Ed Giesbrecht, assistant professor of occupational therapy, who enjoyed volunteering on the Rady build project two years ago.
The Rady Faculty of Health Sciences and Habitat for Humanity Manitoba held a kick-off social in the Brodie Centre Atrium on April 25 to rev up the drive for volunteers and donations.
As part of the Rady Faculty's commitment to social responsibility and accountability, this year's build project, titled Key to Health, marks the fourth time health sciences students, faculty and staff have partnered with Habitat to construct a home for purchase by a working family.
"It's a really good feeling as a university to be involved with our immediate community, and be part of building this community," Giesbrecht said.
The Key to Health build takes place from June 4 to 15, Monday to Friday from 12:30 to 8 p.m., in E-Lot on the Bannatyne campus. After the two-week build, the house will be transported to its permanent site for completion.
Volunteers must be at least 16 years old and commit to a minimum of one day on the project. Students, faculty and staff can sign up individually or in teams.
"One of the biggest things I enjoyed was working with people from other departments and colleges," said Dr. Dieter Schönwetter, associate dean (academic) of the College of Dentistry, who volunteered on the last build.
Sandy Hopkins, CEO of Habitat for Humanity Manitoba, said he is not aware of any other health-sciences faculty at a university that takes on Habitat builds. "We absolutely cherish this partnership," he said.
This year's home owners, like all Habitat home buyers, will contribute many hours of sweat equity to the project. Hopkins said they are an Indigenous couple who work in health care and have four children.
"I honour the fact that three of our families that we've built homes for are of Indigenous ancestry," said Dr. Bruce Martin, director of admissions for the Max Rady College of Medicine, who has volunteered on the previous Rady builds.
Martin noted that the Habitat tagline "Through shelter, we empower" aligns with the Rady Faculty's recognition that housing is one of the key social determinants of physical and mental health.
Martin jokingly assured the crowd that volunteers from past years still have all 10 fingers. He urged everyone in the Rady Faculty community to donate their labour or financial support to the Key to Health project.
"It'll bring a smile to your face," he said. "You can all contribute."
To register as a volunteer, visit https://habitatmbca.volunteerhub.com/lp/rady/
For more information, contact Kelly Kluger at Habitat for Humanity: kkluger [at] habitat [dot] mb [dot] ca