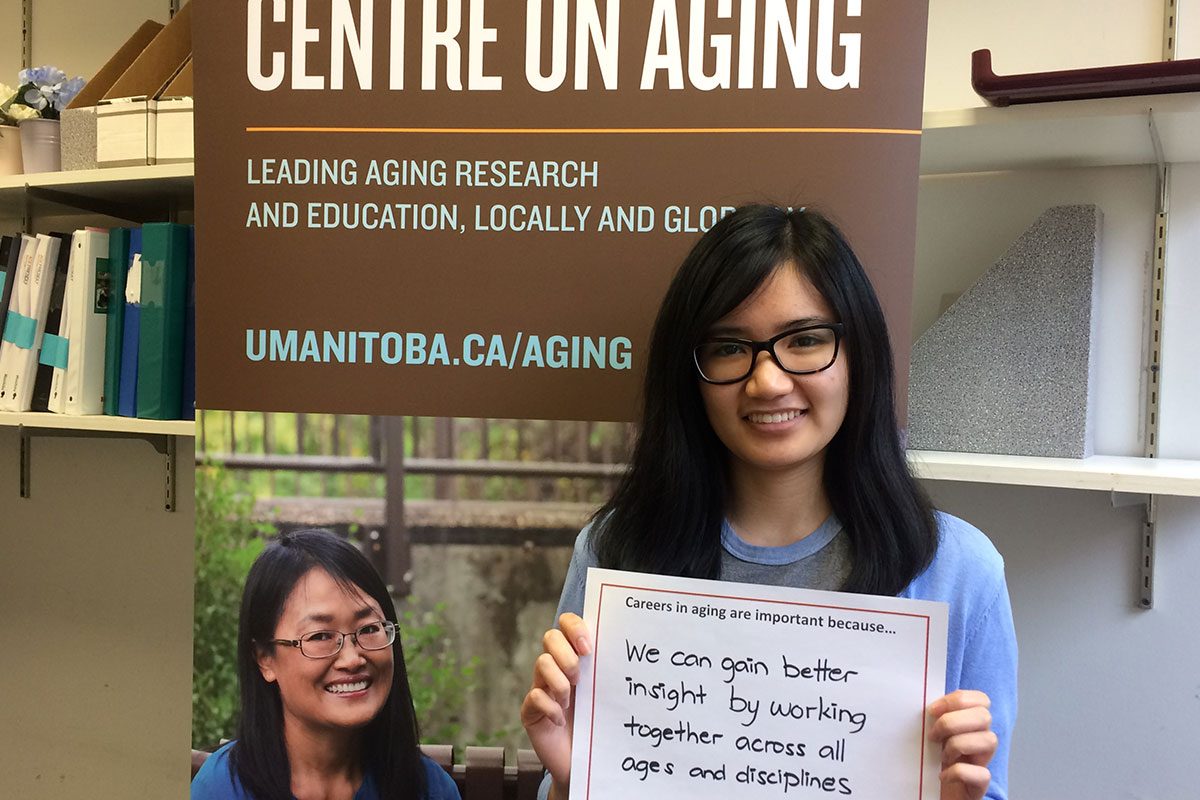 Learn about potential career opportunities in aging
March 31, 2017 —
The Centre on Aging will be hosting Careers in Aging Week #CIAW April 3–7, 2017. CIAW unites universities and colleges across the world by promoting the wide-ranging career opportunities in aging and aging research.
By 2031, it is projected that the 65 to 74 year olds will account for nearly 11 per cent of Manitoba's population. And by 2036, the number of Manitobans aged 75 to 84 is projected to near 125,000. Career opportunities abound in many aging related fields such as: nutrition counselling, elder law, wellness coach, art therapy, intergenerational childcare, architecture, audiologist and the list goes on.
"Students see the opportunities that exist to widen the perspective of the abilities of older adults in all their life circumstances and consequently impact their community and society at large through their study in areas of aging," says Barbara Tallman, student lead, Students Targeting Aging Research (STAR) group.
STAR is a student group hosted by Centre on Aging that provides students whose interest is in aging related topics with an opportunity to actively engage and connect with one another, discuss shared interests, network with peers, learn about current issues in gerontology from researchers and practitioners in aging, and stay up-to-date on aging related topics using an interdisciplinary perspective.
One such student is Applied Health Sciences PhD candidate Scott Kehler (kinesiology and recreation management) who is conducting research on physical activity in adults who are frail.
University of Manitoba students are invited to take part in learning about potential career opportunities in aging. This year, representatives from senior serving organizations across Winnipeg will be on campus to talk about how their organizations assist seniors.
The week will end with a networking event. Prizes will be available and light refreshments will be served.
If you would like to attend, RSVP to Rachel [dot] Ines [at] umanitoba [dot] ca or phone: 204-474-9854.
Information sessions
Centre on Aging staff and volunteers from senior serving organizations will be around campus to talk about potential career opportunities with students.
Monday, April 3, 2017
Brodie Atrium (by elevators) | Bannatyne Campus
11:00 a.m.–1:30 p.m.
Tuesday, April 4, 2017
First floor, University Centre | Fort Garry Campus
11:00 a.m.–1:30 p.m.
Thursday, April 6, 2017
First floor, Fletcher Argue Building | Fort Garry Campus
11:00 a.m.–1:30 p.m.
Student/researcher networking event
Friday, April 7, 2017
108 Cross Commons Room, St. John's College | Fort Garry Campus
3:00 p.m.–4:30 p.m.